Blog
» The Most Popular TEFL Destinations For Teachers
The Most Popular TEFL Destinations For Teachers

Many teachers prefer to secure a job before leaving home and embarking on their adventure of teaching English abroad. Here are the top TEFL countries that hire teachers in advance.
South Korea is one of the most popular destinations for teaching English abroad and it continues to shine. Here is why Seoul is the ideal place to teach English in 2018!
Europe is amongst the top destinations for teaching English as a foreign language. However, it is often said that it's not a good fit for Americans due to strict visa regulations for non-EU citizens. This is simply not true as you can read in this how-to guide for Americans to teach English in Europe.
Read about what it is really like teaching English in Japan in this first-hand alumni report by one of our ITTT graduates.
Mexico is among the top destinations for teaching English as a foreign language due to its tight-knit business relations with the US and the prosperous job market for TEFL certified teachers. Here's how to obtain a work visa to teach English in Mexico.
Teaching English as a foreign language is an exciting career path that takes thousands of women to exotic destinations around the globe each year. In this article we look at some of the best countries for single women to teach English abroad.
Across the world there are a few countries that can genuinely be considered as English teaching hot spots and Thailand is certainly one of them. If you want to know what makes it so popular and maybe see if it is the right destination for you, read through our 8 Reasons for Teaching English in Thailand.
One of the most common concerns among people thinking about teaching English abroad is: can I find a teaching job if I don't have a degree? The simple answer is YES. This list of 5 Great Places to Teach English Abroad Without a Degree highlights just a few of your many options.
South Korea is among the most popular destinations for teaching English abroad as it offers high salaries and great benefit packages. However, is it better to work for a public or a private school in South Korea? Read on to find out.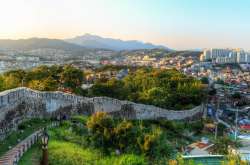 Learning a new language is one of the many possible benefits when teaching English overseas. However, how do you go about learning a new language? Here are our top 5 tips on how to learn a new language when teaching English abroad.