3 Amazing Hidden-Gem Travel Destinations in Japan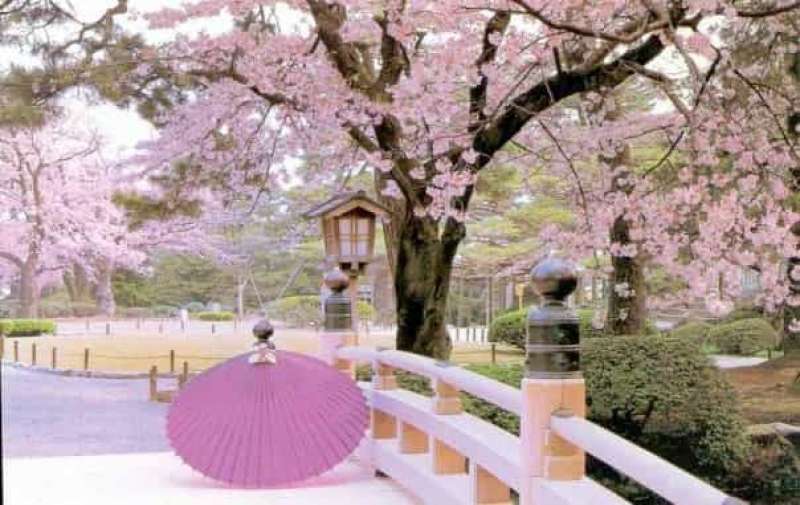 "But...why are you here?" It's a phrase often uttered by Japanese, confused about what your reason could be for straying from the usual temples of Kyoto, shops of Shinjuku, and street-food of Osaka.
The beaten path in Japan is pretty great and worth exploring thoroughly, but if you've done it, or feel like you've done it from seeing other people's pictures, these 3 destinations are for you.
Take a 4-week in-class TEFL/TESOL course in Japan and get a headstart in your teaching career!
Itoshima Peninsula, Fukuoka
Picture this: Sandy beaches with perfectly turquoise waters stretching out as far as the eye can see, cafes with fresh, flavorful food just waiting to be devoured, and cheerful locals happy to see you embracing their corner of the world.
Is it paradise? Is it an escape of dreams? Is it where I'm moving to ASAP and never looking back? Yes, yes, and preferably, yes. It's Itoshima Peninsula, and it's a glorious, yet relatively undiscovered area, in Fukuoka, a prefecture in southern Japan.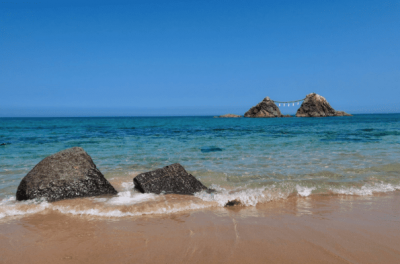 Meitoiwa Rocks in Itoshima Peninsula. Photo taken by Lydia Pincott
Now a reason there aren't too many people out this way is perhaps that some would see it as not the most accessible, but in fact, it's not so tricky. If you have a car then it'll be a breeze. There's also the option of taking a bus, but that's restrictive. The way I chose, and what I would highly recommend, is going to the Chikuzen Maebaru train station, then hiring a bike just next to the station and making a day of it (or more than a day if you like the chill seaside atmosphere as much as I do). You can even hire an electrically assisted bike if you think you might need the extra boost.
The ride out is stunning, with mountains and rows upon rows of rice paddies, while the bike path is still flat and straightforward. There are craft shops, cafes, and adorable fruit and veggie stores along the way. When you reach the coast, your breath will be completely taken away. Make sure to stop often and soak it all in.
The beaches are quiet, even in summer. This is a place where you can watch time pass by slowly.
Indulge in foodie delights like this jerk chicken burger from Natty Dread. Photo taken by Lydia Pincott.
Sado Island, Niigata
Experience island hospitality and landscapes of all kinds on Sado, just a ferry trip away from Niigata. This island has a surprisingly diverse range of experiences.
Rugged coastline on Sado Island. Photo taken by Lydia Pincott.
You could find yourself riding in a tub boat (tarai bune) for just ¥500, taking in wonderful views of the coast, or even seeing terraced rice fields. All this awaits you on Sado. It also has a fascinating gold mining history, with excellent displays and information at Sado Kinzan (Sado Gold Mine). If you're interested in wildlife and biodiversity you can also get up close and personal with Japan's beloved Toki bird at the Toki Forest Park.
The best way to get around is certainly hiring a car on the island. Buses are infrequent and the transfers are not well matched up. If you want to experience all the island has to offer, it's a worthwhile investment. Since it's an island, you won't have to pay any highway tolls, so it works out to be reasonably priced. If time allows for it then do try to stay at least one or two nights so you're not rushing through things.
Terraced rice paddies on Sado Island. Photo taken by Lydia Pincott.
Kurashiki, Okayama
If it's intricate Edo-period architecture or gorgeous organic shops and cafes that you're after, you will delight in Kurashiki. This historical city is located conveniently between Hiroshima and Osaka but is frequently missed by overseas travelers to Japan. It's perfect to stroll around on a nice day.
The main shopping street is an enjoyable walk and an excellent area to stop by for a bite. Off of this street, you can easily access other sites like the Cotton Mill Memorial Museum, the Ohara Museum of Art, and the stunning canal. You can even ride a boat on the canal inexpensively, but you will need to get in early and reserve a spot as there are only a few boats.
If you want a more chill day, it'd be lovely to have a picnic next to the canal or read a book. Some even call it the Venice of Japan.
Gently ride along the canal in Kurashiki. Photo by Lydia Pincott.
Are you ready to explore Japan?
Heading out to Japan's lesser-known areas is deeply rewarding, with unique sights to see, the thrill of undiscovered adventures to be had, and locals being genuinely excited to have you. Trying out some of the quieter areas in Japan may just lead you to your new favorite place.
Apply now & get certified to teach english abroad!
Speak with an ITTT advisor today to put together your personal plan for teaching English abroad.
Send us an email or call us toll-free at 1-800-490-0531 to speak with an ITTT advisor today.
Related Articles:
---
Pooh Bear once said: "You can't stay in your corner of the Forest waiting for others to come to you. You have to go to them sometimes." After spending some time working in a marketing agency, I took our old friend Pooh's advice and set out to see the world and embrace new cultures. My name is Lydia Pincott and I'm a 20-something year old from Wellington, New Zealand, currently based in Japan and teaching English here, while indulging in far too many desserts, taking an embarrassing number of photos, and never failing to get excited when seeing a shiba inu out for a walk.
https://www.instagram.com/lydiamary_nz/
---
Comments
No comments yet