Why I Did Volunteer Teaching in Nepal and You Should Too
Volunteer teaching in Nepal is thoroughly rewarding! The need for engaging and enthusiastic teachers is so great and the positive impact you can make, even in a short period, is significant. Personally, I had a modest classroom of 16 students comprising a broad range of ages and competency. Those kiddos were quite a handful, but being their teacher was an incredible privilege. Their maturity was striking and yet, at the end of the day, they are still growing boys. They would get rowdy at times and often pulled pranks on each other. I loved their curiosity, their excitement for learning, and their playful spirits. Between lessons they would often draw pictures for me. I suppose I'm the snowman-looking character, left of the car, in this one on green construction paper, hah!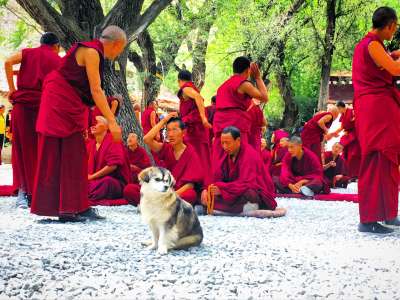 I was fully immersed in Buddhist culture.
While living in the monastery along with the monks, I joined them for chanting and prayerful meditation at dawn each morning. In my free time, I studied the Life of the Buddhathrough a compilation of scripture references and historical accounts curated by a 17thcentury scholar. I practiced Tibetan handwriting and listened to the philosophical musings of our guru. I also had the honor of hanging prayer flags at the Saga Dawa Festival, the annual celebration of the Enlightenment of the Buddha. I was even fortunate enough to pay a visit to Potala Palace, the Tibetan residence of the Dalai Lama.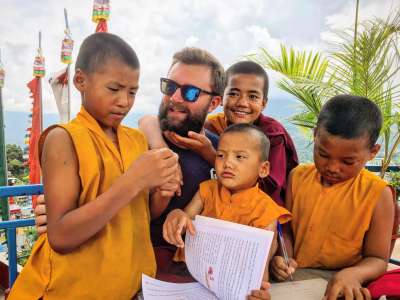 But why is the need so great in Nepal?
Fricatives. After law school, I decided to earn a TEFL certificate so I could help young Buddhist monks in Nepal refine their English fricatives. In phonetics, fricatives are a consonant sound produced by bringing the mouth into position to block the passage of the airstream, but not making complete closure, so that air moving through the mouth generates audible friction.[1]There are nine fricatives in the English language and all nine are captured by my original tongue twister by which this article is entitled: "THere are a THousand Hot treaSUres in my SiZe FiVeSHoe." If you can say this single sentence accurately, you have conquered every fricative sound in the English language.
Across the globe, problems with English pronunciation for non-native English speakers stems primarily from imperfectly learning the sound system of English.[2]American language researcher, Dr. Marguerite MacDonald, focused on Hispanic Americans but her findings have proven to be consistent and applicable to most new learners.[3]This challenge involves transfer of phonological rules from the learner's mother tongue.
What I've come to find is that learners of English as a foreign language whose native language does not include all of these nine fricatives tend to really struggle with proper pronunciation. If you don't quite understand how to make a particular sound in English, then you will likely substitute it for the closest phonetic sound found in your native language. Interestingly, this otherwise clever and resourceful solution not only hinders the learner as a speaker but also as a listener. There is a particularly funny commercial that highlights this phenomenon for German learners:[4]
A new hire for the German Coast Guard receives a radio transmission from a boat captain in distress: "Mayday, Mayday! We are sinking!" "Hello, this is the German Coast Guard… What are you sinking about?"
Here, because the German language lacks the English fricative found in 'THousand' the majority of German learners substitute it with the English fricative found in 'Size.' Thus, when many German learners attempt to say 'THinking' it comes out as 'Sinking.' Moreover, unless the context is crystal clear, for such a German learner who hears someone say 'sinking,' there is a high risk that it will be interpreted as 'thinking.' Thus, 'what are you thinking about?' Naturally, both issues complicate successful communication.
I have to imagine that lacking the capacity to generate the necessary sounds in a new language is at least as tricky (but not nearly as dangerous) as navigating the wild streets of the Nepalese capital, Kathmandu, at rush hour. Since I had earned my international motorcycle license in Chile earlier this year, I got to cruise around the ancient city on a speedy little motor scooter one weekend as I made my way to Monkey Temple. It was an awful lot like Mario Kart but in real life.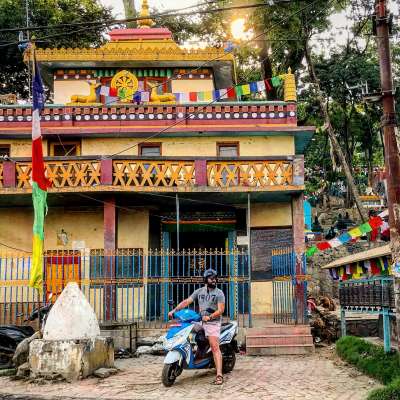 Returning to the technical challenges that my students faced, you may have noticed that the English fricative 'TH' in 'thousand' is actually distinct from the English fricative 'TH' in 'there.' It is a rather subtle difference but proper pronunciation of 'there' involves vocal chord reverberation while 'thousand' involves only forcing air passed your teeth. To better understand the difference for yourself, close your eyes and try saying both 'thousand' and 'there'. Go ahead, I'll wait. Maybe you just learned something about your own language. Now imagine being a young Buddhist monk at a rural monastery in Pokhara, Nepal trying to master all of the complexities of this mutt of a language we call English.
According to Nepalese language researcher, Dr. Manuka Adhikari, Nepali "hinders the acquisition of English."[5]In fact, after applying negative phonological transfer theory, Adhikari determined that pre-occupied native knowledge of Nepali often distorts English phonemes to such an extent that they differ from the Standard English pronunciation.[6]Namely, English demands use of the labio-dental as a place of articulation for both the fricatives 'F' and 'V' as found in 'FiVe.' Unfortunately, as fellow researcher Dr. Rajan Kumar Kandel points out, not only are those particular sounds not found in Nepalese, there are no sounds that originate in the labio-dental.[7]English also demands use of the palato-alveolar as the place of articulation for even more fricatives that are also not found in Nepalese.[8]This leaves Nepalese learners at quite a disadvantage with just two fricatives in their native language.
I was beyong proud of my students.
In spite of all of these obstacles, I was beyond proud of the patience and perseverance displayed by my students. It was very fulfilling to see their skills progress throughout our time together. Their discipline in studying the English language has many parallels with mountain climbing (of which there are ample opportunities from Pokhara). For the avid hikers and outdoorsy folks, volunteer teaching in Nepal affords the chance to challenge yourself with some of the best adventures in the world. Not only did I get to hike to Everest Base Camp, I also completed the Mount Kailash Kora: a faithful pilgrimage around the most holy mountain in four major religions.
Honestly, looking back I learned so much about myself and what I value. The Nepalese people are some of the kindest and most genuine communities I have ever met. If for no other reason, you should take a chance and go pursue volunteer teaching in Nepal to begin your personal search for enlightenment. Did I find the secret to living a full life? Well, one of my students would spend most of his day making frog sounds, sharing his rice, and playing with balloons.
And that's the best answer I've found so far.
Apply now & get certified to teach english abroad!
Speak with an ITTT advisor today to put together your personal plan for teaching English abroad.
Send us an email or call us toll-free at 1-800-490-0531 to speak with an ITTT advisor today.
Related Articles:
Sources:
[1]Encyclopedia Britannica Online, https://www.britannica.com/topic/fricative (last visited August 31, 2019).
[2]MacDonald, Marguerite, "The influence of Spanish phonology on the English spoken by United States Hispanics," in Bjarkman, Peter; Hammond, Robert (eds.), American Spanish pronunciation: Theoretical and applied perspectives, Washington, D.C.: Georgetown University Press (1989).
[3]Id.
[4]Berlitz commercial, https://www.youtube.com/watch?v=cNU6uWzLvRk (last visited August 31, 2019).
[5]Adhikari, Manuka, English in Nepal: Phonology of Nepali English?(Aug 5, 2017) https://neltaeltforum.wordpress.com/2017/08/05/english-in-nepal-phonology-of-nepali-english/.
[6]Id.
[7]Kandel, R. K., The sounds of the English language and Nepali language. ANUSHEELAN Research Journal (2010) https://www.academia.edu/10346650/The_Sounds_of_the_English_and_Nepali_Language.
[8]Id.
---

Dan Sloat is a pilot, lawyer, sailor, economist, cowboy, entrepreneur, artist, military veteran, world traveler, and TEFL volunteer teacher. Currently, he leads a team of union workers in Texas for a Fortune 10 company.
http://www.linkedin.com/in/dan-sloat
---
Comments
No comments yet