Teaching English Online: ✅ A Survival Guide
If like many TEFL qualified teachers, you have moved your teaching online in recent times you will probably have found that it is much harder than you might have imagined. Although you spend most of your lessons sitting down on a comfy office chair rather than standing in front of the class, you still end the day more exhausted than you ever did in a normal classroom setting. If this sounds familiar, don't worry you are not alone as teaching English online is a tiring proposition for many teachers. Here we look at the main reasons why it is so tough and more importantly, what you can do to make things that bit easier.
Reading your students through the screen
One of the biggest differences between teaching online and teaching in-class is trying to read how your students are reacting to any given situation. When teaching face-to-face you can read their body language, facial expressions, and tone of voice to assess how they are feeling about the material they are being presented with. In an online environment it is much harder to gauge a student's feelings as you don't have the connection that being in the same room provides and often you can't see the whole person clearly. This issue is further complicated for EFL teachers and their students as they also have to deal with a language barrier. Issues of accent and pronunciation can be greatly enhanced and harder to work with for both teacher and student in a virtual classroom making every lesson more tiring than it should be for both parties.
Also Read: 6 Top Tips for Engaging Online English Students
Is there a solution?
Unfortunately, these are problems that somewhat come with the territory of teaching English online and there are no magic cures that will fix them entirely. The best advice for any teacher is to take regular breaks away from the computer screen throughout the working day. Although this may sound a small thing, it can make a big difference to how you feel, particularly if you are able to head outside and get some fresh air. This regular detachment from the screen should allow your brain to cool down and let you refocus for the next lesson. This also applies equally to your students, who should be encouraged to get away from their screens if they are having more than just the one lesson per day.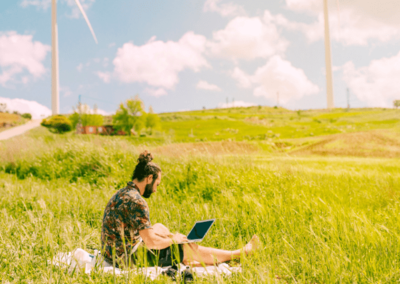 Online teaching is intense
During video sessions in any context the focus is solely on whoever is speaking at the time and this can be an uncomfortable experience for many teachers. As an online teacher it can often feel like the eyes of the world are on you and it can also be hard to know where you should look when talking for even a few minutes. Many people find prolonged eye contact difficult to maintain and this can make online lessons very uncomfortable at times.
Also Read: Top 10 Mistakes of an Online English Teacher
Is there a solution?
One simple way to tackle this common issue is to reduce the focus on yourself when delivering your lessons by utilizing props as often as possible. If you are teaching young learners, puppets can be a great idea as they are fun and engaging and they can subtly take the focus off of the teacher without any fuss. The use of pictures, videos and other media is also a simple and effective way of reducing your own anxiety and keeping the lessons interesting. Reducing teacher talk time is another option that is good for both the teacher and the student. Rather than long periods of talk, use elicitation techniques to maximize student input and regularly ask questions to keep everyone involved.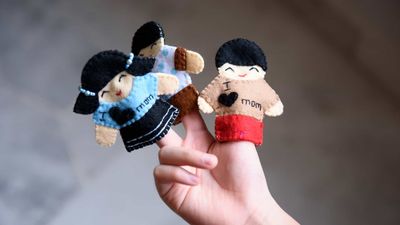 It is hard to relax
Try as we might, it is often difficult to relax when teaching English online. Much of a teacher's time can be spent worrying about issues such as maintaining a good posture or how your facial expressions come across. Many people also struggle to avoid the worry of doing something embarrassing like falling off the chair or making a technical error with the computer or messaging app. In an in-class environment the student's focus regularly shifts from one thing to another, but in a virtual environment it can often be solely on you from start to finish.
Also Read: Teaching English Online with Zoom: ✅ The Ins and Outs
Is there a solution?
In many cases it is not necessary to have your camera switched on for every minute of every lesson. If you have set your students a task that needs no further input from you, take a short camera break while they work through it. Screen sharing is another great way of reducing the focus on you. Whenever possible share your screen and include materials for them to focus on rather than staring at your face for the whole lesson.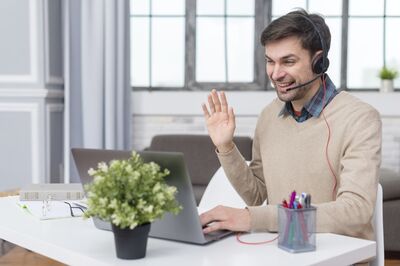 Staring in the mirror
During video chats you are constantly faced with your own face looking back at you which can become very distracting after a while. Initially this can be a bit of a novelty as it is something we are not used to, but after experiencing it for several hours a day for multiple days it can have a negative effect. Whoever you are, being focused on your own appearance throughout the day throws up all sorts of concerns. Why do I keep touching my hair? I didn't know I did that with my hands so much! We all have our own idiosyncrasies, but in normal life we are not faced with them on such an intense scale.
Also Read: 7 Tips for Setting up Your Online Classroom
Is there a solution?
This is one of the more straightforward issues to deal with as you can easily hide your picture during your lessons, ensuring that your students are still able to see you. Simply open another window and cover your picture in your own home screen for a simple yet effective fix. By doing this you can quickly remove the problem and give yourself one less distraction to worry about.
Also Read: ESA Teaching Method: ✅ How to use ESA for Online English Lessons
Are you ready to teach English online?
The world of many teachers has been turned on its head in recent times and things may never return to the way they once were. More and more people will continue to learn English online rather than in a traditional classroom, so it is up to teachers to adapt to this new normal by altering the way they approach the virtual classroom. By adapting our methods we can maximize the success of our students and limit the negative impacts of online learning on ourselves.
Apply now & get certified to teach english abroad!
Speak with an ITTT advisor today to put together your personal plan for teaching English abroad.
Send us an email or call us toll-free at 1-800-490-0531 to speak with an ITTT advisor today.
Related Articles:
---
---