Teaching Online: ✅ Tips For Giving Video Homework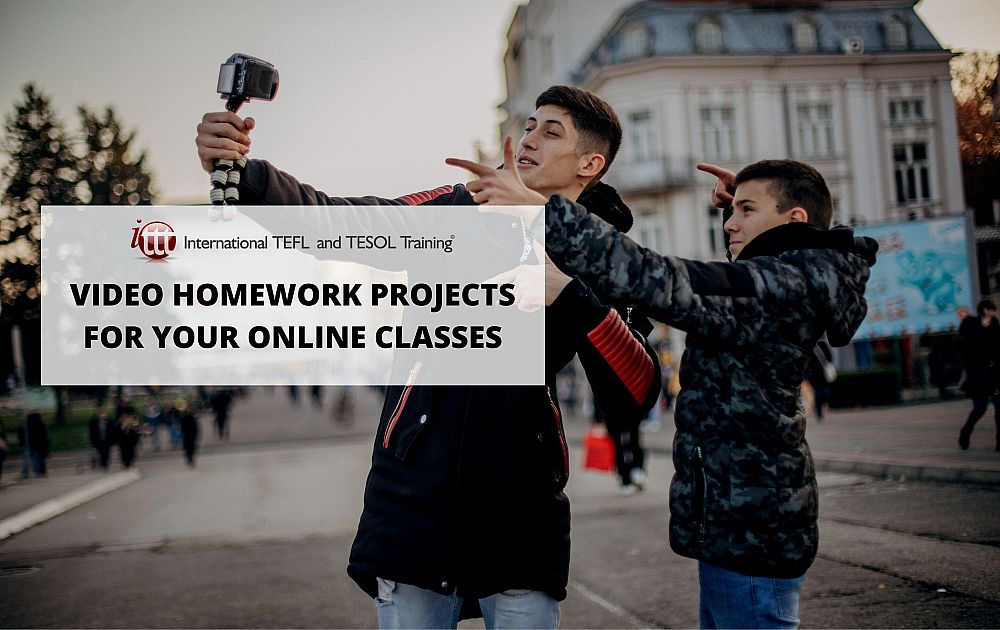 It has become usual for students and teachers to communicate only via computer screens for the last year. All of us have faced a number of problems when studying or teaching online:
problem of psychological adaptation;
changing our teaching methods and getting used to a very different educational system;
rearranging discipline rules according to online teaching;
giving and checking homework.
Overcoming the initial shock
It took society around half a year to get used to a new teaching system. However, it took much more time for the teacher–student communication to get back to normal. Finally, both sides in front of the screen overcame the shock and started taking up online teaching/studying on a daily basis. So from now on, teachers can focus on being more productive inside and outside their online classrooms.
Consequences
Working in modern circumstances, most teachers started to face the same problems:
lessons became shorter;
planning lessons takes much more time;
students have become lazier;
connection problems during the lesson.
Old, Good, Forgotten
And that's where we started to ask the same question: how to make teaching more productive?Checking classical methodological sources, teachers worldwide found the solution to fulfill missing parts of the lesson by giving extra homework. Which also turned out to be much more useful for learners. That is one of the best ways to get better results in learning any subject, not only English, is homework. However, here we talk not about simple exercises from workbooks. Now we are going to talk about creative ways to motivate and prove to your students they are capable of doing much more!
So how do we turn usual boring stuff into exciting projects? The answer is very simple: with the help of videos! There are some tricks to make it more exciting for both you and your students! Let's have a look at what can we do to get better results:
Make your own teaching videos
Sharing responsibility: first of all cut your own video and share it with your students. Be the best example for them! They will understand the teacher really cares and expects them to do the same. Meanwhile, you will understand how hard it is to cut a video of your own. It is hardly possible to cut such a video from the first try!
There are lots of aspects we do not consider as we are teachers, not professional directors:
You may make some mistakes;
You may forget what you were going to say;
You may simply dislike the way you look while recording.
So you will hardly punish your students for small mistakes they may make during the video editing process.
Creating your own project
The main idea is to give an interesting subject, not routine topics ("Hello, I am Ann and I like apples."), but to inspire your students with something much more familiar and important:
talking about a favorite book;
presenting a movie;
preview for a computer game;
presenting their favorite place to visit;
describing hobbies.
Nobody knows students better than the teacher! If you think for a while, you will definitely find out you know all the things that make them wonder!
Chain reaction
One of the most important aspects here is making all students cut and share their video homework. That's where we use the "chain-reaction" method. You may find a poem or polylogue according to your learners' level and share it line by line between them. After receiving all of the short movies, you can easily turn it into an amazing long video with a video editor's help. After you see your students' reaction for the first project like this, you will surely be immediately inspired to continue - and don't forget to include a short video of your own into the project!
More Tricks
Of course, there are always things that do not go according to plan. Some students might not be eager to make their own video projects for different reasons: some are afraid of their pronunciation, some are shy, and some are just lazy.
That's where teachers may use some tricks:
for students who are afraid or panic: give them only a short part of the text or have them only to take part in the project using visual effects;
offer shy students to wear a costume of a particular character or change their appearance dramatically;
ask lazy students to help you choose the best part of the project and write/share a short review.
Try video projects in your online class!
You may use one more secret trick to get a better result: ask the students' parents to participate in projects. There may be an interview task for a particular subject. Should the parents not be too fluent in English, have your students translate their parents' quotes or have them teach their parents some English as a video-project task.
As you can see, there are many ways to make homework projects exciting; the most important thing is not to give up on creating and inspiring your students for more! If you haven't tried it yet, it's never too late to start!
Apply now & get certified to teach english abroad!
Join our 4-week TEFL in-class course in Hong Kong and speak with an ITTT advisor today to put together your personal plan for teaching English abroad.
Send us an email or call us toll-free at 1-800-490-0531 to speak with an ITTT advisor today.
Related Articles:
Check out what our course grads say in our many video testimonials!
---
---