ITTT's Taiwan TEFL training course is based in the wonderful, vibrant city of Taipei. Taipei is a thriving metropolis of 2.7 million people and is the capital of Taiwan. It is also the political, economic, educational, and cultural center of the country, and one of the major regional hubs in East Asia. In Taipei you will find a mix of the traditional and modern where skyscrapers are juxtaposed with colonial buildings and old Chinese temples. One of the most famous, modern landmarks in Taipei is the Taipei 101 building, which was the world's tallest building when it opened in 2004 until the Burj Khalifa was built. The National Palace Museum, on the other hand, is the representative of Taiwan's traditional Chinese culture and has a massive collection of ceramics, carvings, paintings and calligraphy from ancient dynasties in Mainland China. A day trip to Chiang Kai-shek Memorial Hall is also rewarding.
One of the great things about Taipei is the amazing food you can enjoy here. Chinese and Western food are widely available along with other Asian cuisines, and you will find that English-language menus are increasingly available in establishments around the city. Rice and noodle dishes are the staple of Chinese food, and fish, chicken, beef, and pork dishes with cooked vegetables and rice form a typical meal. The dishes tend not to be spicy but come with a variety of condiments, including chili sauce, pepper, and soy sauce. Typical Taiwanese dishes include "braised pork on rice", "beef noodle," fried rice, and "soup dumplings" (Xiao Long Bao). Seafood is also popular with fresh fish, lobster, crabs, cuttlefish, and Neritic Squid some of the delights to enjoy.
Taipei City has a vibrant nightlife with many local night markets, and western bars spread across the city. The Shilin Night Market is the most well known of the night markets, which tend to open around 4 p.m. and stay open well past midnight. They are great places to eat and shop on a budget. There are plenty of shopping malls available in Taipei, including one at the base of the Taipei 101 building.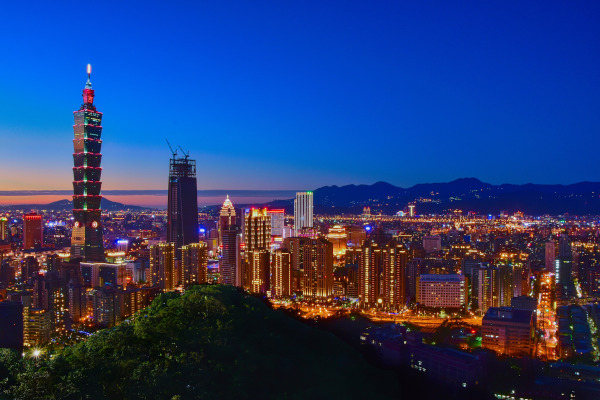 Register now & get certified to teach english abroad!
Nature lovers might prefer to visit Yangmingshan National Park, which is located between Taipei and New Taipei City. The park is famous for its cherry blossoms, hot springs, sulfur deposits, fumaroles, venomous snakes, and hiking trails, including Taiwan's tallest dormant volcano, Seven Star Mountain (1,120 m). You can also take a trek along the hiking trail near Xiangshan metro station to enjoy the wonderful view of the whole of Taipei City, and admire the beauty of the Taipei 101 building.
With such attractions you won't regret choosing Taipei as the destination for earning your internationally recognized TEFL certificate and after completing your course you will find that deciding to live and teach in Taiwan is the best decision you have ever made.
TEFL Courses Taipei