4 Reasons Why You Don't Need a Program to Teach English Abroad
Teaching English abroad is one of the most sought-after career paths for many people these days. Who wouldn't love to travel and move to a new country, while making good money and changing the lives of countless people wanting to improve their English? There are many ways to make it abroad and start your dream job and one of them is by going through a teaching program. However, these programs often involve high fees in exchange for services that we believe can easily be done yourself! Here are 4 reasons why you don't need a program to teach English abroad.
Huge Worldwide Demand for TEFL Certified Teachers
It is estimated that there are currently around 1.75 billion people speaking and learning English around the world and researchers say that by 2020 more than two billion people will speak and learn English. The demand for teachers with a TEFL certificate is extremely high all across the globe, especially in hotspots like China, South Korea, and Japan in Asia, as well as the Czech Republic or Hungary in Europe and various countries in Latin America or the Middle East. Basically, if you are set on teaching in a specific location, you are most likely going to find vacant English teaching positions there waiting to be filled. That being said, you really don't need a program to teach English abroad to find a suitable position. A simple Internet search will result in thousands of job offers looking for suitable candidates.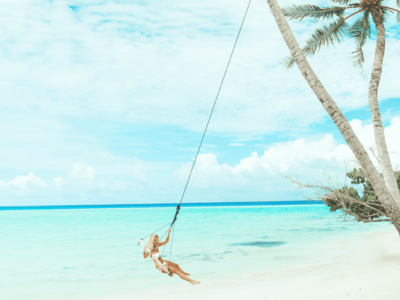 Work with Renowned TEFL Recruiters to Find Your Perfect Position
Another popular option for finding a teaching position abroad is to contact a TEFL recruitment agency. Contrarily to what many people think, TEFL recruiters actually offer their services free of charge to teacher candidates. The employer is always the one who pays upon successfully hiring a teacher, so you never have to worry about any fees. Unlike teaching programs offering teaching experiences abroad where you have to pay a placement fee, TEFL recruiters work free of charge for teachers. We at ITTT also work with a number of renowned TEFL recruiters that place teachers into public and private schools around the world.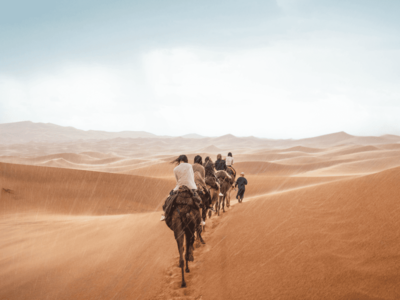 ITTT Provides Answers to All Questions
Teaching English abroad involves a lot of research, planning and organizing and we understand it can be quite overwhelming to someone who is just starting out with their teaching career. Our TEFL professionals help you in answering all the questions you might have in order to head abroad to teach English. Consultations are free of charge and we guide you all along your journey from the beginning of your TEFL course all the way to starting your first teaching job and beyond. We also have a vast FAQ section, where we answer pretty much all questions relating to teaching English abroad. We don't charge any consultation or recruitment fees but offer lifelong job guidance to all our graduates that never expires.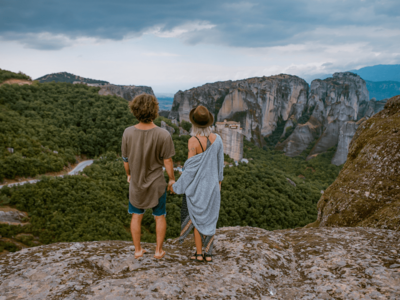 Save the Cost of a Program for Travel & Fun
Programs for teaching English abroad often charge hefty fees for their services. Considering the paragraphs above, you can certainly plan your own adventure and let ITTT help you along the way without spending nearly as much money as you would for a teaching abroad program. This way, you will have a bigger budget to spend on your actual adventure abroad, for example for trips around your teaching destination!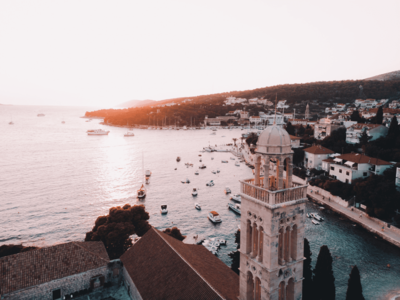 Listen to this blog post
Are you ready to take an online TEFL/TESOL course?
Apply now & get certified to teach english abroad!
Speak with an ITTT advisor today to put together your personal plan for teaching English abroad.
Send us an email or call us toll-free at 1-800-490-0531 to speak with an ITTT advisor today.
Related Articles: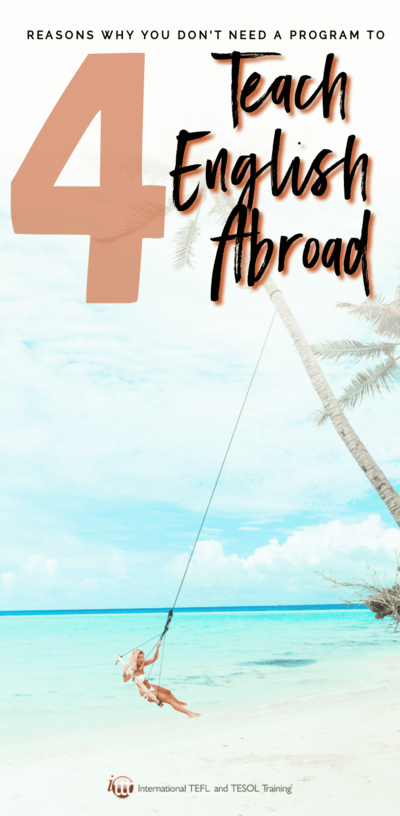 ---
---