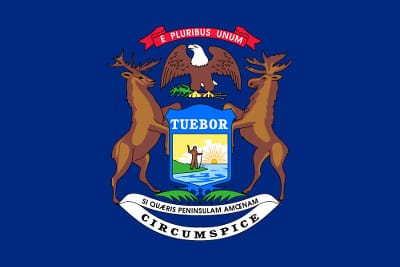 Located at the Great Lakes, Michigan is truly an exceptional state in the USA. This is also due to the fact that Michigan is the only state that is made up of two peninsulas that are divided by the lakes. Due to this unique location, Michigan is also called "The Great Lakes State". Millions of visitors flock to Michigan each year to explore all that the state has to offer. The Upper Peninsula is famous for its many hiking and trekking trails but horseback riding, fishing, and boating are also very popular activities. The Great Lakes coastline, as well as the state's many rivers and lakes offer some of the best views when hiking. A great way to explore all the beautiful nature is to rent an off-road vehicle.
Michigan is home to 97 individual state parks, six state forests, and four national parks. Having said that, you can imagine how much locals love to spend quality time outside. Get out of the city to rent a cabin in the woods and you will see wild deer and hares and find peace in nature. However, many of the parks do not only offer tranquility but also showcase interesting sculptures or are home to historic landmarks and even museums. Watching the sunrise and sunset is also a great activity at the many parks when camping outdoors.
Winter is an especially active season in Michigan as it covers over 6,500 unique trails for skiing, snowboarding, and even snowmobiling. Whether you like downhill skiing or cross-country, you will find your favorite slopes at over 51 skiing areas. Michigan has a total of 260 lifts on over 1,000 slopes across the country. It is also one of the few states to offer 3,000 miles of special cross-country safety zones. Ice-skating, ice hockey and even ice fishing are popular in winter at over 10,000 frozen lakes.
Michigan is not only a perfect vacation destination in winter but actually during all four seasons. The abundant wildlife and stunning landscapes are always changing with the seasons and never get boring. Michigan also features a lot of exciting historic sites and attractions, such as Mackinac Island. This unique place transforms you back a hundred years to when horses were used as the main means of transportation. Most restaurants and shops are family-owned on this famous island, while visitors love to explore the many attractions left from the Revolutionary era.
Michigan does not only offer exceptional natural scenery, including mountains, forests, and lakes but is also a great destination if you are looking for prestigious higher education. If you decide to come to Michigan to obtain your TEFL/TESOL certificate, you will be rewarded with an internationally recognized teaching qualification allowing you to work as an English teacher across the globe.
TEFL Course in Ann Arbor Michigan
Register now & get certified to teach english abroad!
Want to listen to this page? Click on the video below!