Should I get TEFL certification online?
Gaining a TEFL certification online is now the most popular option among our course trainees worldwide. If you were to ask every trainee why they chose an online course you would get many different answers, but one that most people mention is the convenience of being able to complete the training from any location you choose. As long as you have an internet connection there is nothing stopping you from studying at home, during breaks from work, or while traveling. The other main benefit of online study is the high level of flexibility involved. ITTT online TEFL courses have no fixed timetable of study and no set times when you have to be online, you decide for yourself when and how much you study. It is entirely up to you.
For full information on all our online options take a look at our online TEFL courses page.
Another popular feature of our online TEFL courses is that they all come with access to an online tutor. If you are struggling with any aspect of the course procedure, course materials, online assessments, or any other part of your studies, you can email your tutor and they will get back to you promptly with all the answers you need to get back on track.
As there is no set timetable with any of our courses you are free to take your time. Most of our online TEFL courses have a six month maximum time limit to ensure the early parts of the course are still fresh in your memory once you reach the end. The advanced Diploma in TESOL has a one year maximum time limit.
Take a look at our best-selling 120-hour online TEFL certification course.
TEFL course videos
Many of our online TEFL course options include a range of informative videos. These videos are presented by our own professional teacher trainers and cover many of the most important subjects regarding teaching the English language. With our 120-hour TEFL course you will receive access to videos that look at grammar subjects such as the tense system and parts of speech, as well as teaching skills such as classroom management and lesson planning. You will also be able to watch videos of actual EFL lessons taking place in an ITTT classroom.
If you plan on teaching English online now or in the future take a look at our 170-hour TEFL certification with online specialization.
Optional teaching practice
One of the newest features of our online TEFL courses is the option to complete some real teaching practice before heading off to start your first teaching job. And the best news is the practice sessions are free and can be completed without having to attend an ITTT training center.
If you take advantage of our optional teaching practice you will have two different paths to follow, depending on your personal circumstances and preference:
Find a school or language center (either in-class or online) and teach your lessons there. The school will sign off that you have completed the lessons and your documents will be sent to us for verification.
Find your own student/s and teach the lessons independently, either face-to-face or online. You will need to video a one hour session and send it to us with your documentation for verification.
Looking for an advanced qualification to really hit the ground running? Check out our Diploma in TESOL.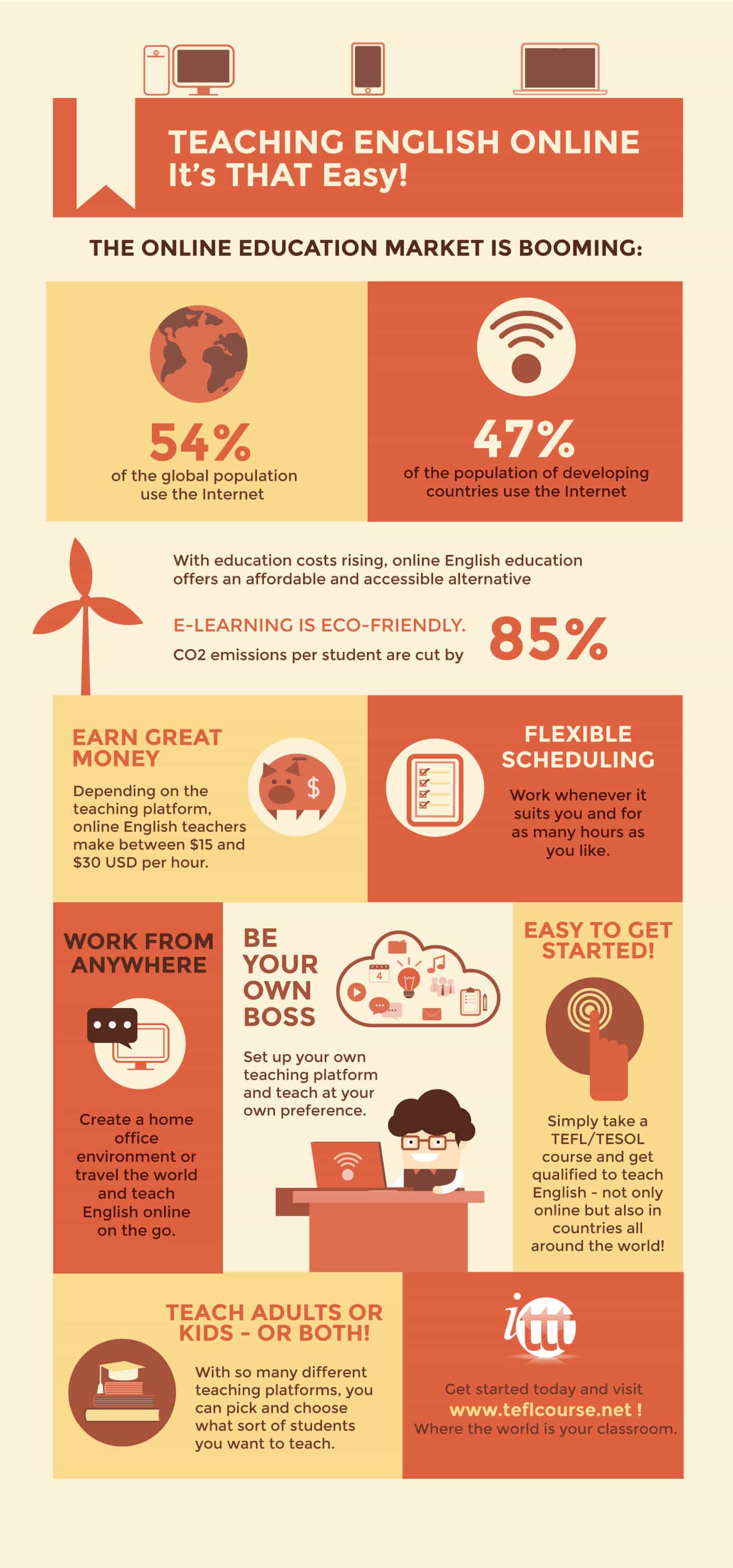 Lifetime job support service
One other feature of our online TEFL courses that can be a real game changer is that all course graduates receive access to our job support services for the duration of their teaching careers. That's right, you will be able to contact us for support in the job market for as long as you remain active in the English language teaching field. Our support services include:
Access to our own database of potential employers
Exclusive leads on unadvertised jobs
Advice on constructing a high-quality CV/resume
Advice on writing cover letters
Assistance with interview preparation and planning trial lessons
Advice on job contracts
Access to our database of downloadable teaching materials and lesson plans
Looking for a bargain? Take a look at our multi-course TEFL package deals.