Here is a free St. Patrick's Day Quiz for ESL learners covering the most important vocabulary words related to St. Patricks Day.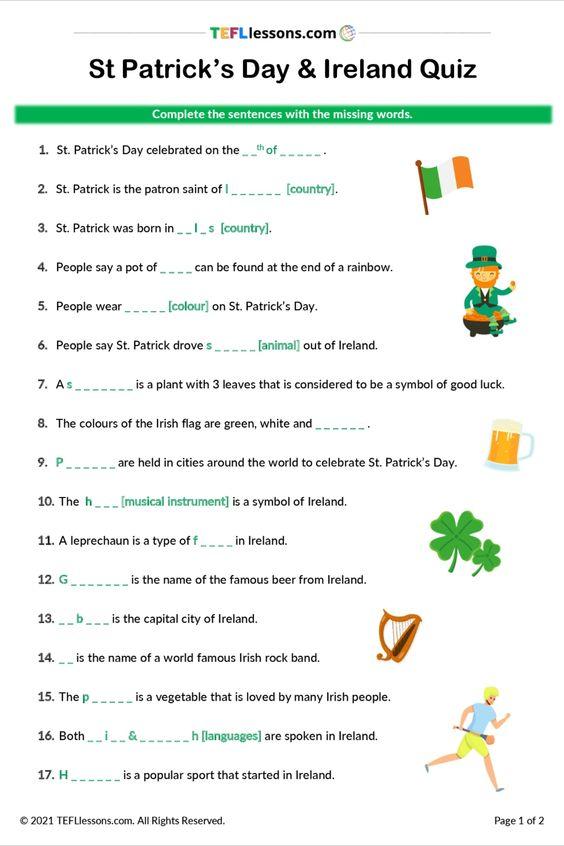 Answer Key
1. St. Patrick's Day is celebrated on the 17th of March.
2. St. Patrick is the patron saint of Ireland.
3. St. Patrick was born in Wales.
4. People say a pot of gold can be found at the end of a rainbow.
5. People wear green on St. Patrick's Day.
6. People say St. Patrick drove snakes out of Ireland.
7. A shamrock is a plant with three leaves that is considered to be a symbol of luck.
8. The colors of the Irish flag are green, white and orange.
9. Parades are held in cities around the world to celebrate St. Patrick's Day.
10. The harp is a symbol of Ireland.
11. A leprechaun is a type of fairy in Ireland.
12. Guinness is the name of the famous beer from Ireland.
13. Dublin is the capital city of Ireland.
14. U2 is the name of a world famous Irish rock band.
15. The potato is a vegetable that is loved by many Irish people.
16. Both Irish & English are spoken in Ireland.
17. Hurling is a popular sport that started in Ireland.
Are you interested in teaching English as a foreign language?
​Get your TEFL or TESOL certificate with ITTT.
Register now & get certified to teach english abroad!
ENDBODY