In general, the apostrophe s ('s) serves two functions: to contract words and to indicate possession. Let's take a look at this closely in the infographic below.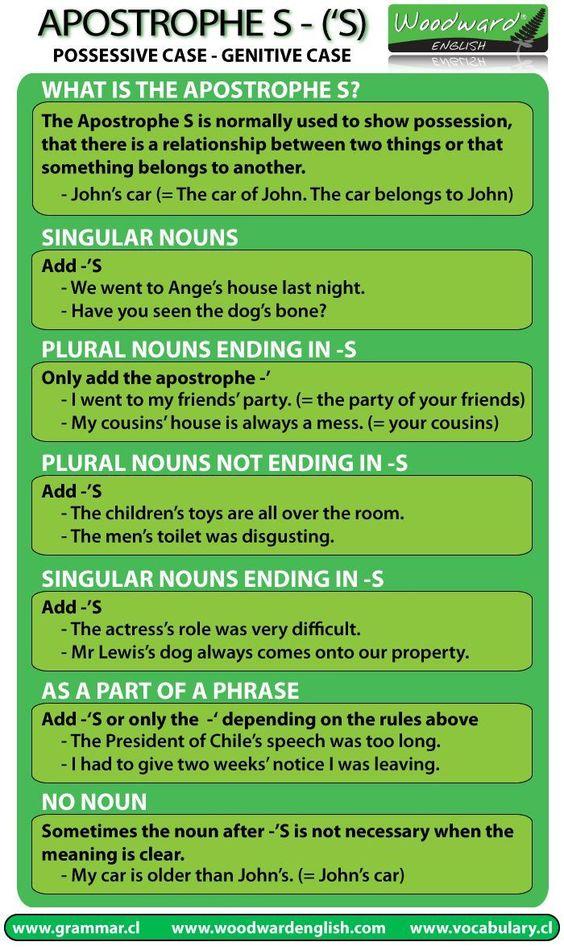 The apostrophe s ('s) serves two functions:
1. As contraction – to indicate one or more letters was dropped.
For example:
it is = it's
they are = they're
would have = would've
2. To indicate possession (ownership)
Just add 's at the end of a singular noun:
Grandma's house (grandma owns the house)
my sister's school bag (my sister posses the school bag)
Liza's car (Liza owns a car)
Charles's apartment (Charles owns an apartment) – pronounced: Charleses
Singular nouns that end in "s", you add 's, for example:
the actress's role
Ms. Lewis's cat
3. Plural Nouns
Only add ' (just the apostrophe symbol) to a plural noun:
my sisters' books
my parents' room
the cats' kittens
For plural nouns that do not end with an s, you add 's:
the children's toys
the women's restroom
Are you interested in teaching English as a foreign language?
​Get your TEFL or TESOL certificate with ITTT.
Register now & get certified to teach english abroad!
ENDBODY