TEFL Perspectives for Non-Native English Speaking Teachers
I have chosen this topic as I am not a native English speaker myself, and before getting into the course I wasn't sure if it was a good idea for the debate there is between native vs non-native English teachers, and for future jobs opportunities. I have been looking for a teaching opportunity for a few months and all the adverts say "native speakers only".
Table of Contents
Pros and Cons of Non-Native Speakers
Pros and Cons of Native Speakers
Do you want to teach English abroad? Take a TEFL course!
This post was written by our TEFL certification graduate Sandra P. Please note that this blog post might not necessarily represent the beliefs or opinions of ITTT.
Natives vs. Non-Natives
The native speaker vs non-native speaker argument continues and it seems it will always be. However, non-native English teachers empathize more closely with their EFL students. Because they have been through the process of learning the language and been trained to teach it, we can argue that they are in a better place to help students with particular language difficulties, especially if they are teaching students who share their mother tongue. Suppose you are Italian and know Italian and English. If you want to teach English to another Italian you can compare it with grammar and phrase structures of the Italian language.
Also Read: NET Scheme for Teaching English in Hong Kong – How It Works and How To Apply
Pros and Cons of Non-Native Speakers
A non-native English teacher is also a good role model and can be a great source of motivation for students. A non-native English teacher will have an accent that is relative to their mother tongue but if they speak clearly, understandably, coherently and create sentences that make sense, it isn't fair to be treated as being inferior to native English speaking teachers. Many non-native English speakers are perfectly understandable when they speak English. They have an accent but so does someone from Glasgow, Newcastle in the UK or Boston in the USA.
Non-native English speaking teachers can be just as valuable as native English speaking teachers. Accent should not be an issue unless it interferes with understandable pronunciation. This applies to native and non-native speakers alike. To state the obvious, to teach, both groups must understand the communicative and technical aspects of English.
Also Read: 6 Steps to Becoming a TEFL Trainer
Pros and Cons of Native Speakers
The native English speaker's advantages are that they have a much higher comfort level and a wider vocabulary as it will include both formal and colloquial terms. The fundamental problem is that they know how to construct sentences but cannot explain why. In general, native teachers can provide a better model for the acquisition of the sound system, providing their students with an excellent role model in terms of pronunciation and helping them build up their confidence in using the language for communication. Non-natives, indeed, tend to have far better language analysis than natives. They know what caused them problems learning the language, and can apply that experience to their own lessons.
The non-natives are at a disadvantage because of this latest 'native teacher' frenzy. Everyone seems to be looking for a 'native speaker' these days. In some countries, and especially in some private institutions, there are no teacher evaluation practices of any kind, as if being 'native' was considered to be a qualification by itself.
Do you want to teach English abroad? Take a TEFL course!
Non- native English teachers are restricted from teaching in certain countries due to strict visa and work permit requirements and tend to get paid lower salaries. Also, certain online teaching companies have similar policies and only give contracts to native English speakers.
Apply now & get certified to teach english abroad!
Speak with an ITTT advisor today to put together your personal plan for teaching English abroad.
Send us an email or call us toll-free at 1-800-490-0531 to speak with an ITTT advisor today.
Related Articles: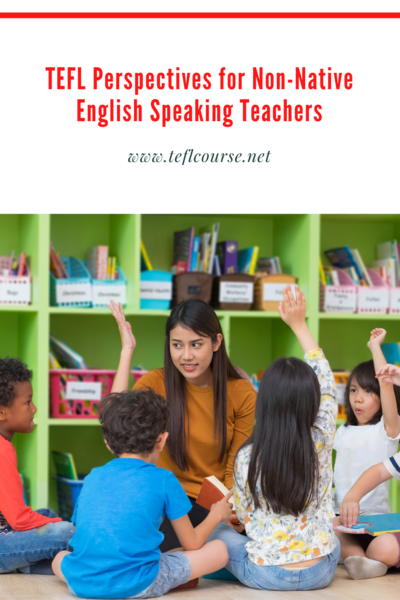 ---
---