Teaching Role Through The Lens of My Personal Experience
7 years ago, when I was just starting my career as a teacher, I asked myself: what my role as a teacher is. After all these years I could finally admit that I managed to define the most important teacher's role for myself. I've been teaching at international preschools and kindergartens as a Homeroom Teacher, and for me, the most crucial and broad role is to create a positive classroom atmosphere, which implies the standards, the mood, and attitudes, that make nurturing learning environment.
This post was written by our TEFL certification graduate Mariia E. Please note that this blog post might not necessarily represent the beliefs or opinions of ITTT.
Classroom Environment
Positive classroom atmosphere feels warm and safe, welcoming and encouraging students' learning. Both the teacher and the children care about what happens to all members of the class. The children show signs of empathy and are comfortable expressing their emotions. The teacher willingly helps and cares for children. The classes make children think, explore, experiment and practice. All activities and transitions are seen as teachable moments. Children are not afraid of punishment, humiliation or rejection. The teacher knows what to do, and feels a sense of control in the classroom. Both the children and the teacher are willing to come to school.
The negative classroom can feel chaotic and out of hands. Children respond fear to their teacher in many ways: rebelling or becoming very reluctant. Unhealthy classrooms have little organization and the teacher has a difficult time getting things done. The children do not know the routines and are criticized for not remembering them. Children may be restless and inattentive, physically hurting each other or property in the room.
Also Read: Why I Did Volunteer Teaching in Nepal and You Should Too
Regardless of students' past experiences and personalities, the teacher's role is to deliberately shape the climate in the classroom into a positive learning environment. Educators believe that the most important element for success is that the teacher believes that she/he can create a positive environment and that she/he has a clear image of what the environment would be.
To create a positive environment, teachers need to focus on things like attitude to work, building rapport with each student in the class, establishing classroom rules and routines from the very beginning, encouraging students with positive feedback, promoting positive peer relationship, and also implementing fun in the curriculum and daily life.
Control Over Classroom
Many teachers are warned not to be friends with children. This advice might come from a fear of losing control or not having enough authority. In my opinion, it's possible to have a personal relationship with each student that might look like friendship from the outside, but represents a strong caring bond with unconditional positive regard. This must go along with setting limits for children, retaining the authority to maintain safety, direct learning and set boundaries on behavior.
I usually try to ask children about their life outside the school (what do they do at home with parents, how do they spend weekends, pets' names, books they read, their siblings etc.), spend a few minutes A DAY talking individually to each child about his passions and interests, let children know they are missed when they are absent, let children talk about their lives and feelings and show enthusiasm when hearing it.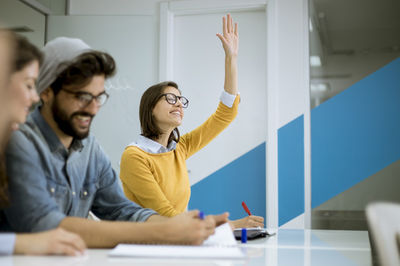 Also Read: How much does a TEFL course cost?
Teaching Routine
The biggest challenge with teaching routines and appropriate behaviors is to be concrete and precise in descriptions. Young children do not understand abstractions, so directions need to be put into behavioral terms which need to be explained as often as it's possible. What does it mean to "be polite" or to "respect"? Teachers need to provide visual aids and explanations of how "polite" and "respectful" sound and look like ("Good morning", "Nice job", "Please stop, I don't like it" etc.).
To establish routines positively, teachers can create a "quiet signal", which is easy to understand and will be repeated every time (sound of a chime, finger over lips, clapping one time, one hand in the air, etc.). Depending on the age group, the signal for work can be a rhyme, a chant or a song.
Children will naturally test the limits on what the are allowed to say and do with each other. It's critical to stop teasing and negative behavior in its tracks. The critical step is to take the action immediately. When conflicts or behavior problems arise, class meetings can help the entire class to use problem-solving steps (relevant for reception and kindergarten, kids aged 4-6). A problem can be written in the agenda and discussed all together at the class meeting when the children give THEIR solutions to the problem.
Also Read: Cultural Features in an ESL Classroom in the UAE
Attitude
Teachers should feel joy and enthusiasm at work, as kids feel the emotions of adults very well and tend to reflect them. We shouldn't be afraid to be silly and have fun with kids.
Work with the same group for the second year helped me to settle our unique fun traditions and routines for our group, which makes us positive every day:
singing 2-3 favorite songs about eating and food if we have some spare time before the meal;
making music breaks between main activities (when children are allowed to choose songs from our "Kids' playlist" or the pace of the song);
making a performance for each other before the music class each Friday, when kids organize themselves, sit in a circle, choose a leader and performing students;
Students choose their favorite book and decide to perform to it;
children choose additional jobs as "Cupholder", "Keyholder" for themselves;
taking group photos every day;
group hug;
videos for the sick teacher;
kids remind each other about birthdays the current month during the circle time;
package/new toy set group unpacking.
I also try to nurture kids' curiosity to the world with facts about nature, space, culture, science, humans, about all the things that surround them.
Do you want to teach English abroad? Take a TEFL course!
Curiosity cultivates an active mind – it's the best antidote to boredom. Fun and positive classrooms will help us to create a community of passionate learners, creative thinkers and problem solvers who will shape our society in the future.
Apply now & get certified to teach english abroad!
Speak with an ITTT advisor today to put together your personal plan for teaching English abroad.
Send us an email or call us toll-free at 1-800-490-0531 to speak with an ITTT advisor today.
Related Articles:
---
---