Getting Student Placement Right - The Best Desk Arrangements for EFL Students
As a teacher of English as a foreign language, or any subject really, you have to consider the seating arrangement in your classroom. Studies have shown that seating arrangements where the teacher can see the faces of all of the students at all times increase student engagement and are therefore beneficial for their learning. Considering this, here are the best desk arrangements for EFL students that you should try out in your classroom!
Single Rows
Setting up the students' desks in single rows is great for teacher demonstrations and independent table work. While this arrangement is very formal and discourages student-to-student interaction, it is highly recommended for the first few weeks of a new class, for example. That's because the single row arrangement allows the teacher to easily engage with all the students through eye contact, it provides easy monitoring and is also great until the students develop their self-management skills.
Also read: The 5 Most Common Types of EFL Students And How To Deal With Them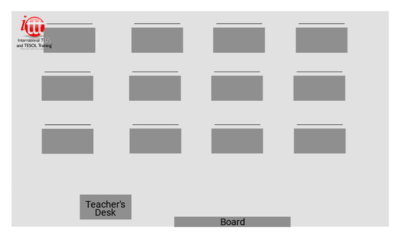 U-Shape
This type of seating arrangement allows the students to engage with one another through eye contact very easily and is great for group discussions. The distance between students also reduces the chances of private conversations - which can be good and bad. The U-shape arrangement also allows the tables to be moved together for group work wherever necessary. Because the students are facing each other, they will always have to turn their heads to look to the board and the teacher, which can be bad for their posture.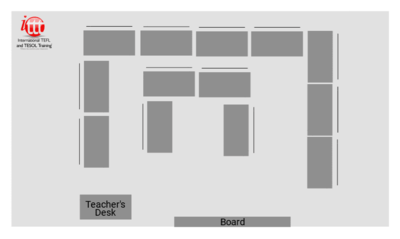 Double Rows
With this seating arrangement, the students are facing each other. This way, they can easily interact and communicate with one another. The double row arrangement is great for speaking classes and classes with a lot of student talk time but can be disruptive for other classes. That's because off-task interaction happens very easily and it is harder for the teacher to gain eye contact with individual students.
Also read: Top Online Lesson Plan Resources for New and Advanced Teachers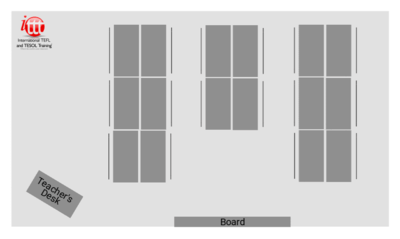 Clusters
Often referred to as workstation arrangement, clusters are ideal for students with very good self-management skills. They also work well for group projects or to simply boost the group feeling in the class. However, it is harder for the teacher to maintain eye contact with the students and monitor their activity. The students also lose their own space which can be a problem for some students. If you are dealing with a class with management problems and other difficulties, the cluster arrangement should be avoided.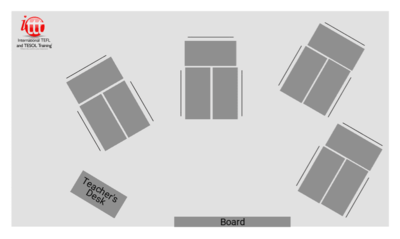 More things to consider regarding desk placement:
All students should be able to see you and the board from their desks;
Plan in sufficient aisle space so that you can easily move around the classroom and the students have enough individual space;
Set up work area tables and storage around the perimeter of the classroom;
Consider where students will keep their personal belongings (notebooks, folders, stationary, etc.)
Listen to this blog post
Are you ready to teach English abroad?
When deciding on the perfect desk arrangement for your EFL classroom, you need to make sure that it meets the needs of your students and also compliments your own teaching style. Desks set up in rows, clusters, groups and U-shapes all have advantages and disadvantages as they each encourage and discourage certain behaviors.
Apply now & get certified to teach english abroad!
Speak with an ITTT advisor today to put together your personal plan for teaching English abroad.
Send us an email or call us toll-free at 1-800-490-0531 to speak with an ITTT advisor today.
Related Articles: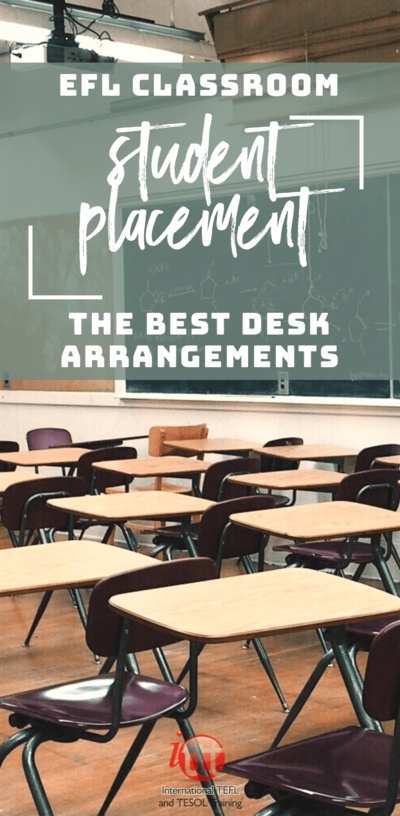 ---
---