Teaching Productive Skills: How to Make the Most Out of it
Speaking and writing are the two productive skills taught in the classroom. Although they both are developed in different ways, they are used to measure the communication competence that the students have. However, most of the times teachers and students cannot get the most out of these productive skills. Let´s take a look at techniques from experience that can help us develop these skills efficiently with students.
This post was written by our TEFL certification graduate Diana M. Please note that this blog post might not necessarily represent the beliefs or opinions of ITTT.
For Rapport Building
Writing and speaking might be seen by teachers as the chance to build a rapport with the students. When you built a rapport with students they will free more comfortable speaking in class, they will feel that they are not being tested on the contrary they will feel excited to tell you all that is going on in their lives. One good advice is to start your class asking your students about what do they do on weekends, what books they like to read, what is common to do in their age etc. also share with them some of your personal life, that would definitely help the fluency in the class and would help building a rapport with them.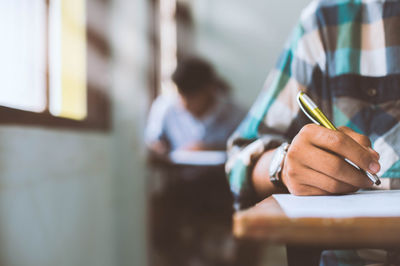 Also Read: How to find a job teaching English in France?
To Get to Know Students
When teaching topics that can be susceptible to students such as family members, writing can be the way to approach that topic and to build a rapport as well. Making your students write about their families or the person they admire the most in their family would help you as a teacher get to know that student. It will also help the teacher to get an idea of the student's background, where are they coming from and in some cases it can give you a reason for certain behaviors' of students in the classroom. Students will notice that they are sharing some information with their teacher instead of just writing a paper for homework.
After checking and grading students' papers, teachers could ask in private some of the students with a good performance to read their paper out loud in the class. If they accept, this can bring two positive experiences in the classroom: First, students that got a low grade could get an example of how to do it, how it is well done. And second, the positive reward for students who put an effort into getting things right.
Also Read: What is the Central European Teaching Program CETP for teaching English in Hungary?
To Give a Feedback
According to the reading units from this course, the teacher should wait until the student has finished his/ her speech to correct the mistakes they have made. It is very important to make students feel comfortable when they have to participate in class when feedback includes the positive aspects and the improving aspects students will feel that not all that they did was negative. Positive reward in case of students being extreme shy could also help.
Do you want to teach English abroad? Take a TEFL course!
Getting the most out of writing and speaking must also include games, free roleplay debates, simulations, activities where students can interact with the rest of the class, where they could feel that apart from being tested they are in a social environment where communication must be done using speaking or writing. Teachers have a big responsibility in making that happened!
Apply now & get certified to teach english abroad!
Speak with an ITTT advisor today to put together your personal plan for teaching English abroad.
Send us an email or call us toll-free at 1-800-490-0531 to speak with an ITTT advisor today.
Related Articles: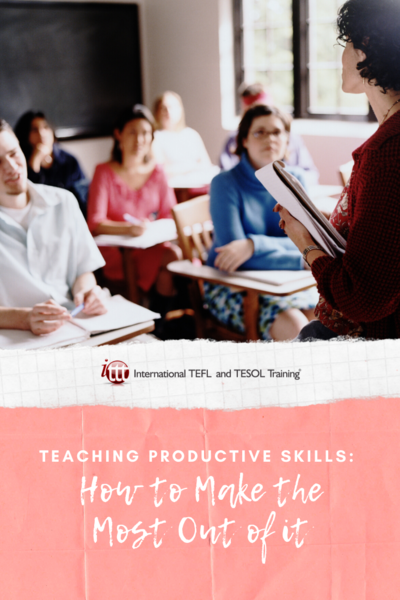 ---
---