How To Write The Perfect ESL Lesson Plan
Lesson planning is a significant element of everyday life as a teacher in English as a foreign language. A lesson plan acts as a step-by-step guide providing the structure for your lesson. However, too much planning can make lessons rather rigid and stop the teacher being flexible to the needs of the students.
This post was written by our ITTT graduate Mariska F.
Listen to this blog post:
Why should you plan your lesson?
Before planning a lesson, it is essential to classify the learning outcomes for the class. This is crucial as it helps the teacher maintain a standard teaching pattern and does not let the class deviate from the topic. Pre-planning helps the teacher to be better equipped in answering questions asked by the students during the lesson. Lesson planning establishes your credibility as a teacher as it shows professionalism and commitment. It helps you think about where you're going with your lesson and helps you remember what you intend to do. It makes you structure your lesson so that it flows coherently and covers the tasks towards the objective. It gives students confidence that you have thought about the lesson and know exactly what you are doing. A lesson plan gives your lesson shape and is the framework for your teaching.
Also read: Top Online Lesson Plan Resources for New and Advanced Teachers
The following should be included in a lesson plan:
Learner objectives - This is what you want the students to be able to do by the end of the lesson.

Personal aims - What you as a teacher wish to achieve. A teacher should be prepared not only to teach the students but also make sure that they take some fruitful thought regarding the lesson at the end of the class.

Language point - This shows the theme around which your lesson is based and also how it fits with past and planned future lessons.

Teaching aids - List all the materials and other aids that you will need in the lesson. This will help you quickly check if you have everything at the beginning of a lesson.

Anticipated problems and solutions for the students and the teacher - It is important to try and anticipate any particular problems that the students or the teacher may encounter during the lesson. Once you have established possible problems, think of how to solve them, so that you are prepared should they arise.

Procedure - List all the activities used to achieve the learner objectives. It is the body of your lesson plan, the ways in which you will share information with students and the methods you will use to help them assume a measure of mastery of that material.

Lesson phases - Engage, Study or Activate (click here to see more ESA lesson plan ideas). Plan out which phase you are going to use and when.

Timing - It is vital to plan how long each activity is expected to take. You should then be able to see if you have too much content or not enough to cover your lesson. Stick to your time limit for each stage of the lesson plan.

Interaction - Who will be interacting at each stage of the lesson. Teacher to student (T-S), student to student (S-S) or students working alone.

Class level - The level of ability that the class has with the English language.

Number of students - You may wish to anticipate how many students will attend to make sure that your activities are suitable for the class size and to make sure you have enough materials for each student.

Date and time - This will allow you to keep a written record of what you have done with a certain class and when. It will also help teachers who may teach the same class at a later date.

Teacher's and observer's names - May be useful if the class is being monitored.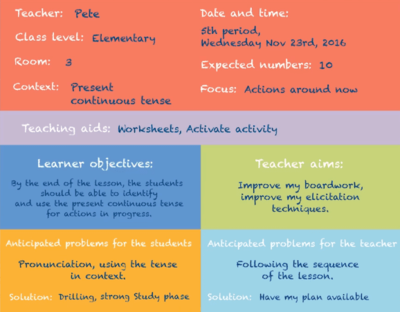 Keep to your plan but stay flexible
While a lesson plan is essential, especially for new teachers, sometimes, you will have to change it around while you are teaching. This might be due to absent students, unforeseen events happening or simply because you have realized the students' needs differ from what you have anticipated. That's why it's always good to have a couple of backup activities up your sleeve that you can refer to should you need them. If you see an activity simply doesn't work with your students, ditch it and substitute it with a different one.
Also read: Top Mistakes to Avoid in the Classroom While Teaching English Abroad
Watch the ITTT lesson plan video guide
We have created a lesson plan video guide that will help you write the perfect ESL lesson plan in a few simple steps. Watch the lessons here:
Are you ready to teach English abroad?
Apply now & get certified to teach english abroad!
Speak with an ITTT advisor today to put together your personal plan for teaching English abroad.
Send us an email or call us toll-free at 1-800-490-0531 to speak with an ITTT advisor today.
Related Articles:
Check out what our course grads say in our many video testimonials!
---
---