How Can Online Education Influence ESL?
Generally, it is thought that education is going through a major overall, this includes but is not limited to the structure of how education is provided to students from both the perspective of classrooms at educational institutions and online teaching.
This post was written by our TEFL certification graduate Niki S. Please note that this blog post might not necessarily represent the beliefs or opinions of ITTT.
The Ideas of Online Teaching
Online teaching has the added benefit to educational institutions in the way that it has the ability of lowering business costs such as overheads where the institution does not need to pay for basic utilities such as electricity, oil, air-conditioning, rent and other expenses such as drinking water, telephone lines, and the internet which could be taken on by teachers that participate in the educational institutions online teaching outlets.
This can bring in benefits such as decreased business operating costs, however on the flip side of this the disadvantages can be such as client/student dissatisfaction due to bad online connectivity for students in remote areas that may feel as though the cost they have paid for the course has led to a lower educational experience and environment. Another disadvantage of this is that I have heard of educational institutions saying this is not a preferred way of teaching because of not only the connectivity issues but also the students complain of not being able to be involved in more comprehensive interactive group activities that are available online and also no face to face interaction with the other students.
Also Read: What is the difference between TESOL and TEFL?
Future of Education
While it is true to say the experience of teaching in classrooms has the benefits of being able to share and express meanings more conveniently it also comes at the cost of student satisfaction. Some people say that educational institutions should exist in a hybrid environment, that is to say, that educational institutions should offer both physical on-site classrooms and online classrooms where students have the best of both worlds. This way a student would be able to choose either of the options whatever best suits the student's current condition. Some students whilst remote in locale have the advantage of attending online classes but could also suffer from both the reduced effectiveness of the online received education and connectivity issues, whilst other students in urban environments are more likely to receive a better level of education by attending classes in physical on-site classrooms.
I hold the view that educational institutions should offer both services for willing students to best fit the students' needs and try to cater to best suit the students' requirements.
Also Read: How To Find a Job As an English Teacher Online | ITTT | TEFL Blog
Future Experience
From my perspective, it is advantageous for teachers who have never taught online to give online teaching a go and do their best to provide a comprehensive, interactive and effective online experience for the students, this may be working directly for an educational institution that has on-site schools and online teaching services, or dipping their toes in some educational companies that only have an online presence as a starting point for their career if just beginning in the teaching industry.
Do you want to teach English abroad? Take a TEFL course!
In my view, I think this is one way to get involved in online education. The other is being an assistant of a course developer in the way that the teacher could bring real-world experience from classroom experiences to the online ESL teaching environment.
Apply now & get certified to teach english abroad!
Speak with an ITTT advisor today to put together your personal plan for teaching English abroad.
Send us an email or call us toll-free at 1-800-490-0531 to speak with an ITTT advisor today.
Related Articles: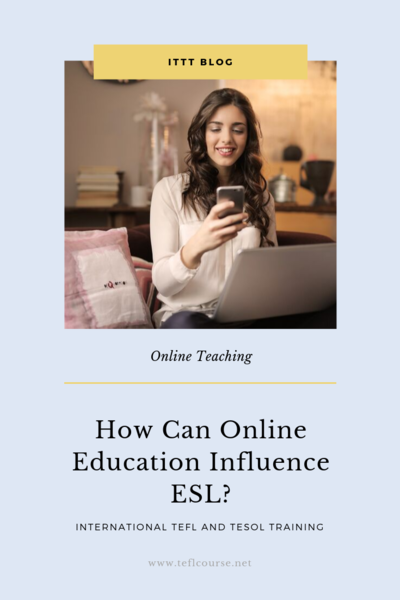 ---
---