How Adults' Learning Differs From Teenagers' and Children's Learning?
ESL teachers must acknowledge that it is not equal teaching English Lessons to children, teenagers, and adults, there are some wide differences between the practices used in each case, classroom, population, levels, and country where English is taught, on this paper we will check how an ESL lesson may be affected by these variables, and how we could overlap them on the practices used in teenagers and adults English lessons.
This post was written by our TEFL certification graduate Javier V. Please note that this blog post might not necessarily represent the beliefs or opinions of ITTT.
Basic concepts
To analyze all the practices and methods used in an ESL lesson differing from its population, we must clarify the first two basic concepts, Andragogy and Pedagogy, these concepts define how the teacher and student relationship is developed through the learning process, and therefore the population involved.
Pedagogy or pedagogue came from the Greek words paid (child) and agogos (leader), so a paid-agogos or pedagogue was a leader of children, this concept was used in the ancient times, and became a general term regarding all the process involved in any learning aspect, at the same time Andragogy has its Greek roots, and (man), and agogos (leader); it means leading man.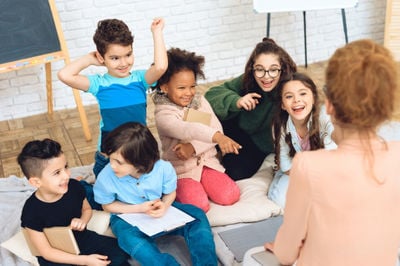 Also Read: Can I cancel my contract early when teaching English abroad?
Self-concept
One significant difference between pedagogy and andragogy is the self-concept of the learner. A child or teenager sees himself as a teacher dependent (agogos), across his life, but until at some point, he begins to experience the joy of deciding things by him.
A child or teenager will eventually become an adult, and they will visualize themselves as independent and self-directing learners. Andragogy is based on a need to be treated as a respected, self-directed adult in the learning process.
It is important to highlight the place where the ESL lessons are provided, private institution guidelines may differ public institution from, besides this, the population may differ from their socio-economic status, therefore creating or denying main/extra-learning opportunities.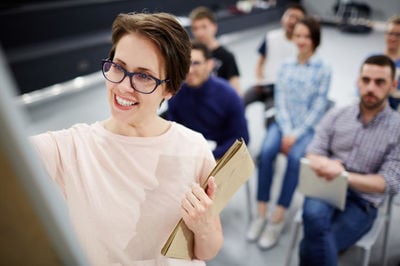 Also Read: Do I need a passport to teach English abroad?
Personal Experience
On my personal experience as ESL teacher, I have seen these two concepts unbalancing an English lesson, Communities of practice had been a helpful tool to overcome this falls; I had checked before any class some students aspects like need to know, self-concept, prior experience, readiness, orientation, and their current motivation.
An ESL lesson for teens is focused on boosting enjoyable learning, using amusing, practical and multimodal activities, and non-linguistic behavioral conventions; otherwise an adult ESL lesson is characterized as a focused and manageable class, adult population prefers drilling and rehearsal activities, focused on the outcomes and linguistic variables as well.
Also Read: Great ESP and EAP Course Books and Where to Find Them
I had to deal with a wide range of English proficiencies and learning styles, so I looked for balancing activities where everyone could learn, I used, for example, adults experiences to model language needs, and link vocabulary concepts back to students' general culture and own experience.
Nevertheless, the guide plans provided by the institutions were far less likely to reach adult student's needs and proficiency levels; they were heavily influenced by competency requirements'.
I had to encourage adult students to have a go and reach the course goal, they paired with some stronger and younger students, mixing all the learning process, and it was gratefully received, there were collaborative practices, unity, and synchronicity among the students through the course, adult population got engaged and motivated to keep learning in this way, they saw this as an opportunity for self-improvement and personal growing.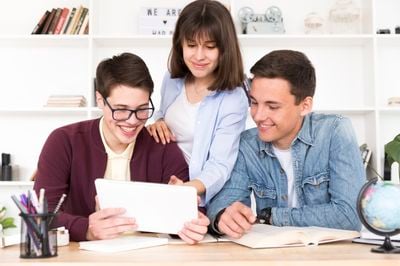 Adults learning process
The adult population is generally highly motivated to learn, and they usually enroll voluntarily in this kind of programs, other reasons could be career- or job-related reasons, like professional or career upgrading, earn a college or university degree, vocational or apprenticeship certificate, or just complete secondary school.
They have finished school before and they got some knowledge in subject matter areas like math, science, and social studies so this extra information could be used to expand all the students' vocabulary.
They may also have support networks within their language and culture groups that help them adjust to life in an English speaking country, and gain access to daily life service.
Do you want to teach English abroad? Take a TEFL course!
Finally, it is likely possible those adult students imitate ESL teacher´s learning strategies, many of them tried to copy how I learned English, and also I was confirmed that the teaching practices I used on my second language learning did affect that language teaching practices, we can settle that adult population is looking for a good self-learning pace, imitating others learning process and being focused during ESL lessons.
Apply now & get certified to teach english abroad!
Speak with an ITTT advisor today to put together your personal plan for teaching English abroad.
Send us an email or call us toll-free at 1-800-490-0531 to speak with an ITTT advisor today.
Related Articles: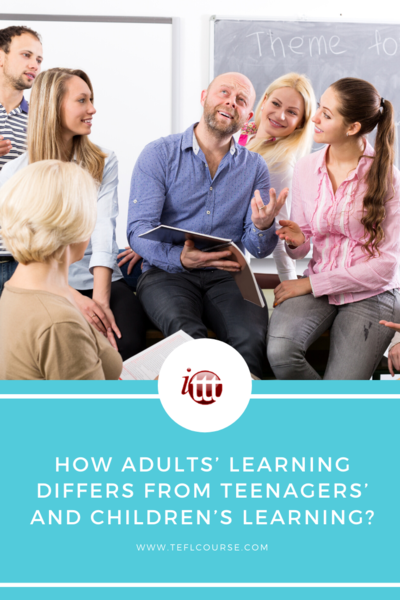 ---
---