8 Must-Visit Places When Teaching English in Mexico
Mexico attracts more and more ESL teachers every year due to its great mix of attractions that includes a warm climate, thousands of miles of coastline and beaches, a fascinating history of ancient civilizations, vibrant cities, a dynamic culture, and outstanding cuisine. Many teachers also head to Mexico for the opportunity to be immersed in the Spanish language, which is the third most used language in the world.
Mexico's popularity is also increasing as it is now one of the largest markets for foreign English teachers in the world. With a population of over 120 million, a rapidly growing economy, and close ties to the United States, knowledge of English is a skill that is continually growing in importance in the local job market. If you plan on joining the thousands of ESL teachers who already call Mexico home, take a look at our list of highlights to look forward to during your stay.
Mexico City
As the country's capital and the most populous city in North America, it is no surprise that there is a wide array of things to see and do in Mexico City. Founded as Tenochtitlan, the ancient Aztec capital in the 14th century, the modern day city is a must-visit destination due to its world-class museums, historic landmarks, excellent shopping and dining, and lively nightlife options. To get a feel for the ancient roots of the country you should visit the National Museum of Anthropology, Chapultepec Castle, Palacio de Bellas Artes, and the ancient city of Teotihuacan which is located just a short drive away. After gorging on the city's history and culture, you can then relax and enjoy some of the finest street food in the world along with a cold local beverage.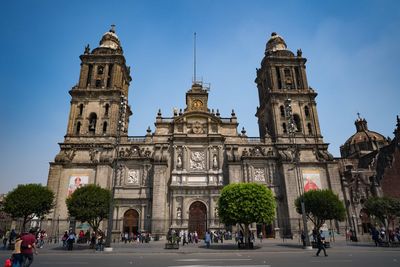 Acapulco
Made famous during the 1940s and 50s as a playground of the rich and famous, the name Acapulco is still synonymous with exotic beach getaways. One of the most iconic sights in the city is La Quebrada Cliff Divers who have been performing spectacular high dives from the city's cliffs for decades. Other attractions include stunning sandy beaches with warm blue waters that are perfect for swimming, watersports or simply lazing under the cloudless skies. The city is also famous for its party atmosphere that caters to all tastes and budgets, from high-end resorts, restaurants, clubs and golf courses to lively local bars and street stalls offering mouth watering local dishes at very affordable prices. Acapulco is certainly an exotic destination waiting to be explored.
Also read: Teaching English in Mexico - The Salary and Budget Guide
Guadalajara
Mexico's second largest city is regarded as the cultural capital of the country's western region and is famed as the birthplace of two of Mexico's most famous cultural icons: mariachi and tequila. The city is also famed for its historic city center that contains a large number of colonial era buildings such as museums, theaters, libraries, and concert halls. Particular highlights to look out for are the Teatro Degollado, the oldest opera house in Mexico, and the Hospicio Cabanas which is regarded as the oldest and largest hospital complex in the Americas. As the city of Guadalajara is a major center of industry, technology and education, it is often referred to as the "Mexican Silicon Valley". This status makes it a great place to look for work as an ESL teacher as the job market is buoyant year-round.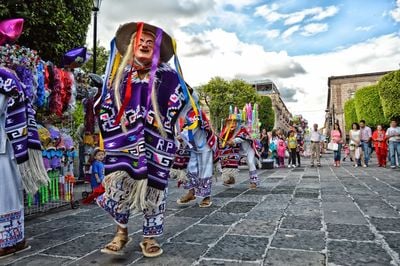 Cozumel
The island of Cozumel is located in the Caribbean Sea off the eastern coast of the Yucatan Peninsula. The area is one of Mexico's most popular tourist destinations and is famous for its excellent scuba diving and snorkeling. If you are a keen diver, or are looking to give it a go, this is a must-visit destination for you. Other attractions include a wide variety of watersports, pristine marine parks, and miles of white sand beaches where you can relax under the palm trees and sip on a cocktail. The island also has plenty of nightlife to enjoy and endless choices of wonderful Mexican cuisine to suit all budgets.
Also read: How to Obtain a Work Visa to Teach English in Mexico
Palenque
This ancient Maya city was engulfed by the surrounding jungle for hundreds of years, but it has been gradually excavated in recent times and is now one of the most visited sites of its kind in the region. The oldest ruins at the site date back over 2,000 years, with the majority being from around 600 AD. The Temple of Transcriptions dates from this time and is one of the most recognizable of all the ancient monuments in Mexico. Other notable structures to explore include the Temple of the Skull, the Temple of the Jaguar, and a large complex of buildings known simply as the Palace.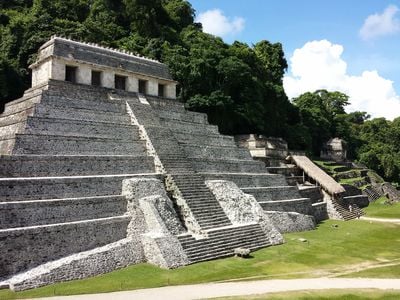 Tulum
Tulum is the site of one of the last major cities built by the Mayan civilization between the 13th and 15th centuries and is home to some of the best preserved architecture of its kind in the whole of Mexico. One thing that makes Tulum stand out from many other similar sites in Mexico is the fact that it is located right on the Caribbean coast. There are very few places where you can spend the morning exploring fascinating history and culture on such a grand scale and then relax in the afternoon on white sand beaches!
Chichen Itza
Another ancient site that you will not want to miss is Chichen Itza which attracts a large number of visitors from around the world, and not without good reason. The huge scale of this site is truly awesome, with the iconic structure known as El Castillo dominating the very center of the complex. This imposing temple-pyramid consists of 91 steps on each of its 4 sides, which add up to 365 when the final top step is included. This representation of the days of the year is just one of the fascinating features of this magnificent structure.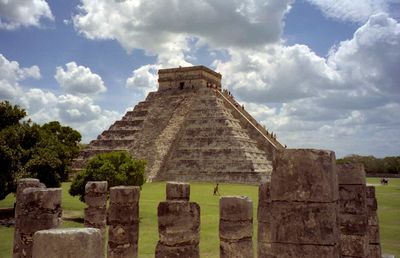 Oaxaca
The center of this extraordinary city has been designated as a UNESCO World Heritage Site due to its unique range of elaborate colonial buildings and numerous cultural attractions that draws visitors from far and wide. The peaceful, tree-lined central square is at the heart of the city that is full of intimate galleries, museums and landmarks that can easily be explored on foot. Outside of the city you will also find a stunning natural landscape that is home to many archeological sites, as well as outdoor activities such as hiking, biking, and horseback riding.
For the best possible start to your teaching career in Mexico, why not complete our in-class TEFL certification course in Chiapas?
You can also find out more information about Mexico via our country guide.
Listen to this blog post
Are you ready to teach English in Mexico?
Although many people come to Mexico simply to take advantage of the healthy job market for ESL teachers, most are pleasantly surprised by the wide variety of things there are to see and do away from the classroom. The above ideas are really just the tip of the iceberg!
Apply now & get certified to teach english abroad!
Speak with an ITTT advisor today to put together your personal plan for teaching English abroad!
Send us an email or call us toll-free at 1-800-490-0531 to speak with an ITTT advisor today.
Related Articles: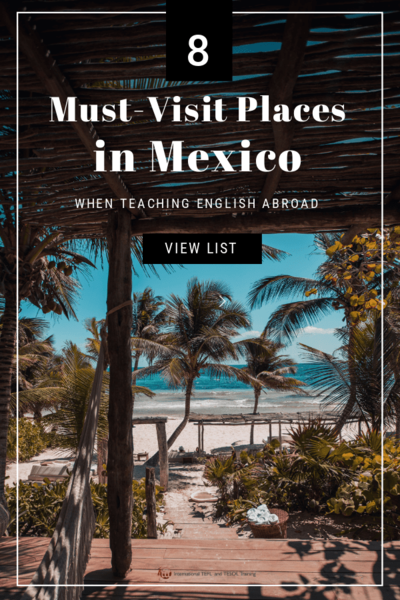 ---
---