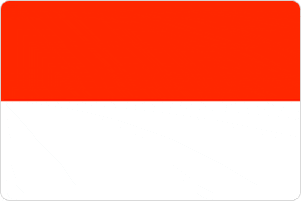 Capital city
Jakarta
Language
Indonesian
Currency
Rupiah
Typical TEFL teacher salary
8 - 9,000,000 (Rupiah per month)
Major TEFL locations
Jakarta
Surabaya
Bandung
Medan
The Country
Indonesia is the fifth-most populous nation on Earth and its healthy economy means many of its citizens are learning English each and every day. With an internationally accredited TEFL certificate such as that offered by TEFL International, as well as our lifetime assistance securing jobs, chances of finding employment in Indonesia are excellent.
Positions teaching English can range from state to private sector. Most teachers find employment on the country's main island of Java, but there are many openings on other islands too. The requirements to teach English in Indonesia are quite flexible but in all cases, TEFL certification from a recognized TEFL course is required by the government in order to issue a work visa. Some schools require a university degree while others do not. Most schools value a positive attitude and the ability to adapt to local customs.
With the cost of living very low, a TEFL teacher's salary goes a long way. Some employers will offer housing but always ask to see your accommodation before accepting the offer. Sometimes you can decline the housing in exchange for a higher salary. It's always a good idea to ask specific questions regarding working schedules, salary payments and additional benefits.
Teaching English in Indonesia is a cultural experience like no other. Whether in an urban area or on a tropical island, you'll enjoy an experience of a lifetime and gain critical experience for the next step along your teaching career.
TEFL Courses in Surabaya
Sample Job offer for Teaching English in Indonesia