Their and they're sound the same in English and it is a common mistake to mix them up, even for native English speakers. However they have very different meanings.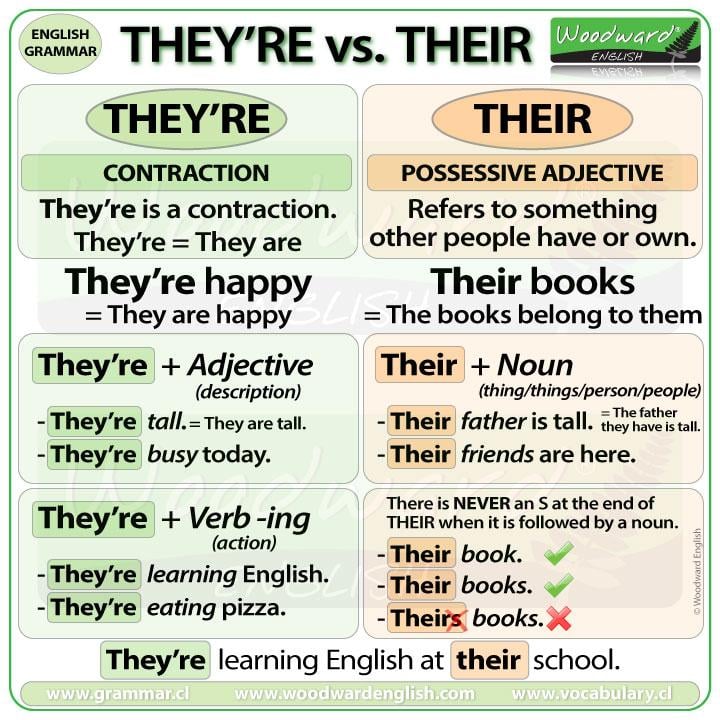 THEY'RE – Basic Explanation
THEY'RE = THEY ARE
They're is a contraction of they are.
They're sad. (They're here means they are … they are sad)
They're playing golf.
They're in that house.
THEIR – Basic Explanation
THEIR = a possessive adjective. It shows possession, that something belongs to some people you are not talking to right now.
Examples of other possessive adjectives are MY, YOUR, HIS, and HER:
My car, your car, his car, her car, their car.
They have books. Their books are new.
These are not my books, they are their books.
THEIR is also used for a group of two or more people that are not with you right now.
David and Jane are married. Their car is blue.
John and Brian are brothers. Their mother speaks Italian.
Their hair is long.
Their teacher is very tall.
The noun after their can refer to a thing (or person) that these people have.
Register now & get certified to teach english abroad!
ENDBODY