Studying words in pairs of opposites is a great way to build vocabulary quickly. Every teacher should have this list of the most important opposite words in English in their teaching materials.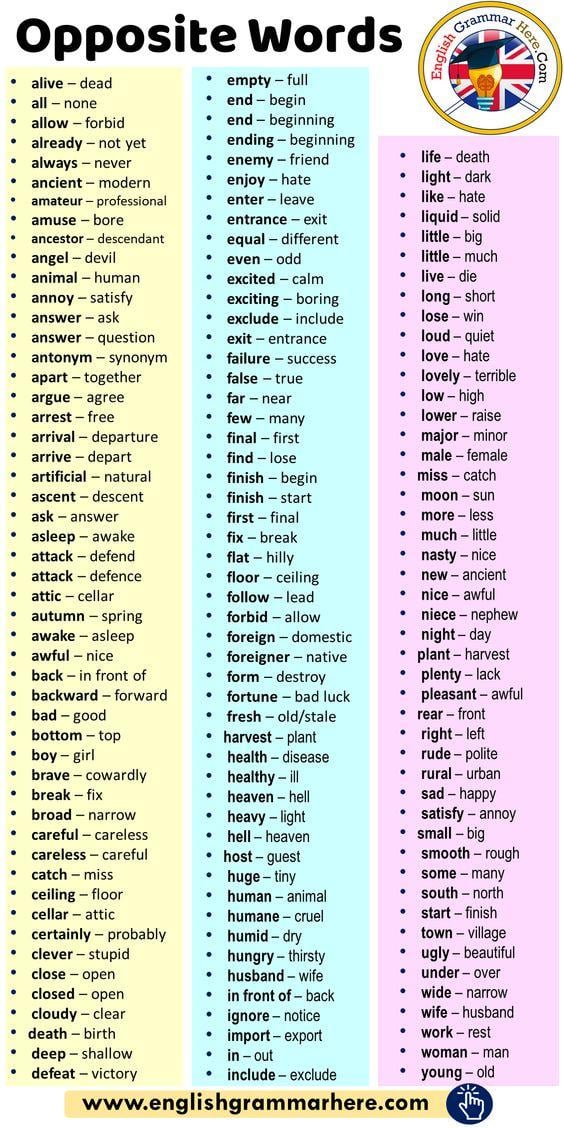 Pairing opposite words is a great way to learn new vocabulary. It is much easier to attach meaning to a word when students are also presented with a word's antonym. For instance, the meaning of the word "tall" is a lot easier to grasp when presented as "tall/short."
Images are also very helpful when learning opposites. Words such as "big/small," when accompanied by visuals of big and small animals or objects, can be instantly understood. Opposites can also be reinforced through various fun activities such as the four listed below.
Four Fun Activities for Learning Opposites
1. Brainstorming
There are gazillions of opposites out there! You can split the class in groups (or work with the class as a whole) and brainstorm as many opposites as they can come up with. Groups can write the opposites on a piece of paper within a given time frame - the group who came up with the most opposite pairs in a certain time frame wins.
2. Matching
Matchup tasks are perfect for practicing opposites. Prepare various opposite terms on small pieces of paper, mix them up, and hand them out to pairs or groups of students to sort into matching opposites. For a class activity, you could also write one set of opposite pairs in a list on the left side and the other on the right of the board and have students draw lines connecting the opposites. Just mix up the order of the words on the right side to make it more challenging.
3. Complete the List
Pairs of students will come up with a list of opposite words with only one column of a paper filled out, e.g. big, tall, full, bright, etc. Once they have completed their half-empty list of 10 opposite words, they pass the paper on to another pair of students who will try to complete the right side of the list, such as small, short, empty, dark, etc. You can have the students pass on their paper lists clockwise or counterclockwise to keep things organized.
4. Memory Game
There are a variety of card games you can use to practice opposites, such as Go Fish or Memory. For the Memory game, you first cut up a set of cards before class and write one opposite word on each. Make sure each word card has another card to match and prepare enough to have one set of cards for each group of students. In class, shuffle the cards and place them face‑down in a grid on a table for each group. Then, the students will take turns flipping over any two cards. If the words are matching opposites, the student can keep the pair of cards. If they're not opposites, the students must flip them back over. At the end of the game, the student with the most cards wins!
What are some other ways you could practice opposites in class? Share your ideas in the comments section below.
Register now & get certified to teach english abroad!
ENDBODY