Do you ever write emails in English for work or leisure? Are you unsure how to end your email? Are you too formal or not formal enough? The guide below shows you the best ways to end an email in a formal, professional, informal and/or friendly manner.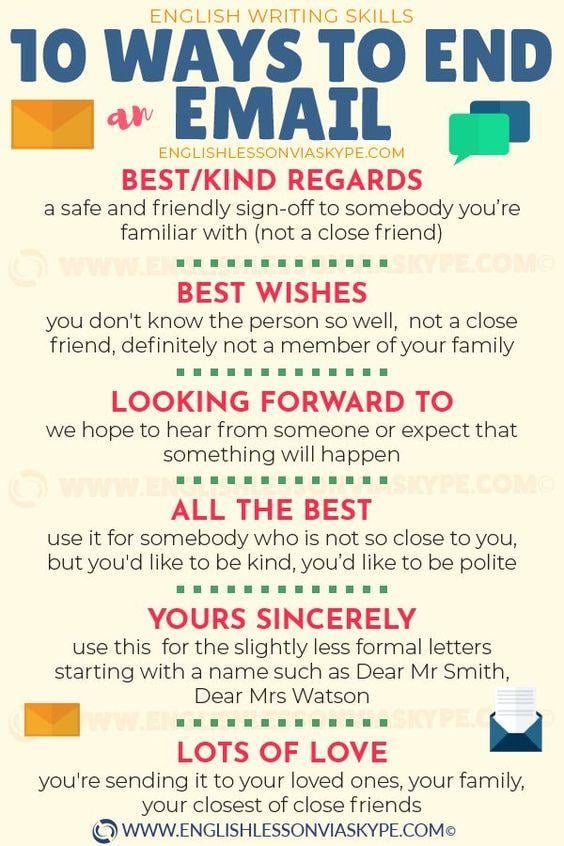 How to end an email in English
1. The safe sign off: Regards
You can never really go wrong using "Regards". This greeting isn't overly formal but still professional. When in doubt, go with it!
2. The friendly blend: Best wishes
This is another classic way to end an email! "Best wishes" is a great mix between formal and friendly, but make sure it fits in with the tone of the email you are writing (it might not fit every occasion).
3. The expectation setter: Looking forward to
This sign-off sets an expectation. You are clearly saying that you will be grateful WHEN the person you are emailing delivers on something. This can be a highly effective sign-off when used with care. It can come across too pushy in more formal circumstances.
4. The cheerful common one: Best
"All the Best" or simply "Best" is totally safe when ending an email. Almost everyone uses it, which makes it safe in that it is familiar. It's the friendlier version of 'Best Regards' and you can't really go wrong with it.
5. The formal classic: Sincerely
When you dealing with a formal correspondence, "Sincerely" is the go-to way to end an email. However, when used in more casual business emails, you will appear old-fashioned.
6. For family and CLOSE friends only: Love
"Love" generally has no place in formal and professional emails and should only be used with family and friends you are very close with!
Are you interested in teaching English as a foreign language?
​Get your TEFL or TESOL certificate with ITTT.
Register now & get certified to teach english abroad!
ENDBODY