Read the clues and guess the spooky characters from this Halloween activity sheet! Either print it off and use it as a worksheet or read the clues as a time-filler activity.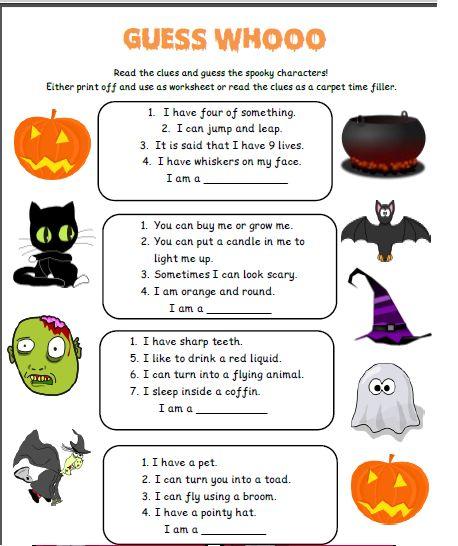 Answers:
1. I have four of something.
2. I can jump and leap.
3. It is said that I have 9 lives.
4. I have whisters on my face.
Answer: I am a cat.
1. You can buy me or grow me.
2. You can put a candle in me to light me up.
3. Sometimes I can look scary.
4. I am orange and round.
Answer: I am a pumpkin.
1. I have sharp teeth.
2. I like to drink a red liquid.
3. I can turn into a flying animal.
4. I sleep inside a coffin.
Answer: I am a vampire.
1. I have a pet.
2. I can turn you into a toad.
3. I can fly using a broom.
4. I have a pointy hat.
Answer: I am a witch.
Are you interested in teaching English as a foreign language?
​Get your TESOL certification with ITTT.
Register now & get certified to teach english abroad!
ENDBODY