Having the ability to describe people's appearance and personality using adjectives is an important part of learning English. Below we look at a range of descriptive words with example sentences.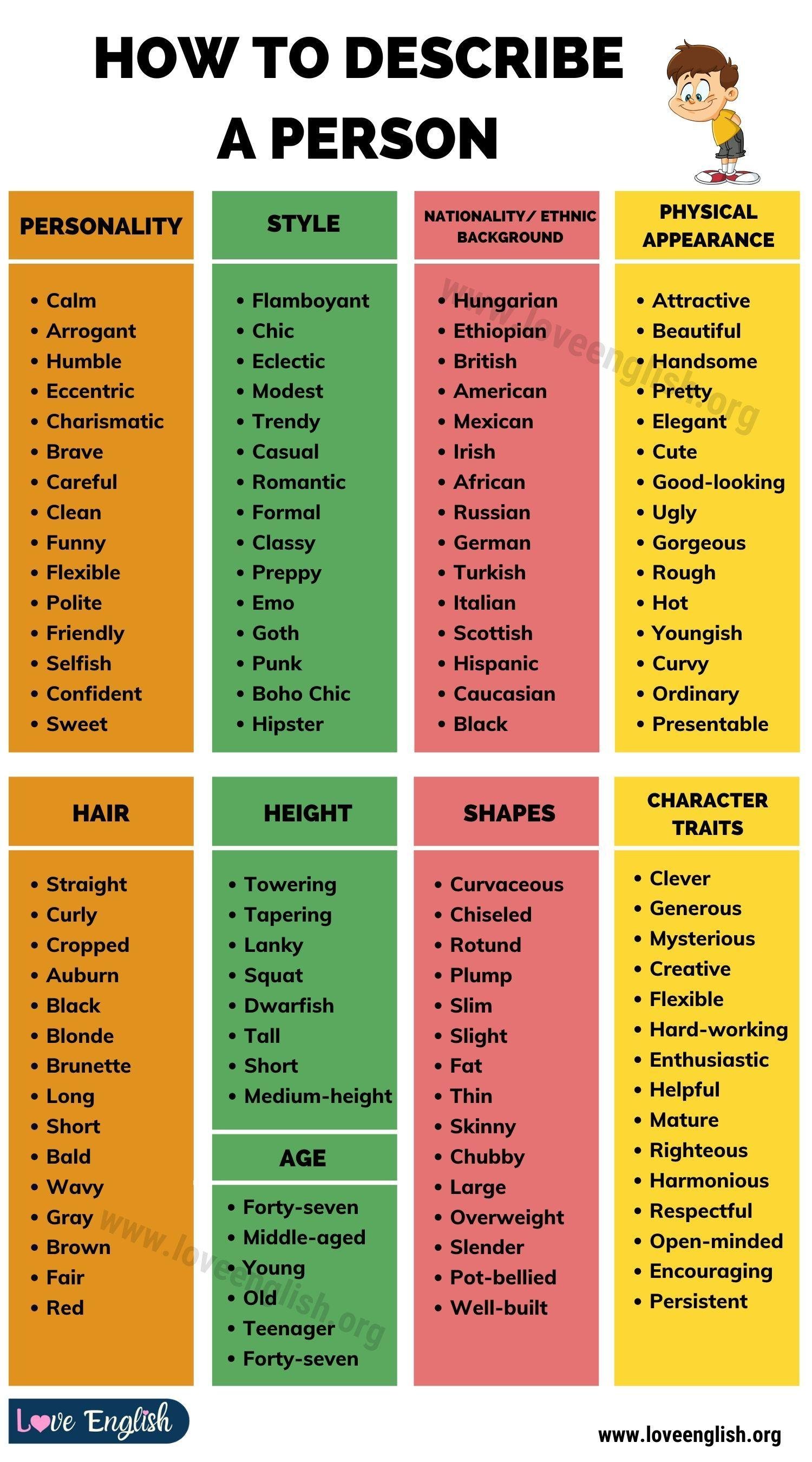 In everyday life, English speakers use adjectives to describe people's appearance and/or personality in many different situations. When presenting a lesson to your students on this topic you will need to cover a wide range of words for them to learn and practice using activities such as role playing. The list of adjectives above and the example sentences below should give you some ideas when planning your lessons.
Examples for using adjectives to describe people:
She's so calm, nothing seems to faze her.
Martin Luther King was a very charismatic speaker.
We'd better be more careful in the future.
We need to make the working day more flexible.
I think I've been very selfish. I've been mainly concerned with myself.
Freddie Mercury was a flamboyant star of the British hard rock scene.
Hollywood's favorite actor was modest about his latest triumph.
Their wedding was a very classy affair.
I couldn't believe how straight-looking he was, how preppy.
He was trying to be really cool and trendy.
The Hungarian people are warm and friendly.
I read that the new director is a Mexican.
Well, I think she's either Russian or Polish.
His remarks deeply offended many Scottish people.
She's Italian by birth but is now an Australian citizen.
Patricia looked beautiful and elegant as always.
The little girl is very cute.
He was a youngish man, obviously worried and anxious.
He is a tall man but his wife is a short woman.
The nurse was a cheerful plump woman.
I'm overweight by 2 kg according to my doctor.
He is not slim enough to wear these tight trousers.
He is very clever and endlessly resourceful.
Tom was very enthusiastic about the place.
He was very respectful at home and obedient to his parents.
Register now & get certified to teach english abroad!
ENDBODY