Preparing for TOEFL? Whether you're a test prep teacher or are taking the proficiency test yourself, keep this list of 270 TOEFL words close!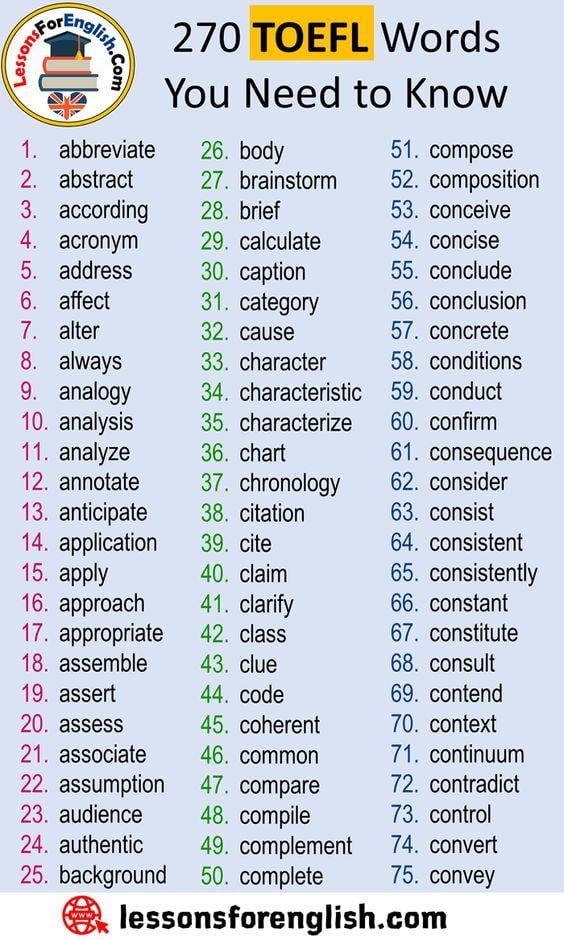 What is TOEFL?
TOEFL stands for "Test of English as a Foreign Language" and is a standardized test to measure the English language ability of non-native speakers wishing to enroll in English-speaking universities. The test is accepted by many English-speaking academic and professional institutions. TOEFL is one of the two major English-language tests in the world, the other being the IELTS.
What is the purpose of TOEFL?
The purpose of the TOEFL test is to get an evaluation of the English proficiency of people whose native language is not English. TOEFL scores are used as a measure of the ability of international students to use English in an academic environment.
Where is TOEFL accepted?
Most colleges use TOEFL scores as only one factor in their admission process, with a college or program within a college often setting a minimum TOEFL score required. The minimum TOEFL iBT scores range from 61 (Bowling Green State University) to 110 (University of Oxford).
Are you interested in teaching English as a foreign language?
​Get your TEFL or TESOL certificate with ITTT.
Register now & get certified to teach english abroad!
ENDBODY