Tutor to Teacher: Lessons Learned Along the Way
For the past few years, I have worked with students one on one as a tutor for a variety of subjects such as history, math, and English. I have a great deal of experience with this mode of educating where I am working with one student at a time and through this course, I have learned a few new techniques that I want to extrapolate on and discuss in this essay.
Table of Contents
2. Students' Learning Background
Do you want to teach English abroad? Take a TEFL course today!
This post was written by our TEFL certification graduate Canaan K. Please note that this blog post might not necessarily represent the beliefs or opinions of ITTT.
1. Needs Analysis
The first concept that I liked and now want to incorporate into my tutoring sessions is the implementation of the "needs analysis" which is a test or form that allows for students to show me what they need during our lessons. I think that this is an excellent way to understand my students' wants and needs and in turn that allows me to become a better and more informed teacher.
2. Students' Learning Background
Next, I found it interesting how the lessons explained to me that I must look at the students' experiences and interests to become a better and more informed teacher. I believe that this is of critical importance because if one can establish this connection with their students then there is a trust factor that comes about which allows for a better lesson and more knowledge being attained.
Also Read: The Language that the Global Community Needs
3. Lesson Planning
Furthermore, I found great resources within the lesson plan, and particularly in unit 19, I found it wonderful the different activities listed which include using short stories, photographs, and videos within the one on one instruction. This is supposed to improve lessons between the teacher and educator. I look forward to using all of these different activities. I often found myself becoming bored as I drilled my student to near death! With these new techniques, I think I can finally reach my potential as a teacher and my students can come away from my lessons with a smile and newfound knowledge.
Practical Ideas
Soon I will start a class where I have to work with students from all over the world and there will be many students that I have to teach. I find myself in an interesting place where I have all this experience working with students one on one but never an entire class. I hope to be able to use what I know as a one on one educator in my classroom, but I know that not all of those techniques will work the same. Thanks to this course I have come to realize more ways to improve my teaching abilities. From the use of the equipment and teaching techniques I now have a variety of ways to teach students no matter how large the size of the class.
Also Read: Should I pay for a job placement teaching English abroad?
Do you want to teach English abroad? Take a TEFL course today!
Teachers all over the world learn and grow each day from their students. I feel like I have grown a great deal as a one on one teacher and through this course. I think that my adaptability can help me succeed in this world. The importance of adaptability seems so important in today's environment and being able to convert from a tutor to a full teacher will be a challenge, but I think I am ready and the techniques I learned will be the cornerstone of my career to come!
Apply now & get certified to teach english abroad!
Speak with an ITTT advisor today to put together your personal plan for teaching English abroad!
Send us an email or call us toll-free at 1-800-490-0531 to speak with an ITTT advisor today.
Related Articles: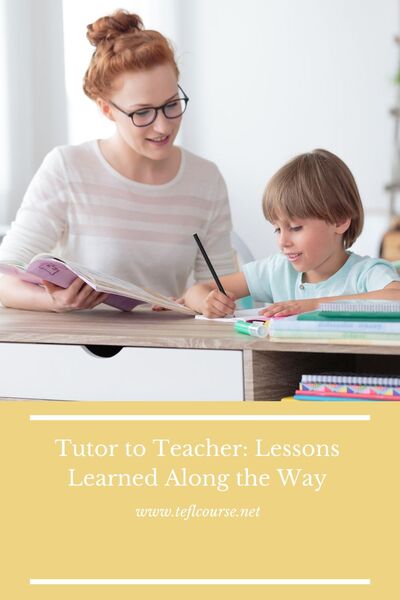 ---
---