Stages of Child Development and Teachers' Roles
Child development is a process in which human beings grow and mature from the stage of infancy to the stage of adulthood. Child development focuses on the changes that take place in human beings as they get mature from the age of 1-8yrs.In further we are going to study how human beings learn to talk and understand different languages and able to play and respond according to the different stages. How can a teacher help in the development of a child?
This post was written by our TEFL certification graduate Sonia P. Please note that this blog post might not necessarily represent the beliefs or opinions of ITTT.
Stages of child development and the role of the teacher:
STAGE-1 INFANCY
This is a very early stage that begins at birth and lasts until 2-3 years of age. This is the only period where growth and development are rapid compare to the life span. A child becomes a toddler who can communicate through voice and emotions. The child starts crawling or sitting up but motor skills take longer to develop which is the reason babies can't write or hold anything properly.
Also Read: Whats the best way to apply for TEFL jobs?
ROLE OF TEACHER
It begins when a child is in late infancy and enters preschools or play way schools. The teacher should be more like a mother who takes care of the child's physical and emotional development. She should be humble, kind and playful. She should apply the techniques that can be used on kids to make them play and activate them through games, dance and other joyous activities. Showing them colorful cartoon videos and playing with color blocks are some great ideas to engage a child and make their mind work through it.
STAGE-2 EARLY
The period of early childhood development starts from 3-6 years of age where children usually think of ABCs and 123s.The growth
CHILDHOOD
turns a bit slow in this period as compared to the period of infancy. Children also increase in their gross motor skills. They are now able to jump, run and climb. In this stage kids also write letters and create very detailed drawings which means fine motor skills are in development. children allow themselves to think and solve some problems on their own which shows cognitive development wherethey mater in their native language.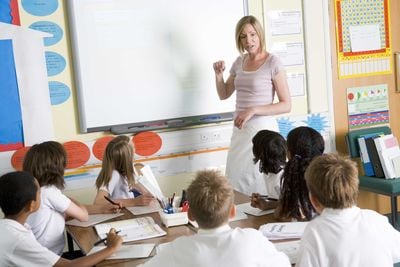 Also Read: How much is a TEFL course and how do I pay for it?
ROLE OF TEACHER
Pre-school teacher plays an important role in a child. Teachers do more than facilitate arts and crafts projects throughout the day. They provide structure and help children grow in reading and writing skills, teach science and help children understand themselves. This is the base stage where the teacher needs to set study patterns and activities for the children by taking in mind all three skills i:e (fine motor, gross and cognitive skills). All activities with young children should respect the child's right to play. Playing with toys, symbolic play, sensorial games, playing with sand and outdoor games are excellent for this stage.study themes should be equally preferred with activities such as: WHO AM I? WHAT AND HOW I WANT TO BE? etc.
STAGE-3 MIDDLE
This stage takes place from the age of 6 to 12 years. Physical growth continuously and spurts of rapid growth in height and weight occurs.
CHILDHOOD
Fine and gross motor skills continue to develop and the child becomes stronger and faster than ever before. This time is known as the school years, as children are usually focused on traditional education at the point in development. This stage allows a child to communicate and think with logic by solving problems more effectively.
Also Read: Can non native English speakers take a TEFL course?
ROLE OF TEACHER
During middle childhood years, the children's motor, cognitive and gross skills development improves. The teacher should design some lessons or activities which fulfill the needs of the children. Activities and games such as passing skills, memory games, role play bean bag scramble can be implemented in their physical education lesson. Teachers nowadays do not solely play the role of knowledge provider to the students but teachers play a vital role in enhancing child motor development in their middle childhood years.
Also Read: Are TESOL teachers in demand?
MY OWN EXPERIENCE DURING EARLY CHILDHOOD TEACHING
I feel there's nothing quite like teaching, with which I live my passion. I taught pre-primary classes for 2 years and that was my best years. It was a new experience for me. I felt, to deal with early years learners is work as one single thread that makes the whole cloth. It is all about bringing out the best in the child and weave it correctly in order. During my early childhood education training, I learned that each lesson should be planned by focusing on the skills that can be generated through the activities and games and In TESOL training, I had the experience of planning the lessons and activities based on ENGAGE, STUDY, ACTIVATE.
Do you want to teach English abroad? Take a TEFL course!
Apply now & get certified to teach english abroad!
Speak with an ITTT advisor today to put together your personal plan for teaching English abroad.
Send us an email or call us toll-free at 1-800-490-0531 to speak with an ITTT advisor today.
Related Articles:
---
---