Secrets of Keeping Your ESL Class Motivated
In everything we do in life there is a very important factor to ensure that we complete our tasks successfully. That factor is a simple yet crucial element to the recipe for success. The greatest tool at anyone's disposal for learning anything would be motivation. It is with the motivation that one can find the drive to accelerate their skills and learning capabilities.
This post was written by our TEFL certification graduate Jarred H. Please note that this blog post might not necessarily represent the beliefs or opinions of ITTT.
Methods of Positive Motivation
A great sense of motivation and drive towards a goal places a student of English on the right path to learning effectively. There are a few ways in which to keep students motivated on their academic goals ranging from entertainment to social games. These motivating factors also depend on the age group so that students receive the appropriate sources of motivation. Films, books, movies, music, games, media, magazines, online articles, and a plethora of other materials are exceptional ways to keep students interested.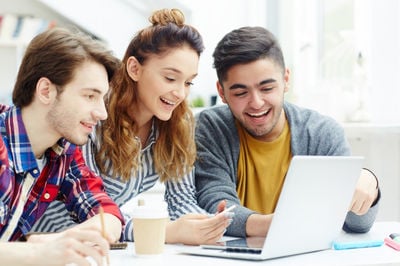 Also Read: 6 Essential Roles of an EFL Teacher
Joy and Excitement
People are prone to the joy of seeking certain discoveries and coupling that with an English learning experience presents an emotionally charged mood when engaging the mind. A great way to have a student express their needs for greater social interaction would be to have a pen-pal account. The use of pen-pal bridges the gap between two persons who may live in different countries but who have the desire to learn and experience a foreign language. This sort of interaction can go beyond simple text messages as video calls and voice messages have increased our capabilities for communication. It is particularly for older students to see how they are developing their language skills and what better way to use them than with an actual native speaker of English.
Although language lessons are necessary to the process of learning English they can become dull and ineffective if not executed with enthusiasm and a helping activity to highlight the data. The use of games and musical ensembles may be just the thing to keep students engaged and providing their undivided attention in class. Games can be simple with a point system made to encourage competition between designated groups. When students are challenged and pushed to succeed a certain level of enthusiasm and motivation will be achieved as they discover their new breadth of knowledge with the lessons and some newfound vocabulary.
Also Read: How long are TEFL contracts?
Visual Clues of The Progress
A nice and interesting way to keep track of a student's progress is by designing a vocabulary chart that may help give a visual representation of a student's progress in the classroom. When a student can see and list their progress first hand it can give the student a feeling of accomplishment and documented improvement. These suggestions are mostly aimed at letting the student become the driver of their academic vehicles. A teacher should simply give the proper directions and involvement so that one can learn with the confidence of their efforts. Typically when we think of a lesson in a classroom we would imagine students sitting down at their desks, silently working away at some given task that only requires so much involvement. Practice sheets and making notes can be a huge help as supplemental busy work but in the wider scheme of things it is not the "do all, be all" of successful learning. I reason that building a student into a responsible, attentive, engaged and driven student is like the recipe of baking a cake.
Also Read: English Speaking and Writing Errors made by Chinese Primary Students
Understanding the Consequences
What is meant by that, is having the core ingredients needed to make success a predictable and tangible feat. Motivation, involvement, encouragement, repetition, social inquiry, and a plethora of other factors are crucial in giving the students the tools of critical thinking. To keep motivation and enrichment of the mind, a fertile ground certain precautions can be bolstered to keep a level of anxiety, stress, and sloth out of a student's mind. I believe this delicate balance of pushing a student's efforts but having restraint at times is key to seeing results. We as human beings must experience stress and anxiety as it is only natural in living life daily, to have these negative feelings in the classroom is part of the learning process. It is with success and motivation do we see our stress and anxiety lowered to more appropriate levels when dealing with problems. In the classroom environment, it is no different, risk equals reward but the recipe in place to have a certain statistical improvement is far better than blind optimism.
Do you want to teach English abroad? Take a TEFL course!
In conclusion, when we hold ourselves accountable to our time, efforts and progress we will see the greatest improvements. The task of keeping students motivated when learning English as a foreign language is a tricky ordeal but completely possible. The attitude an instructor brings and the methods of keeping students engaged is crucial and beneficial in the long run; in and outside the classroom. The instructor can bring the recipe of success to their students and have them make continuous gains. That is accountability and thoroughness in all you do and what you expect a student to do.
Apply now & get certified to teach english abroad!
Speak with an ITTT advisor today to put together your personal plan for teaching English abroad.
Send us an email or call us toll-free at 1-800-490-0531 to speak with an ITTT advisor today.
Related Articles: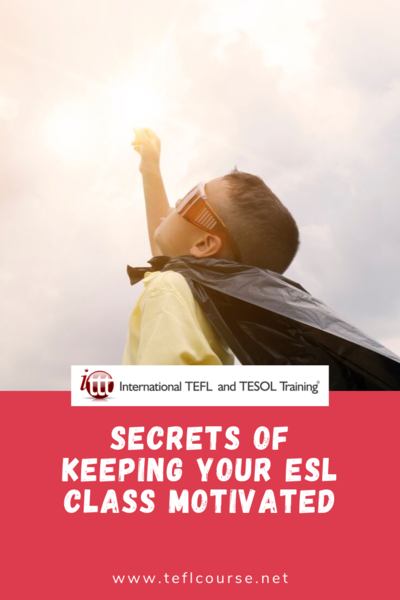 ---
---