Role of a Native English Teacher in a Student's Language Acquiring Process
Today, the importance of studying English by native speakers has been understood more and new regulations have been made by some countries. One of the most effective and undisputed factors that make learning English easier is to carry out English learning with native English tutors.
Table of Contents
Do you want to teach English abroad? Take a TEFL course!
This post was written by our TEFL certification graduate liping z. Please note that this blog post might not necessarily represent the beliefs or opinions of ITTT.
Listening Skills
Our most important sense of learning is our sense of hearing. It is our sense that makes the most contribution to learning. Sometimes we realize that we have memorized the lyrics of a song without realizing it. The reason for this is that even if you do not pay attention, what you hear is transferred to memory. You learn and speak the same way you hear English. A native English speaker speaks natural English than a tutor who learns English later, and it seems that people who learn English from the native speaker are much more natural than others. Accents and pronunciation errors are minimized. In this method, students are carefully focused on establishing correct sentences, and tutors immediately correct pronunciation errors. Tutors whose native language is English can more easily detect and correct accent and pronunciation errors in your English. This gives you a chance to see your mistakes and correct them quickly.
Especially when it comes to children, a tutor whose mother tongue is English is very important. Kids are like an empty sheet (tabula rasa). That's why they learn English in the same way they hear. When he grows up, the English he speaks is too smooth to be distinguished from a native speaker.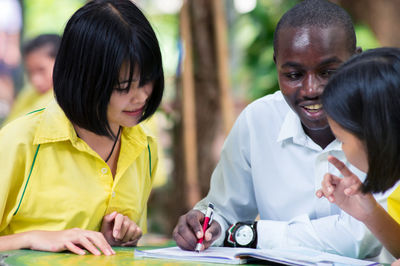 Also Read: How do I apply for a student visa to legally teach English in Spain?
Cultural Transfer
We should know that language lessons are not like math. So memorizing grammar rules or words is not enough to speak English. Each language has the characteristics of the country of birth and the language changes and develops with the changing culture of the country. Therefore, apart from the correct pronunciation, another important point is that a ''Native Speaker tutor" can convey not only the language but also the culture of that language. Thus, while learning the language, they teach people how to use the language, the patterns used, social relations and rules of society, and it increases your communication with the people who speak the language. Your control of the language increases.
Also Read: How much can I earn teaching English abroad?
Fear of Communication
Another important issue in learning a foreign language is to hesitate to speak to a foreigner. Difficulties are experienced due to the fear of making mistakes and the fear of understanding wrong. We shouldn't forget that speaking can only be learned by speaking. It is important to know that language is something spoken and if you are unable to speak, you can't make use of many advantages of knowing a language. In private lessons with a Native Speaker tutor, these fears will be left behind and the necessary speech training will be done ideally.
Do you want to teach English abroad? Take a TEFL course!
Training with native speakers showed that: In a short period, students started to acquire their speaking skills as they should. They had the opportunity to know people from different cultures and to express their own culture. At the end of this training, they had great self-confidence in mutual communication issues.
Apply now & get certified to teach english abroad!
Speak with an ITTT advisor today to put together your personal plan for teaching English abroad.
Send us an email or call us toll-free at 1-800-490-0531 to speak with an ITTT advisor today.
Related Articles:
---
---