Idioms and Slang for ESL Students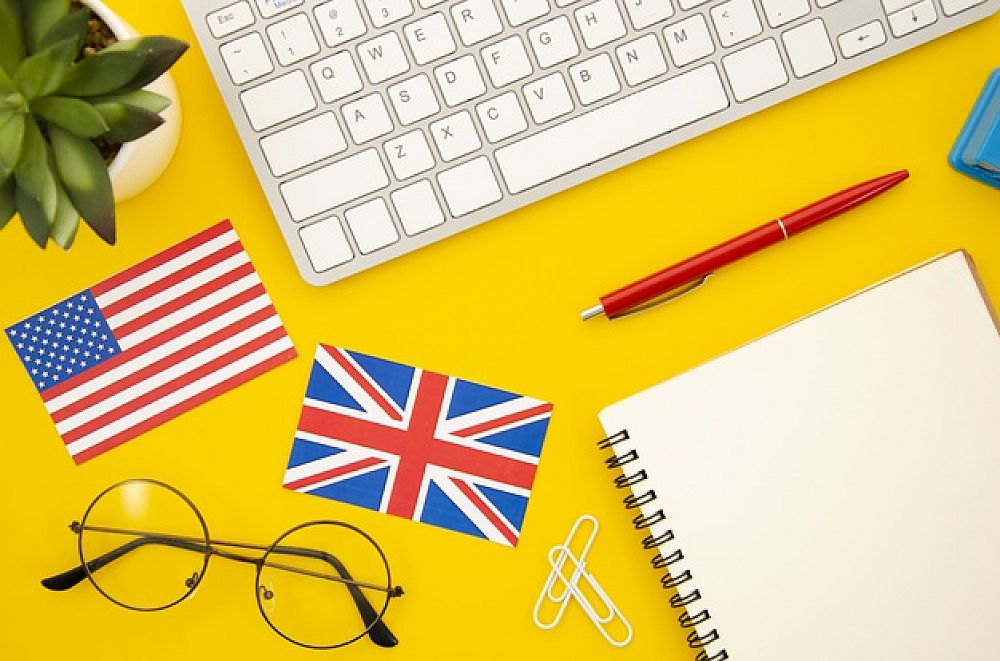 This paper will discuss the benefits of teaching slangs and idioms to students learning English as a second language. It posits that both are necessary to fully use and understand the language, and will look at when it would be appropriate to introduce them to different types of students and how they might be incorporated into lessons.
This post was written by our TEFL certification graduate Niall M. Please note that this blog post might not necessarily represent the beliefs or opinions of ITTT.
What are slang and idioms?
Both slang and idioms are natural parts of the English language; however, textbooks are usually lacking in them, due the fact that they cannot be updated quickly enough to keep up with the change of language or because it is considered "incorrect" in the case of slang while idioms are often overlooked, perhaps because they can be difficult to understand. While standard English taught in textbooks is usually enough to get one's meaning understood, the use of slang and idioms are necessary to understand everyday speech, and if the learner can employ them it will make a huge difference in their ability to communicate with others. Consider the following two sentences:
I'm in a bad mood because I'm hungry. I could eat anything.
I'm hangry. I could eat a horse.
To a native speaker, these two sentences mean almost the same thing, but the use of the slang word "hangry" (a portmanteau of "hungry" and "angry") can express the idea in the first sentence much more succinctly, while the use of the idiom "I could eat a horse" expresses a simple idea with much more impact and humor than the first sentence. The second sentence would be easily understood by a native speaker, but it would be very difficult for a learner who has only encountered textbook English to understand.Students' needs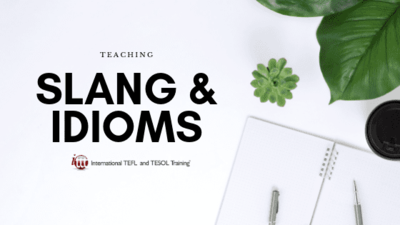 Also Read: What is the TEFL TESOL Diploma course?
Possible challenges and ways to overcome them
When teaching slang and idioms in the classroom it is important to consider the needs of each student. For this purpose, students can be broken into two general groups: first, those who are made to study English, such as school children, or those who are studying for an English qualification, and secondly those who are studying English to move to an English speaking country. For the first group, it can be difficult to allocate time to teach slang and idioms, as it is unlikely that either will be present in an examination. However most students enjoy learning and using interesting slang and idioms, and this can help make the language feel more real, create interest and increase motivation in the classroom.
Also Read: What is the English Opens Doors Program for teaching English in Chile?
Teaching slang and idioms to this group is best done during free time at the end of a lesson or given as optional vocabulary during lessons when it is appropriate. As the main goal of this group of students is usually to pass exams it is not usually worth devoting a lesson to. For students who plan to live in an English-speaking country, understanding slang and idioms are much more important. Like the first group of learners, slang and idiom can be taught in free time or as appropriate during lessons, but it could be beneficial to either hold some lessons focusing on slang and idioms or take a longer-term approach if possible, perhaps asking students to learn one new term a week and actively encouraging their use when appropriate in speaking or writing exercises. A common worry that learners of English have is that using a textbook will teach them correct English but not 'real' English, as it is normally used, so hopefully teaching slang and idioms will help their confidence and make them more comfortable when talking to native speakers.
Do you want to teach English abroad? Take a TEFL course!
In conclusion, slang and idioms are an important part of the English language even though they are often overlooked in textbooks, and they can be used in any classroom to help increase the students' motivation and understanding of English.
Apply now & get certified to teach english abroad!
Speak with an ITTT advisor today to put together your personal plan for teaching English abroad.
Send us an email or call us toll-free at 1-800-490-0531 to speak with an ITTT advisor today.
Related Articles: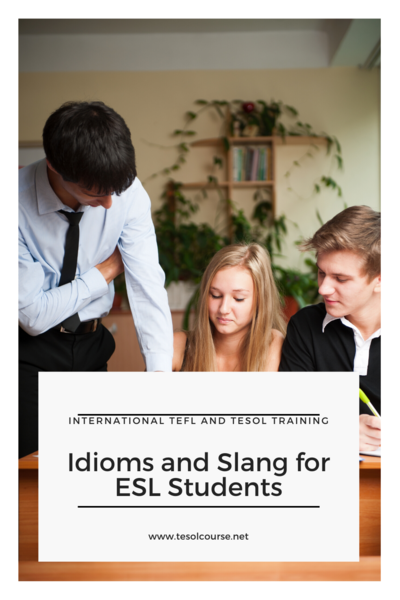 ---
---