Games as a Teaching Method for Adult ESL Students
When we start to learn new things as children, we tend to do that with the help of games. That is why in many classrooms of young learners, we find games to be a highly popular medium amongst educators. It is a way of absorbing and processing a piece of information in a fun and educational way. But when we grow up, we somehow forget the necessity of games in the classroom.
This post was written by our TEFL certification graduate Anna B. Please note that this blog post might not necessarily represent the beliefs or opinions of ITTT.
Ice Breaker
When it comes to learning a second language, children immerse themselves in the learning task much easier and quicker. Adults, on the other hand, find it challenging to absorb the task accurately. They also appear to have a higher anxiety level when facing new challenges in the classroom. In these cases, games can be a relaxing and entertaining approach to reserving the tension and the fear of failing.
When faced with a new group of people, many students who feel more introvert have a chance of building rapport with the help of, for instance, a game of 'Alphabet Introduction'. A game where students have to introduce themselves using the first letter of their name as well a piece of information about themselves.
![teacher writing students looking](https://image.freepik.com/free-photo/coach-by-whiteboard_1098-12970.jpg "teacher writing on the board students on the background)
Also Read: How Will Brexit Affect TEFL Teachers?
Ways to Include Games into Your Lesson
When planning a lesson, many games can be used for awaking interest amongst students but have an educational side as well. For example, when planning the engage phase of the lesson, a game of 'Word Linking' can help get the students involved in speaking English. Afterward, the teachers can combine 'Word Searching' with a 'Gap Fill Exercise', using the found words from the previous game in the study phase.
For the last phase, the students can do their own 'Role Play' with the newly learned vocabulary. Many teachers fear the usage of games as a medium, because of the reason it could get unstructured and noisy. To avert that case, we have to choose appropriate games. For example, a teacher should never play a 'Memory Game' with more than eight people in the classroom. Otherwise, individual student talk time becomes quite low.
Also Read: How do I get a job teaching English in Thailand?
What Games to Choose?
It also has to be taken into consideration, to only play games that align with the goal of the lesson and to make sure it stays a group activity and isn't becoming an individual task. Critics find that games don't give enough exposure to the language but bearing that in mind, games help the communication amongst students and let them discover the task by themselves. It gives space for productivity and helps beginner students to find interest in the language.
Do you want to teach English abroad? Take a TEFL course!
Overall the teacher should be creative in planning the lesson so students won't lose their interest in learning a new task. That is an essential reason why games should be used more frequently in teaching. They lower the anxiety of the students and create a safe space for trying out new things. Games create educational fun not only for children but for adults as well and therefore should be appreciated more by educators around the globe.
Apply now & get certified to teach english abroad!
Speak with an ITTT advisor today to put together your personal plan for teaching English abroad.
Send us an email or call us toll-free at 1-800-490-0531 to speak with an ITTT advisor today.
Related Articles: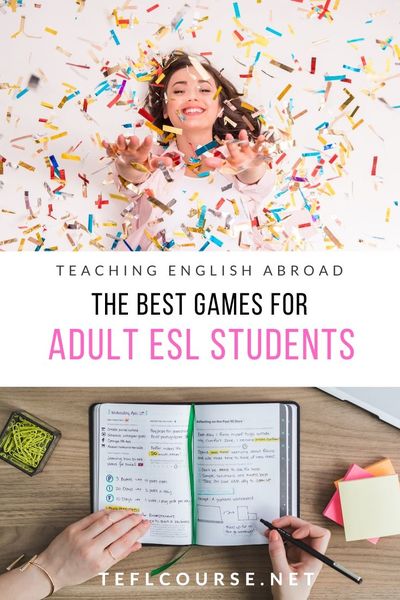 ---
---