Do You Like to Travel? Become a TEFL Teacher!
Many people have the dream to travel the world. However, it's hard to travel a lot unless you're rich or work for a big international company offering your business trips, right? What do you do about a visa, and what if you don't speak the local language? Fret not; it's actually easier than you think to find a job in an exciting foreign country. If you are a native English speaker or speak English fluently, why not consider a job teaching English abroad?
Table of Contents
Are you ready to become a TEFL expert? Take a TEFL course today!
Check out what our course grads say in our many video testimonials!
How to become a TEFL teacher
English teachers are always in demand in countries where the English language is not the native language. Before you start your travel, you should consider getting TEFL qualified by completing a TEFL course, like the ones offered by ITTT. You can complete a course entirely online at your pace or attend a course in person at a worldwide training center.
A TEFL certification allows you to apply for jobs abroad. Many schools actually hire their teachers online via Skype interviews. This means you can rest assured to have a job lined up before you arrive in the country of your choice. Many schools even pay for the visa and airfare costs and arrange housing, which many schools also provide for free to their teachers.
Plan your travels
If you plan to live abroad in a different country, you should do a great deal of research beforehand to ensure a smooth process. Most schools offer one-year contracts. You can then either extend your stay or look for a new school either in the same location or move to a new destination.
I met many English teachers who have taught in many different countries and plan to follow suit. I'm currently based in Hong Kong, and my next plan would be to move to Japan, South Korea, and then Thailand. The advantage of being a TEFL teacher is that you can change and move where and when it suits you the best.
Also Read: EFL Recruiters vs. Independent Job Hunting - The Pros and Cons
Get paid to travel
The best advantage of being a TEFL teacher is that you basically get paid to travel. Teachers get a lot of vacation days as the general academic calendar will run for a couple of weeks, and then you get breaks for Christmas, Easter, and summer vacation. Don't forget the many public holidays, which vary from country to country.
Imagine living in a country where you always dreamed of being, and spend your holiday there without the need to get on a flight or spend money on a hotel, plus you will be more familiar with the place. You can visit the less touristic places and live an authentic experience as a local, and all of this will be possible without using your savings.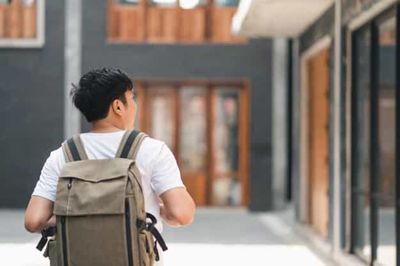 Tutoring
Tutoring is another great option for those wanting to have a little bit more free time. You also have to be good at making your own schedule when working as a tutor through learning centers or getting your own student, both online and in person.
You can find students to tutor by contacting local private schools, putting up flyers around town or advertise your tutoring services on social media. Always make sure you mention your qualifications.
Tutoring can be financially challenging at the beginning. It is hard to get enough students straight away to cover all your expenses. However, once you have a good amount of students, this could be a great lifestyle instead of being stuck in a classroom for 6-8 hours a day.
Also Read: What to Expect When Learning a Language Online
Teach Online
Teaching English online is another excellent way to work and travel. This teaching method is becoming more and more popular these days, and it's also relatively easy to start. All you need is a reliable internet connection, a computer, and headphones/microphone. Teaching online, combined with tutoring in-person, can become a reasonable source of income and allows you to have a huge amount of free time to decide when and where to work.
It's worth it
If you are in a transitioning period and are thinking of leaving your comfort zone, becoming a TEFL teacher is definitely worth it. This profession allows you to have lots of free time and enjoy what you went there for: traveling and following your dream of discovering new and exotic destinations.
Are you ready to become a TEFL expert? Take a TEFL course today!
Apply now & get certified to teach english abroad!
Speak with an ITTT advisor today to put together your personal plan for teaching English abroad.
Send us an email or call us toll-free at 1-800-490-0531 to speak with an ITTT advisor today.
Related Articles:
Check out what our course grads say in our many video testimonials!
---
---