5 Steps to Work on Your ESL Teaching Career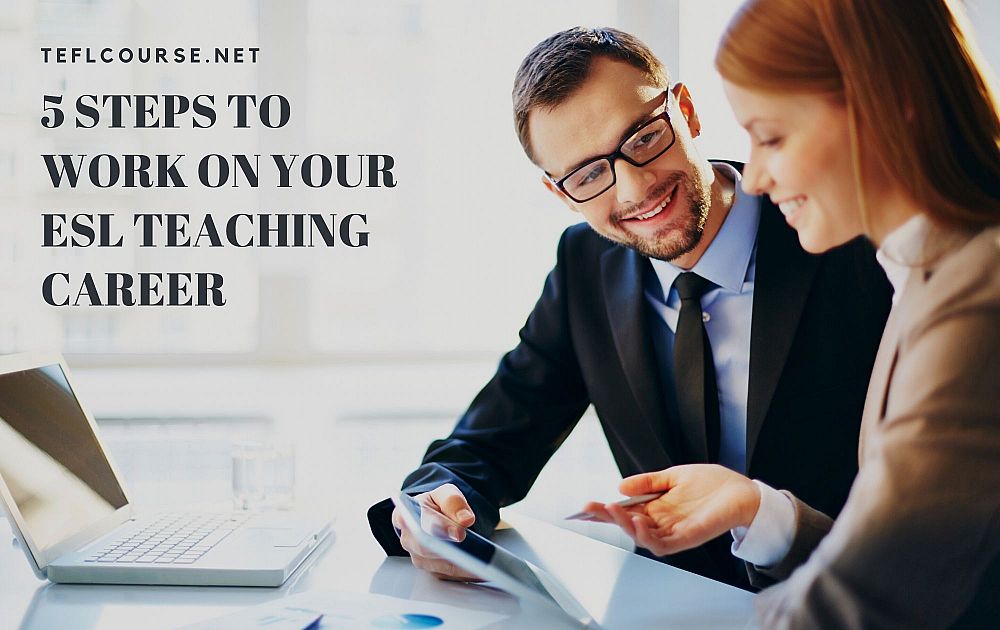 When I started teaching English, I've always experienced imposter syndrome because my major was Linguistics. I had no idea about teaching itself, although I knew a lot about how the language works.
Table of Contents
Step 2: Further Education with MOOCs
Step 3: Educational Conferences
Are you ready to get your ESL teaching career on a new level? Take a TEFL course today!
Check out what our course grads say in our many video testimonials!
To change this situation, I've started working on my teaching skills to build a successful ESL teaching career.
In this blog post, I want to share five ways to start ESL teaching career development that helped begin my English teaching career, even though I had no degree in education.
Step 1: TEFL Course
As I've already mentioned, I studied linguistics in university and was quite advanced in English when I graduated. Right after that, I jumped at the opportunity to teach in China.
As an inexperienced teacher, I decided to enhance my resume with more educational credentials to find a better English teaching positions. Thus, I enrolled in a 120-hour TEFL course.
It was worth it because I learned about teaching methodologies and ESL planning. After obtaining the certificate, I found a great employer and had been working with them as a lead teacher in a bilingual kindergarten for two years.
So, the TEFL course was just the first step in my ESL teaching career.
Also read: 7 Easy Ways to Make Money Online as an English Teacher
Step 2: Further Education with MOOCs
Another great idea is to take free courses on platforms like edX, Coursera, or FutureLearn. There are thousands of programs created by well-known universities that can be useful to ESL teaching professionals.
I took a course from the British Council on FutureLearn devoted to early childhood education and participated in an online teaching course by Cambridge University.
If you want to get a certificate, you can pay the course fee, but in general, these programs are for free if you can make it while the course is running.
I suggest taking MOOCs (Massive open online courses) because they significantly broaden one's horizon and give insight in how to develop professionally. Plus, they are usually self-paced.
Step 3: Educational Conferences
This is something I've started doing recently. Educational conferences don't happen often, but when they take place, they invite specialists from different academic fields and offer interesting topics that may give you inspiration and ideas.
The last conference I participated in was organized by Moscow State University and Cambridge University and was devoted to educational innovations. I learned a lot about online teaching tools, methods of exam preparation, and so much more.
Conferences like this showcase teachers from different countries with various backgrounds. I enjoy learning from experienced teachers and academicians and believe it helps me become a better ESL teaching professional.
Also read: Top 5 Ideas For Your EFL Digital Lesson Planner
Step 4: Teaching Community
One more thing that helps me continually developing my ESL teaching career is a teaching community.
These days it's so easy to find teacher friends who are willing to work as hard as yourself to provide students with quality services and great content. Together, you can collaborate on new ESL teaching ideas, create materials, and exchange experiences.
There are many ways how you can build your ESL teaching network. You can cooperate with your colleagues at work if you are employed in a school, participate in educational conferences, and find likeminded teachers there. Still, the easiest way is to join themed groups on social networks.
You can start with our ITTT group on Facebook. There are thousands of ESL teachers who are eager to communicate and exchange ideas. On Quora, you can find many useful pages devoted to EFL/ESL teaching. Another great online community can be found on LinkedIn. There are solo teacher-bloggers on Instagram as well.
Don't be afraid of reaching out to those people if you have something to discuss. This way, I found useful contacts and got involved in the Russian ESL teaching circle more.
Step 5: Language Tests
If you are a non-native teacher, taking an international language test would also be a great decision.
Last year I passed IELTS, and it quickly started paying off. I increased my lesson fees and, with the language level certificate, I prove to potential clients that I am constantly developing and that the price they pay is reasonable.
Don't overestimate your English abilities if they are on a high level now. Unfortunately, if you don't practice, your language level decreases. Thus, don't stop learning English yourself. Do some grammar exercises, watch TV shows, listen to podcasts, speak as often as possible to increase skills.
I've met many ignorant people who thought the intermediate level was enough to teach English to children. It was really pathetic to see them teaching different classes with no alteration in content and making pronunciation and grammatical errors.
If you are a native speaker, it doesn't mean you don't need to study, too. In your case, it is essential to work on ESL teaching methodologies and approaches.
Are you ready to get your ESL teaching career on a new level? Take a TEFL course today!
All in all, your ESL teaching career is on you. If you want to be a good teacher, then work on your skills and never stop learning. Make sure you set an appropriate example for your students!
Apply now & get certified to teach english abroad!
Speak with an ITTT advisor today to put together your personal plan for teaching English abroad.
Send us an email or call us toll-free at 1-800-490-0531 to speak with an ITTT advisor today.
Related Articles:
Check out what our course grads say in our many video testimonials!
---
---