5 Things You Can Do to Make Your Life Easier for Teaching English in Taiwan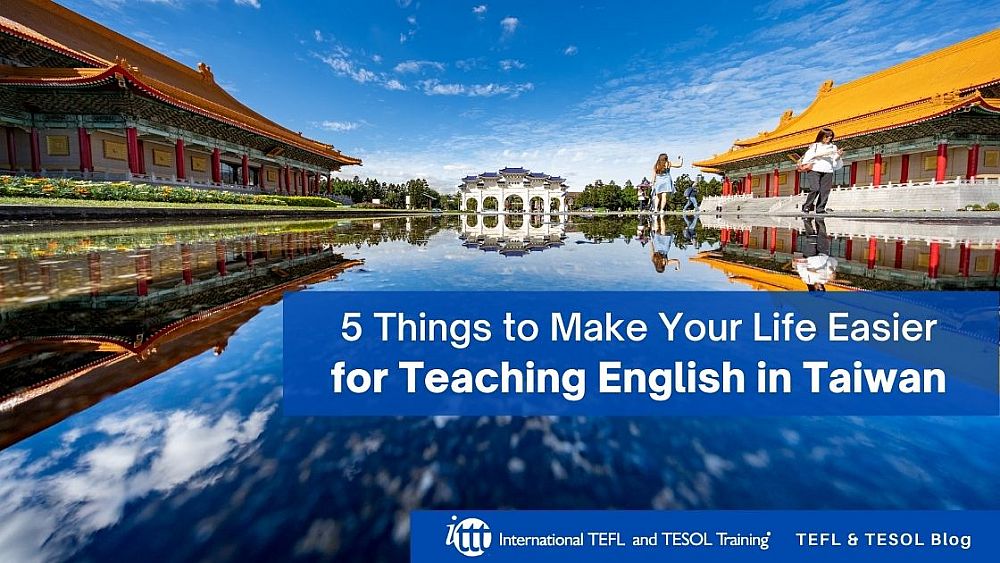 Taiwan is a wonderful starting point to begin your teaching profession as the island has a variety of job prospects, plentiful incomes, and companies are usually happy to employ you, even if you have limited teaching experience.
Nonetheless, living abroad comes with its challenges, and if you know how to overcome them, your life will be smoother.
Here are 5 top tips, in no particular order, to make your life easier for teaching English in Taiwan.
1. Find a private landlord, avoid an agency
A significant majority of Taiwan's properties are owned by big real estate firms, which means that lots of apartments are managed by third parties (middlemen). Although this seems good in principle, it can actually be counterproductive as you're unable to deal with the landlord directly; instead of having to go through their employees. However, there are private landlords out. You've just got to look a little harder to find them. There are multiple accommodation websites that you can browse. Ask someone that speaks Chinese to help you check if you're unable to. Moreover, I've had one colleague explain to me that the agency management changed four times in six months on one occasion and that his rent kept frequently changing, because he wasn't able to contact the landlord directly to question why this was happening, it created stress for his living arrangements. Agencies may also be less proactive when solving problems that occur with your place, as they have to deal with many other tenets in the apartment.
I have always gone through a private landlord, as it's more straightforward to deal with one person, as opposed to a group of middlemen. If I have any problems, they get sorted immediately, and 'shady' things are less likely to happen.
2. Find a job in the same proximity as your place.
Once you've secured your position with the company you'll be employed by, you'll need to find yourself accommodation as close to your workplace as possible. English teaching contracts tend to be filled with many hours, and that's not including prep time! It can become quite draining after a while, so if you choose a place that's ridiculously far away from your job, you'll have to factor in travel time too. Additionally, buses can be unreliable in the southern parts of the island; therefore, it will be time-consuming for you to have to deal with this issue day in, day out. Employers usually help foreign teachers find accommodation before they arrive, however, so you can request to have accommodation close to your workplace. The luxury of living close to your work will help you relax in the long term, as you won't have to worry about traveling too far to work every day.
3. Get your scooter license.
Remember that I mentioned earlier that buses could be unreliable in the southern parts? I wasn't kidding about that! They can be unpredictable at times, and if you have a busy schedule or if you're just short of patience, then I'd suggest obtaining your local scooter license once you're settled in. The test is simple and uncomplicated; it includes a theoretical examination of all the Taiwan road laws, etc. There is a website dedicated to allowing you to practice for the theory exam, ask a local friend to help you find it when you arrive.
Thenceforth, you'll have to take the practical examination. However, the test is relatively easy to pass, you don't go out on the road for a full day like in most other countries; in actuality, the test is more of a simulation in a small circuit, which tests your balance, ability to utilize your indicators, stop at red lights, and the like—It's not hard at all. There are also various practice sites available in most cities to help you prepare for it. Ask around for the information when the time is right.
4. Make friends with locals.
Perhaps when you first move abroad, have the urge to cling onto to things from your country of origin in the form of wanting to hang out with other Westerners as a sense of familiarity and not to be lonely (at least in the beginning); in spite of this, it will make your life much easier if you have local friends. Let me remind you that Taiwan isn't renowned for its high English level, so if you need to visit the doctors or dentist, or even if you want to send a parcel back home to your family at the post office; you'll have a hard time doing so without someone local to offer some much-needed translation if necessary. Basic things like being privy to the supermarket deals and some knowledge of the legislation will make your timeless problematic if you have some Taiwanese friends.
Furthermore, is it not the reason for moving abroad to get out of your comfort zone? By befriending Taiwanese, you'll have the benefit of learning about the culture and customs of Taiwan from the local perspective—the best way. Most of my friends here are locals, and I only have a few Western friends. That doesn't mean I don't like other Westerners or that I'm trying to avoid them, not at all. The reasons being are that integration, assimilation, and learning about the history of the place just makes everything simpler and more interesting if your friends are locals.
5. Join social media groups/like social media pages
This may sound contradictory due to the fact that I said in the previous chapter that you should befriend locals; however, it's imperative that you also make fellow ex-pat friends in order to "stay in the loop" about social events/functions/interventions, etc. These expat-organized events are usually kept within the ex-pat social circle, so locals probably wouldn't have much information about them. Think about it? Put yourself in another ex-pat's shoes for a moment, living abroad in a country that doesn't speak their language, a little bit of acquaintance and comfort is necessary sometimes, and we're all in the same boat together—trying to integrate and assimilate the best we can.
During my first 18 months in Taiwan; I had no ex-pat connections whatsoever (aside from maybe one or two), as I only had local friends mostly and because I didn't have any ex-pat friends, I was always behind on the local news (in English), social events, teaching functions and so forth. I eventually made some ex-pat connections, joined their social media groups, and it was then that I felt that I was aware of the goings-on in the area I was living in and Taiwan as a whole. Additionally, job vacancies will be a regular feature on some of these pages. They'll advertise numerous kinds of teachings positions available such as cover work or temp work that might be suitable to navigate around your fixed job, which could be helpful to earn some extra cash while you're first starting out. If you're looking to meet new people, some pages will advertise social events too.
Are you ready to teach English in Taiwan?
Apply now & get certified to teach english abroad!
Speak with an ITTT advisor today to put together your personal plan for teaching English abroad!
Send us an email or call us toll-free at 1-800-490-0531 to speak with an ITTT advisor today.
Related Articles:
Check out what our course grads say in our many video testimonials!
---
---