5 Things Teaching English in China Taught Me
It's already been a year and a half since I said goodbye to my young English learners at a small bilingual kindergarten in Beijing and packed my suitcases to start a new life chapter in Spain. The memories of this time, 10 GB of pictures and videos on my hard drive, and a little notebook with local recipes still warm up my heart. The life of an expat is not that easy, but it's worth it in so many different ways. This blog post talks about the most important things that I've learned after almost three years of living and teaching English in China.
1. Build friendships with a local community
The first month after you arrive in a new country is probably accompanied by the overwhelming feeling of culture shock. But it's also a good thing as you get out of your comfort zone and learn to see the world from a different perspective. Even though sometimes you might feel lonely and out of place, the best idea to fight that feeling is to invite your colleagues out for a coffee or look for some events going on around the city. This could be anything from a quiz night at a local bar, a book club, or a sports group. I suggest finding a group to join as soon as you arrive as it might help you get adjusted much quicker and get some valuable information about a new place.
Also Read: The Most Common Problems Students in China Face When Learning English
2. Get familiar with the local language
Who knew I should have taken a basic Chinese language course before I started teaching English in China? In the beginning, knowing a few basic phrases could have helped me to save a lot of time and energy to do necessary activities that I don't even think about back home, like buying milk at the supermarket or topping up my phone plan. This experience of not knowing the local language inspired me to make my own English classes even more effective and shift to a more communicative English teaching method. Our passive vocabulary can be pretty broad, but it will not help us solve some fundamental problems like ordering food or asking your neighbors for help.
3. Talk to someone with similar experiences
Before coming to my new job, I searched through different social media platforms to find someone who was already teaching in the same city in China. It helped me to get ready and feel more confident about my future trip. Through talking to people with similar experiences, I learned what essentials I should bring and I had someone to explore the city with upon arrival. Usually, people are very empathetic and willing to help you out. From my personal experience, my top 3 social media platforms to connect with others are Instagram, Couchsurfing, and various blogs dedicated to teaching English.
Also Read: Top 4 Tips How to Find a Teaching Job in China
4. Be creative
When coming to work in a new country, it's essential to respect the local rules and routines, but it's no less important to bring some new ideas with you. Be passionate. You are a foreign employee and your personal experience is significant for teaching English in China. Working in an internationally diverse environment is extremely exciting because we all have different strong points and backgrounds. Don't be afraid to ask questions or not to know something. We all live to learn and explore.
5. Be curious
This is my lasy piece of advice that I will be discussing in this article. Be curious, and don't stop exploring. There is something exciting going on in every city, such as local festivals, traditional food, sports, or other cultural activities. Try them all! Then, you can analyze why this particular concept is so important to locals. Two years ago, I was introduced to the idea of food tours. You can book them in most major cities these days. On a food tour, an experienced local guide takes you to food places that you would never find yourself and tells the country's history through food and drinks. From cultural traditions to the ways certain foods are meant to be eaten, you can experience it all at a food tour. That is a lot of fun, especially when shared by other new expats.
Are you ready for teaching English in China?
Take a TEFL course today and become closer to this exciting experience!
Apply now & get certified to teach english abroad!
Join our 4-week TEFL in-class course in Hong Kong and speak with an ITTT advisor today to put together your personal plan for teaching English abroad.
Send us an email or call us toll-free at 1-800-490-0531 to speak with an ITTT advisor today.
Related Articles:
Check out what our course grads say in our many video testimonials!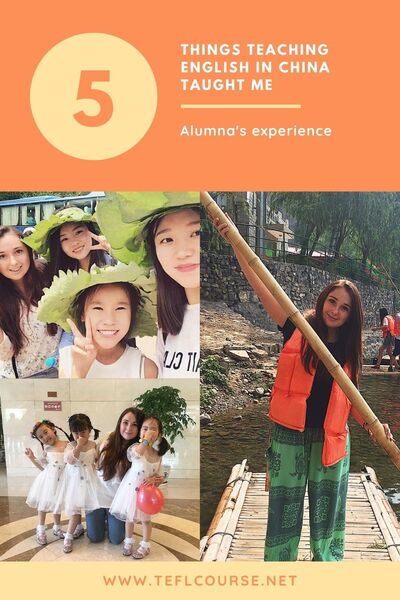 ---
---