What to Watch Out for Before Signing Your TEFL Contract in China
Signing any contract can be daunting. However, if you know what to look out for as you go through the papers you have no need to be scared.
We have compiled a checklist for you to keep with you as you read through your contract:
Is the contract written in English and easy to understand?
Is the name of the school the same as the one you were told during interviews and has it been spelled correctly?
Is your name and passport on the contract and are they correct?
Is the salary the same as that promised to you in interviews and is it written down correctly?
Are the start and end date written down correctly? (Please note: these dates may not be the same as your arrival and leaving dates to China, but they must be there nevertheless).
Go through the package details carefully. Is everything with regards to your package (accommodation, medical etc) written down and the same as previously agreed upon?
Are your work hours stipulated correctly?
Are the following details, with regards to the contract, stated:
How to terminate the contract early and the penalties for doing so.
How to extend the contract and any benefits for doing so.
The offenses which may lead to your dismissal and contract termination.
Does the contract specify how you may go about voicing any grievances?
There's more...
Those are the most important things you will need to look out for. There are a few things you should also keep in mind when signing your contract:
Even after going through the contract with the checklist above, get someone you trust to read through it before you sign it.
You will sign two contracts: one before you leave for China and one when you arrive in China – please make sure that these two contracts are identical and that no facts have changed.
Listen to this blog post
Now you are ready for your adventure!
If there are any discrepancies with the contract, contact the school or ask your agent who will contact the school for you. With the help of these guidelines and your recruitment agency, you should have no problems at all.
Apply now & get certified to teach english abroad!
Speak with an ITTT advisor today to put together your personal plan for teaching English abroad.
Send us an email or call us toll-free at 1-800-490-0531 to speak with an ITTT advisor today.
Related Articles: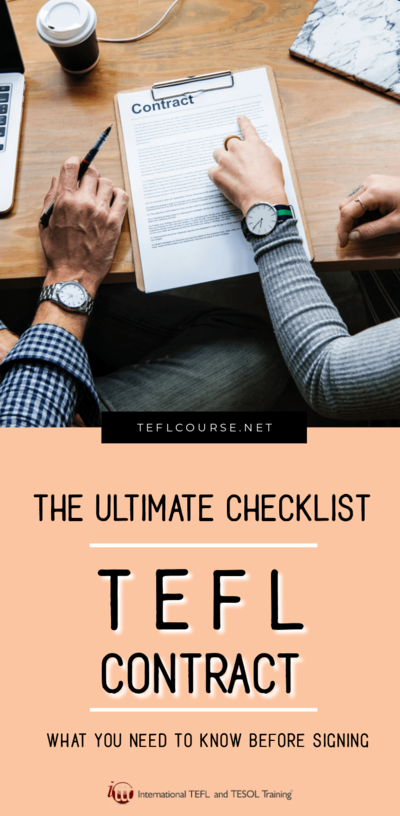 ---
---