5 More Fun Activities to Encourage Your Students to Speak
Listen to this blog post:
To keep the Activate Stage more fun and lively, offer your students one of these cool speaking activities. They will definitely enjoy the conversation and get creative with the tasks. Remember that any of these exercises can be easily used online.
1. Teacher For a Day
Students share their ideas on how to make class more interesting and engaging. Let them discuss an ideal day in your ESL class and then propose their ideas to you.
2. Describe a Picture
Give each student an unusual photograph (use photostocks for that), and ask them to create a story to go along with the picture. After they have planned their stories, have them share their pictures and stories.
Also Read: Is Punishment a Good Strategy for Teaching in the ESL Classroom?
3. Redo Your Talk
Students identify a conversation in their past that was unsuccessful, perhaps when they were first learning to speak English. Ask them to redo that conversation by looking back, identifying their mistakes, determining how to avoid the, and then role play the conversation with a classmate.
4. TripAdvisor
Ask your students to plan a field trip. For this activity, you need to choose a particular topic to limit the conversation. They can plan a family dinner, a sports event, etc.
Also Read: Challenges and Principles of Teaching Tenses and Conditionals
5. Communal Story
In a circle, a volunteer student starts a story with "Once upon a time". Each student adds 2-3 sen­tences to the story, keeping consistent with what their classmates have already said. Continue around the circle, finish with "And they lived happily ever after."
Do you want to teach English abroad or online? Take a TEFL course!
Apply now & get certified to teach english abroad!
Speak with an ITTT advisor today to put together your personal plan for teaching English abroad!
Send us an email or call us toll-free at 1-800-490-0531 to speak with an ITTT advisor today.
Related Articles:
Check out what our course grads say in our many video testimonials!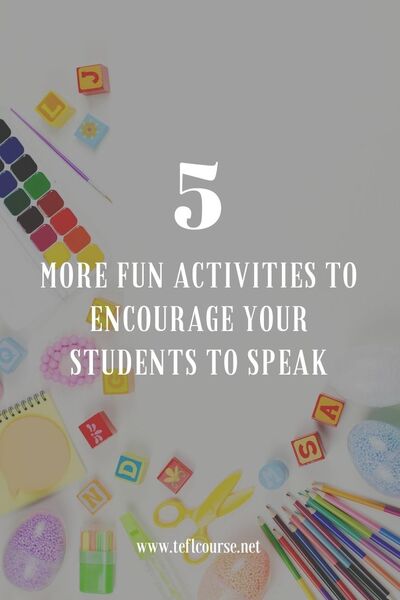 ---
---