Would you like to earn some money during your gap-year or do you want to leave your boring 9 to 5 life behind and start a whole new career? Whatever your situation, if you have a dream to teach English to non-native English speakers in your home country, overseas, or online, we will do our very best to answer as many of your questions as possible. Before we go any further, we should first establish what we actually mean by TEFL and TEFL teaching.
What is TEFL?
The world of English language teaching loves to use acronyms and one of the most common is TEFL, which stands for Teaching English as a Foreign Language. This phrase is largely used in British English to label any environment where English instruction is provided to a non-native English speaker. Its American English equivalent is TESOL, which stands for Teaching English to Speakers of Other Languages. The only thing you really need to know here is that both these acronyms essentially mean the same thing and are used interchangeably throughout the international English teaching community.
What is TEFL Teaching?
The English language is one of the most learned second languages out there, with many millions of students all over the world taking it up in order to study overseas, move to another country for work, boost their job prospects, or simply to aid foreign travel. The people who provide these teaching services are known as TEFL teachers (or some similar variant, such as TESOL teacher, EFL teacher, ESL teacher, etc).
TEFL teaching can occur in a wide range of different environments, which typically fall into two categories: traditional in-class teaching and online teaching. Within these two brackets there are also many sub-categories.

Register now & get certified to teach english abroad!
In-class TEFL Teaching
This is the more traditional teaching environment that most of us are very familiar with. It is still responsible for a large proportion of all English language classes, particularly in less developed countries where personal computer access is not widespread. Within this category of TEFL there are many different types of classroom that you might find yourself working in, including:
Government-run state schools catering to children from around 5 to 16 years old.
Privately-run, paid schools that cater to children of a similar age range as above.
Kindergarten schools that cater to preschool age children.
Colleges or universities that cater to young learners and adults.
Private language schools that cater to children, adults, or a mix of both.
Private tutoring, where a teacher is employed to teach one or more students in their own home or office.
Within private companies, where teachers are hired to improve the English skills of that company's employees.
Online TEFL Teaching
Like many forms of education, English language teaching has flourished online in recent years and it is only going to increase in popularity. For students who have access to a computer, it can make studying much more convenient as it is easier to fit around existing work, study, or family commitments. It can also be extremely convenient for the teacher as you can work from home without having to head overseas as was normally the case in years gone by. Because of this convenience, many people teach English online as a second job or on the side of existing study. If you plan to make it a full time job, which many teachers do, you can often choose when and how much you work.
Online English teaching is typically conducted via two methods. Many teachers work for existing online platforms that might have hundreds of teachers working with many thousands of students in different parts of the world. The obvious benefits of this method is the company will supply the students for you to teach and you are usually guaranteed a certain number of teaching hours per week. On the downside, most platforms can afford to be quite choosy as to who they employ which means a degree in any subject is often required.
The second option is to work independently. This will involve setting up your own website or platform and finding ways to gather your own students. Obviously, this route might take some time to get fully underway as recruiting enough students to require full time work is not always a smooth process. On the plus side, you get to choose your own working hours and your own pay scale. For many teachers the best approach is to initially work for an existing company in order to gain experience and learn the ins and outs of online teaching, and then look at setting up on their own when they feel ready.
Check out our FAQ: Which platforms hire online English teachers?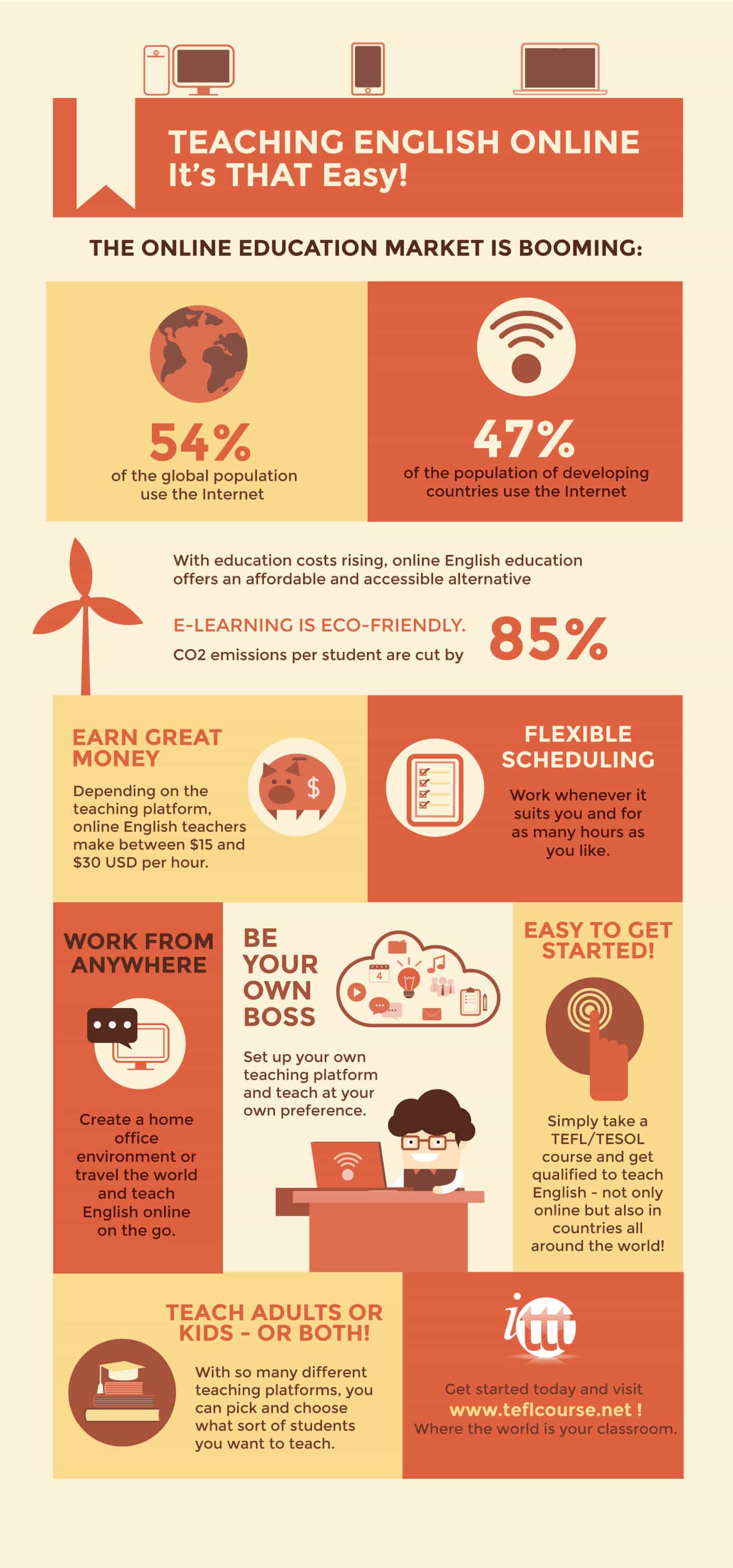 Requirements for TEFL Teaching
1) English Language
It probably goes without saying but the main requirement of being a TEFL teacher is to have a strong grasp of the English language. This does not mean you have to be a native English speaker. As long as you are fluent in English and have a high level of both written and spoken English, you should be more than capable of teaching the language. However, it is important to note that some countries have laws in place that restrict English language teaching jobs to native English speakers from a small number of countries only. These countries are typically the UK, the USA, Ireland, Canada, Australia, New Zealand, and South Africa.
Take a look at our FAQ: Where can I teach English abroad as a non-native speaker?
2) Teaching Experience
The good news is that previous teaching experience, although welcomed by employers, is not usually a requirement for most TEFL positions. As the number of vacant jobs worldwide is so vast, all but the most high-end teaching roles and the most picky of employers are within realistic reach for novice teachers. Positions that pay the highest salaries, or those in universities or other notable establishments, are sometimes restricted to applicants with a year or more of previous experience. Outside of that, the vast majority of vacant positions are filled by first-time teachers or those with a minimal amount of classroom knowledge.
Take a look at our FAQ: Can I teach English online without any teaching experience?
3) Degree
Although it typically will have nothing to do with your ability to be a good teacher, having a degree in any subject is often a real advantage if you want to teach English overseas or online as it will give you more options in the job market. Certain countries require you to have a degree in order to qualify for a work visa and many of these are popular teaching locations, such as China, Japan, South Korea, and Thailand. However, if you do not have a degree, do not panic as there are still plenty of great destinations that have no such requirement.
Take a look at our FAQ: Where can I teach English abroad without a university degree?
4) TEFL Qualifications
While we have already mentioned that a good standard of English is required to become a TEFL teacher, the other main requirement is some form of TEFL certification. Although there are probably some parts of the world where you can still land a teaching job with no qualifications whatsoever, most employers who you would want to work for now expect their job applicants to demonstrate that they have undertaken some level of teacher training. That teacher training is most often represented by a TEFL certificate.
TEFL Certificate Levels
TEFL qualifications are usually categorized by the average number of study hours they require to complete. The generally accepted minimum requirement for most international employers is 100 or 120 hours. By completing this mainstream level of TEFL certification you will be eligible to apply for most teaching jobs you see advertised. If you want to apply for jobs that specialize in one specific area of teaching you can then add an additional qualification that is focused on young learners, business English, or teaching online. If you would prefer to apply for higher-end jobs that might come with a bigger salary or more responsibility, then a Diploma in TESOL might be what you need.
Online TEFL Qualifications for New Teachers
If you are new to English teaching then a good place to start is a 120-hour TEFL certification course. With this qualification in your portfolio you will be able to confidently apply for a large number of entry-level jobs in countries all over the world. Once complete, you will have gained a wide range of basic skills and knowledge that employers want to see from their job applicants. After a year of teaching experience, or even less in many cases, you will then be able to pick and choose the jobs you want to go on to tackle in the future.
In-class TEFL Qualifications for New Teachers
Another great option for gaining an initial TEFL certification is to take an in-class TEFL course at one of our many international training centers. This option covers all the same topics as the online course, but it is condensed into an intensive four-week period of full time study. There are several huge benefits to this method of study which make it a popular choice with many trainees. Firstly, all the materials are taught in person by a highly experienced teacher trainer. This appeals to many people who find they learn better when the study is structured by a professional, rather than trying to work through everything independently. Secondly, our in-class courses also include several hours of real teaching practice with genuine English language learners.
Check out all our in-class TEFL course options.
Once you have completed the course, including your observed teaching practice, you should find you are as ready as you can possibly be to get started in your own TEFL classroom. Another clear benefit of an in-class course is they usually take place in areas where there is a strong demand for TEFL qualified teachers. For many course graduates it is a straightforward transition from the course into their first teaching job in the immediate area of the training center. This smooth transition removes a lot of the usual anxiety associated with finding that all important first job right after completing your training.
Combined TEFL Qualifications for New Teachers
As well as online and in-class TEFL courses, we also offer a combined course option that encompases many of the best features of both these study methods. You start out by learning all the theories of English teaching via our online training platform, from wherever you have access to an internet connection. This initial stage of the course can be completed in any timeframe up to a maximum of six months.
Check out all our combined TEFL course options.
The second part of the combined course is completed at one of our international training centers. Depending on the location you choose, you will need to attend the center for either five, eight, or ten days, where you will complete your training under the guidance of highly experienced teacher trainers. The eight and ten-day options include at least six hours of observed teaching practice (OTP) with constructive feedback from your trainer. The five-day combined course does not include OTP, but you will be offered the option of completing some unobserved teaching practice at a later date.
Advanced TEFL Qualifications
Another great option for those starting out on their TEFL journey is to take an advanced level Diploma in TESOL. The beauty of this option is that it starts with the same 120-hour TEFL certificate described above, so you gain all the basic knowledge required at the beginning of your studies. Once this is complete you will be able to start applying for jobs before you have even started the diploma stage of the training, if you so choose. You can then begin the diploma section which involves around 250 hours of research based study. As this is an advanced level course you will probably need anywhere from 3 to 12 months to complete all the course modules, depending on whether you choose to study full or part time.
Check out all our Diploma in TESOL course options.
Specialized TEFL Qualifications
Once you have completed your initial TEFL training you might decide you want to work towards one specific area of teaching. After gaining some classroom experience many teachers discover they prefer teaching young learners, business English students, or want to move into online English teaching. By gaining one or more additional qualifications you will significantly increase your number of job options and add to your existing teaching knowledge, which is a win-win situation for you and your future students.
Check out all our specialized TEFL course options.
Multicourse TEFL Bundles
If you love to get the best value for money, then our selection of TEFL course bundles is certainly worth checking out. These options offer you the chance to start your teaching journey with multiple qualifications that will open many more doors to possible employment than having just a single TEFL certificate. However, the real bonus of these options is you will begin teaching with a far greater understanding of the English language and how to teach it than most other first-time teachers. This means you will stand out from the masses when applying for jobs and those first few days and weeks in the classroom should prove to be a little less daunting than they might otherwise be.
Check out all our TEFL course package options.
Post-graduation
Regardless of the type of TEFL course you choose, the next step after graduation for most people is to start applying for teaching jobs. The good news here is that opportunities for teaching English are available in varying degrees in almost every country you can think of. In some Asian countries such as China, South Korea, Japan, and Taiwan, there are always plenty of vacant jobs just waiting to be filled, so if you meet the local requirements you will have no trouble finding something suitable. The Middle East region is where you will typically find the largest salaries and these are usually tax free and come with a range of very attractive extras, such as free accommodation, paid airfares, and other bonuses. However, it should be pointed out that these positions are highly sought after and generally go to teachers with some previous classroom experience.
Jobs are also widespread in many countries across Central and South America, which is often convenient for North American teachers in particular as they are in a similar time zone and within easy reach of home. Many others choose to head to Europe, where countries such as Spain, Italy, and France have a long history of attracting teachers from far and wide. Outside of these most popular destinations there are dozens of other countries where smaller numbers of teachers head in search of a less congested job market and more off the beaten track adventures.
It is also worth remembering that a large number of our TEFL course graduates don't actually head overseas at all. Many choose to stay within their own country where they find work teaching English online, in language centers, or for local charities etc. This can be a great way to gain experience in a familiar environment before deciding to take off abroad, or you might decide that overseas travel is not for you and you are happy teaching in your local area.
If you choose to complete a TEFL certification of any kind with ITTT you will gain access to our extensive post-course services for as long as you need them. With the help of our job services and a little hard work from yourself, you should find you have several good options to choose from in your chosen destination. Our post-course job services include a range of helpful input, such as:
Access to our database of potential employers
Exclusive leads on unadvertised jobs
Advice on constructing a high-quality CV or resume
Advice on writing cover letters
Assistance with planning trial lessons for job interviews

We also recommend you take a good look through our extensive FAQ section which has a large number of questions and answers related to finding work and the salaries you might expect in all the main English teaching destinations (and many of the less well known).
You will also find a selection of the many job offers out there via our TEFL Jobs Page. This page contains a cross section of the jobs currently available and will provide an insight into the sort of options you will have in different countries around the world.
Where to Find Vacant TEFL jobs
As TEFL jobs are spread right across the globe there isn't one best way to find available positions to apply for. The most obvious place to start is to look at job boards on TEFL related forums and other similar websites. Simply do an online search for TEFL job boards and you are sure to find a wide range of options. One good example of a trusted TEFL job board can be found at Dave's ESL Cafe. Here you will find a wide choice of jobs from countries worldwide, giving you plenty of options and a good insight into what is available in different areas.
Recruitment Companies
Another popular way to get your teaching career started is to use the services of a recruitment company. Recruitment companies are paid by employers to fill their vacant positions, which means it costs you nothing to sign up with them. One big benefit of this arrangement is you can organize a job before you leave home and all of the paperwork and other hassle is taken care of for you. The main downside of this option is you need to research the company to ensure they are a legitimate recruiter with a good reputation. Although the vast majority of companies are entirely professional and provide a good service, there is always the chance that there are one or two less than honest operators out there. The good news is that ITTT has developed strong ties with several of the best recruitment companies and we will be happy to recommend them to you once you have finished your studies.
National Recruitment Programs
Many of our course graduates choose to sign up for one of the well known national recruitment programs that are available in several countries. These are usually run, or at least sponsored, by the government of the country where it is located, which means they are typically well organized, reliable, and extremely popular. The most famous examples of this type of employment are the JET Program in Japan and the EPIK Program in South Korea. Both of these employ large numbers of teachers every year, although there are several requirements you need to meet in order to be eligible. Similar schemes can be found in other countries, including France, Spain, Hungary, Chile, and Hong Kong.
For more details take a look at the Jobs Assistance section of our FAQ page.
Get Your Dream Started
Once you have completed your chosen TEFL course or multiple courses, worked through all the materials and assessments, and applied for the jobs you like the look of, you will be ready to start your new career as a TEFL qualified teacher. Whether your TEFL path takes you to Asia, Europe, or Latin America, or you choose to work in your home country or as an online teacher, once you have started your journey you are unlikely to ever look back. At ITTT we are always here to offer whatever help you need to make sure your dreams of TEFL teaching become a reality.