Teaching English as a Foreign Language (TEFL) is essentially any situation where an English speaker, either native or non-native, teaches the English language to other non-native English speakers. This scenario is probably played out in every single country worldwide as the status of English as the number one second language is unrivaled in most regions.
A wide variety of people from all backgrounds choose to teach English in an equally wide range of environments and situations. For some it is a great way to earn extra cash while on a gap year abroad or as a second job to top up their main income, while for most it is a full time occupation that earns a good income either at home or overseas.
If this sounds like something you would be interested in exploring, the first thing we need to clarify is what TEFL Qualification do you need in order to get a good English teaching job?
TEFL Qualifications
Firstly, we should point out that in years gone by it was quite common for people to walk into an English teaching job with no qualifications other than being an English speaker. However, those days have largely passed as most people are now aware of the fact that the ability to speak a language has very little bearing on your ability to actually teach it effectively. In the modern age the vast majority of schools, businesses, and language centers will only employ teachers who can demonstrate that they have undergone some level of official teacher training. To do this, most teachers and employers rely on TEFL certification.
TEFL certificates come in many different forms, with variations in study time, cost, and the type of job they will realistically qualify you for. Before you make great plans for your future teaching career, whether short or long term, you need to be aware of all your TEFL Qualification options to ensure you make the right decisions to suit your specific set of circumstances.

Volunteer English Teaching
Many people of all ages decide that they want to incorporate some level of voluntary work into their overseas travel experience. In many less-developed parts of the world acquiring a good standard of English can open the door to better jobs and a higher salary, as well as make overseas study and work a realistic goal. As many people in these situations are unable to afford to pay for language lessons, volunteer teaching schemes are a major source of hope for the future. If you like the idea of helping people achieve their dreams, then a stint of volunteer English teaching could be perfect for you.
To ensure you qualify for this type of teaching job you need to research the individual requirements of the organization you want to work for. However, it is common for these schemes to require a TEFL certification of some sort. As you are not being paid for your services, most organizations are happy to accept a low level TEFL Qualification as proof that you have the necessary skills and knowledge to make a difference in the classroom. Many also include some of their own 'on the job' training once you arrive on site. In most voluntary scenarios, a TEFL certificate of 100 hours or less is often sufficient.
At ITTT we recommend our online 120-hour TEFL certification course, which comes with tutor support. We also offer this course option with added teaching practice that can be completed in any location of your choice.

Teaching English Online
As with many forms of education, English language teaching has flourished online in recent times. This has been further accelerated by the COVID-19 pandemic which has led to many countries moving their mainstream school lessons online for significant lengths of time. In the coming years English language teaching is likely to grow ever more popular which is great news for anyone who wants to work from the comfort of their own home or while moving from place to place during overseas travel. There are dozens of platforms dedicated to online teaching, with more seemingly added every day, which means there are plenty of opportunities available for anyone who fits the specific criteria set out by each platform.
Although the requirements specified by online English teaching platforms vary, almost all will require some level of TEFL certification. At ITTT we recommend our 170-hour course in teaching English as a foreign language with online specialization. This popular course option provides all the basic theory of teaching, online or in-class, via the initial 120-hour course. You then complete a 50-hour course in teaching English online that focuses on all the unique skills required by this specific format of teaching.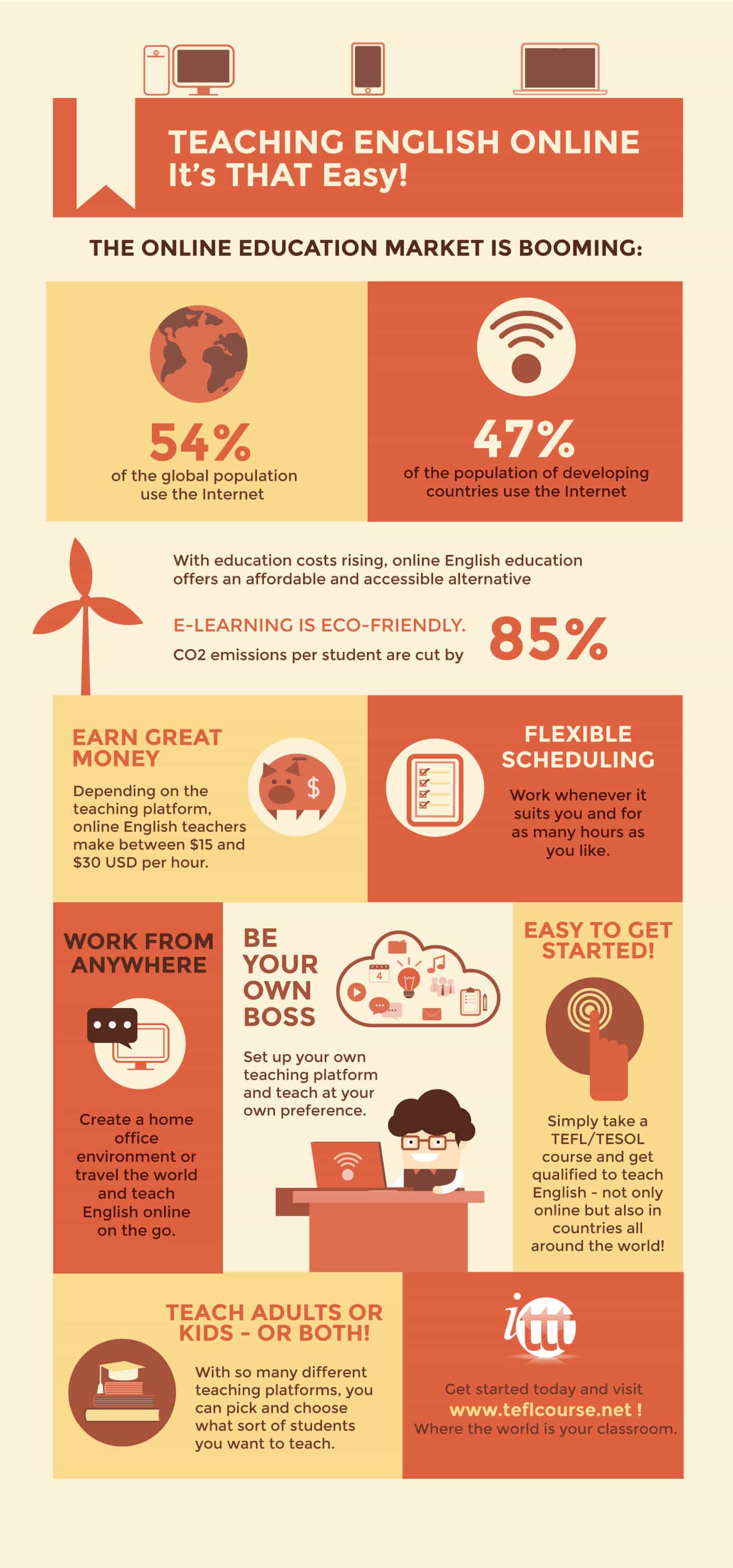 Teaching English In-class
Although online teaching is increasingly popular in many regions, traditional in-class teaching still makes up a significant proportion of English lessons worldwide. Asia is currently the number one region in terms of job numbers, with countries such as China, Japan, South Korea, Thailand, and Taiwan, all having large markets for foreign teachers with a TEFL Qualification. The entry level TEFL certificate required to be eligible for most mainstream teaching jobs in this setting is typically a minimum of a 100-hour TEFL certificate. This level of certification is enough to gain a good quality job with a respected employer who is willing to pay a good salary and offer comfortable working conditions.
To gain this level of TEFL qualification you have three distinct study options: an online TEFL course, an in-class TEFL course, or a combined TEFL course. All of these options have pluses and minuses that you should weigh up before making a decision on which is best for you.
Entry-level TEFL Course Options
Online TEFL Courses
If you are currently working or have other commitments that prevent you from studying full time, then an online TEFL course will probably be your best bet. With this option you get to choose when and how much you study and you can complete all sections of the training without leaving home. The obvious downside of this option is that it doesn't include any classroom teaching practice. Despite this, the majority of TEFL trainees feel that this is the most convenient option for them as it offers a great mix of convenience and value for money.
At ITTT we recommend our online 120-hour TEFL certification course, which comes with tutor support. We also offer this course option with added teaching practice that can be completed in any location of your choice.
In-class TEFL Courses
If you are able to attend one of our international training centers for a period of four weeks then an in-class TEFL course is well worth considering. The in-class course covers all the same theory of teaching as you get with the online course, however, the classes are led by a highly experienced teacher trainer who has spent many years teaching English in a variety of different classrooms. The other major benefit of this course option is that it includes several hours of real teaching practice. During your course you will put together your own lesson plans and then deliver those lessons to genuine English language learners in an authentic classroom environment.
The in-class TEFL course from ITTT offers one of the best preparations for real life teaching out there, with centers all over the world for you to choose from. Upon completion of the course you will be ready to start teaching in your own classroom and our center staff will be on hand to help you land that all important first job.

Combined TEFL Courses
The combined course is a compromise between the previous two options, with some of the study completed online and some completed at one of our training centers. The main advantage of this particular option is that attendance at our training center is only for five to ten days rather than the full four week period, which can be an issue for some people. Also, you still get to complete the same amount of real life teaching practice as you would if you attended the full in-class TEFL course. The course starts with an online component that can be completed at your own pace from your own home or office. Once complete you then attend a training center where you will undertake your teaching practicum under the guidance of our highly experienced teacher trainers.
The in-class section of the combined course can be taken at a number of centers across North America, as well as in France, Italy, Spain, and Thailand. If you like the sound of this convenient TEFL qualification option, take a look at our combined TEFL course page.

Specialized TEFL Courses
Once you have completed your initial TEFL training course, whether online or in-class, you might want to consider adding one or more additional certificates to your portfolio of TEFL qualifications. Specialized courses will provide the specific skills and knowledge required to succeed in the unique areas of English language teaching that are becoming more and more popular every year. This extra training builds on all the basic knowledge you have gained from your initial TEFL training and the qualification received will allow you to apply for a wider range of jobs in areas that you might be keen to explore. Having more than just a basic TEFL qualification is particularly beneficial if you plan to look for jobs in any of the more popular teaching destinations where the competition for the best positions is often very strong.
At ITTT we have specialized TEFL courses in teaching English to young learners (CETYL), teaching business English (CTBE), and teaching English online (CTEO). These are all 60-hour courses that can be completed 100% online at any pace you choose.
Advanced TEFL Courses
Another great option for novice teachers and those with some experience is to add an advanced TEFL qualification to your job applications. With this level of certification you will open even more doors to teaching positions that might otherwise be out of reach. Many of the top jobs in EFL teaching that offer a high salary and high levels of responsibility will require some amount of experience and/or an advanced TEFL qualification. This level of training typically focuses more on the theory of teaching and requires you to conduct your own research into areas such as syllabus design, assessment strategies, classroom material design, and classroom management.
Our Diploma in TESOL course is the highest level qualification we offer and it is open to anyone who wants to start their teaching career with a serious advantage in the job market. The course starts with our standard 120-hour TEFL certificate course that provides all the basic theory, before you move onto the advanced diploma stage of the training.
Online TEFL Course Bundles
If you plan on heading to one of the top teaching locations where the competition for jobs can be quite fierce or you simply want to start your teaching career with a bang, we highly recommend taking a collection of courses that will help you to stand out from the crowd. With multiple TEFL qualifications under your belt you will demonstrate to potential employers that you are a serious teaching professional who has a high level of knowledge and that you care about the quality of lessons that you deliver to your students. The fact is that the more qualifications you have, the more jobs you will be eligible for. And the more jobs you are eligible for, the more chance you have of landing the ones you really want.
For an idea of the type of packages available from ITTT take a look at our TEFL course bundles page. We have a 220-hour Master Package and a 550-hour Expert Package, both of which offer a range of great courses at the very best price.