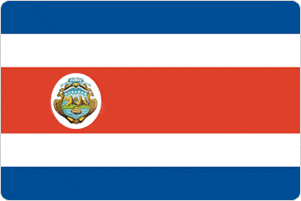 Capital city
San Josè
Language
Spanish
Currency
Costa Rican Colòn
Typical TEFL teacher salary
400-550/month
Major TEFL locations
San Josè
The Country
If you're looking to teach English in Central America, Costa Rica will most likely offer you the highest salaries. Once you become a certified TEFL teacher through one of our numerous course options, we'll help you find a job through our lifetime job placement assistance.
You could be fortunate enough to find a post teaching English at one of the many beach locations in Costa Rica, or in a smaller town within the country, but competition for teaching jobs in these locations, especially coastal ones, is quite high and it may take some time before securing a position there. The main recruitment period for teachers in Costa Rica is from May to September. Many language schools are needy of teachers at this time and there are usually more jobs than teachers.
Costa Ricans, similar to their fellow world citizens, view speaking English as a means to gaining good employment and to increase their chances of promotion and therefore a higher salary. The result of this is that there are many language schools in Costa Rica, offering a full range of English courses year round and in virtually every town and city. This means there is a high demand for English teachers in Costa Rica.
Most schools prefer to hire teachers who are currently in Costa Rica rather than hiring from overseas. As with all Latin American countries, employers prefer to see the applicant in person to gain an overall impression. However, there are job postings on some major TEFL job web sites and in local online versions of newspapers. Most schools will hire you if you hold a TEFL certificate, university degree, have a good personality and are smartly dressed.
Most jobs teaching English in Costa Rica are located in the towns and cities of the Central Valley area, with positions also available in most urban coastal areas. Most schools do not provide their own training so it is important to have undergone TEFL training in order to gain good employment. Take your course with ITTT and TEFL International; we'll not only provide you with a TEFL certificate that's recognized worldwide, we'll also help you find a great job — in Costa Rica or anywhere else your heart leads you.
TEFL Courses in Manuel Antonio
Sample Job offer for Teaching English in Costa Rica