Although Nicaragua is not one of the region's traditional hotspots for teaching English as a foreign language, it is rapidly growing in popularity year-on-year.

As the largest country in Central America there are ever-increasing opportunities for foreign teachers, both in large cities and popular tourist areas.

Although you are unlikely to make your fortune while living and working in Nicaragua, you are certain to enjoy an unforgettable cultural experience during your stay.

The following guides offer a range of information to help you plan your trip, from where to choose as a base to how much you will need to budget.


After many years of political unrest, Nicaragua is now an up-and-coming destination for tourists and those looking to teach EFL in Central America.
Among the facts on offer are: it is the biggest country in Central America with a population of just over 6 million people and the capital city is Managua.
Among the many activities awaiting you are surfing, snorkeling and volcano sandboarding.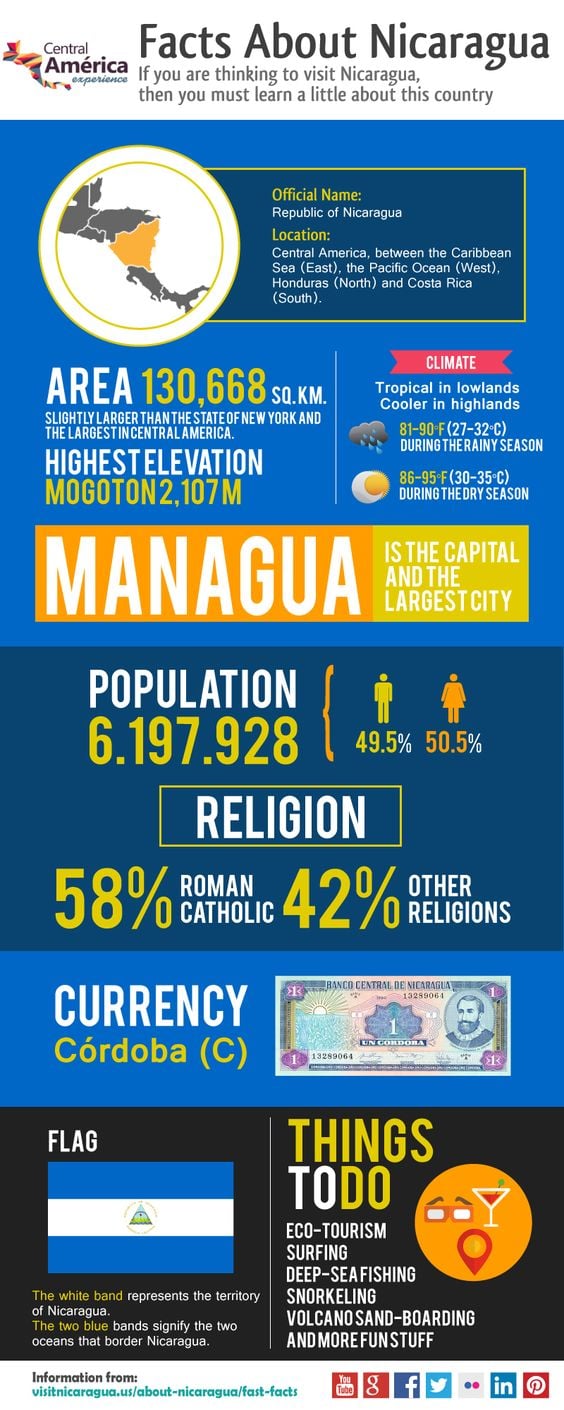 If you are unfamiliar with the country and want to learn a little more about it, check out this simple guide to facts about Nicaragua.
You will also find details on the country's climate, currency and what the nation's flag represents.
SOURCE: www . centralamericaexperience . travel/blog/
---
If you are looking for a budget friendly destination for teaching English abroad or are working in a neighboring country and looking to explore in your spare time, look no further than Nicaragua as it has one of the lowest costs of living in the region.
The main essentials can be covered for around $26 a day, although entertainment and other extras will add to your expenses.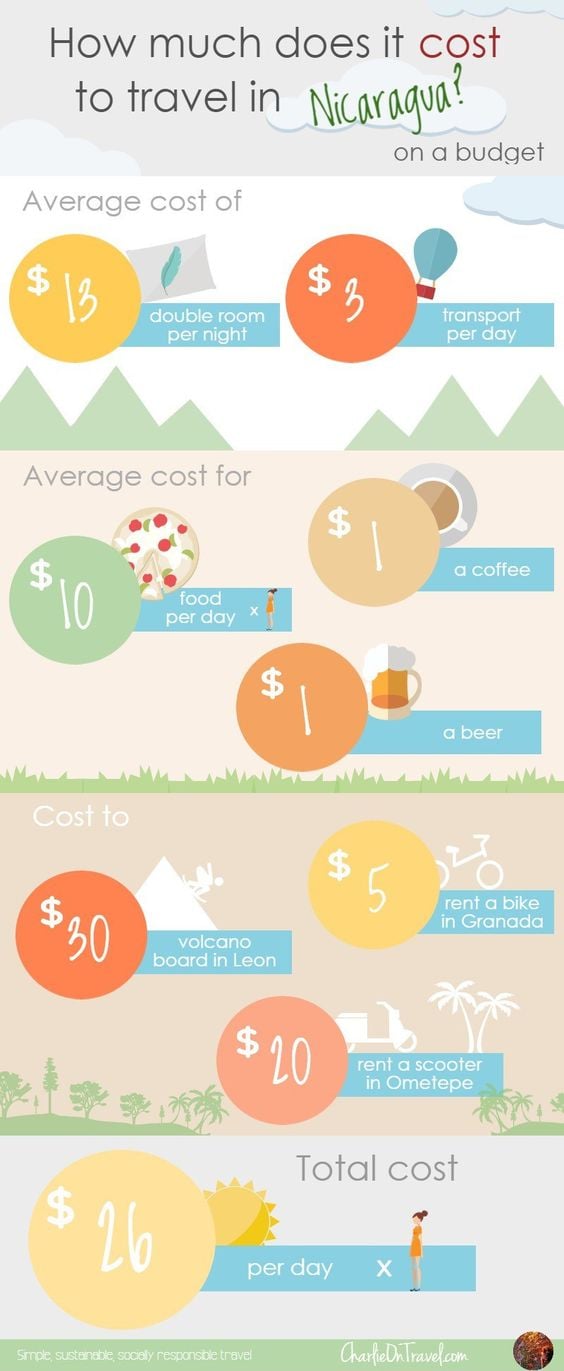 This graphic gives a brief insight into the budget required to visit the country, including the three main costs: accommodation, transport and meals.
Popular and inexpensive activities that you might want to try include sandboarding down a volcano, exploring the country's largest island on a scooter, and a cycling tour through the streets of Granada.
SOURCE: charlieontravel . com/how-much-cost-to-travel-nicaragua-budget/
---
When moving to a tropical country to teach EFL one of the biggest decisions is often whether to choose a thriving city or a laidback coastal town as your location.
Throughout the region you will generally find that beach resorts are more expensive places to live, with fewer jobs on offer and increased competition from the expat community.
Wherever you decide to teach, it is essential to thoroughly research your destination to ensure you make the right decision to suit your own preferences.

If you choose to teach in Nicaragua two of the most popular destinations are compared here: the city of Matagalpa and the beach town of San Juan del Sur.
In contrast, cities typically offer better public services and a more authentic cultural experience.
SOURCE: internationalliving . com/san-juan-del-sur-vs-matagalpa-part-nicaragua-retire/
---