The type of English taught in different countries will vary according to the preferences of that individual country. We focus here on British and American English as they are the most commonly taught variations of English worldwide. Many countries have a clear preference for the type of English taught in its schools and language centers. Some examples are shown on the map below:
Table of Contents
How exactly do these forms of English differ?
British Grammar vs. American Grammar
Same Word - Different Pronunciation
Differences in word for the same object
Map created by reddit user Speech500
Source: moverdb.com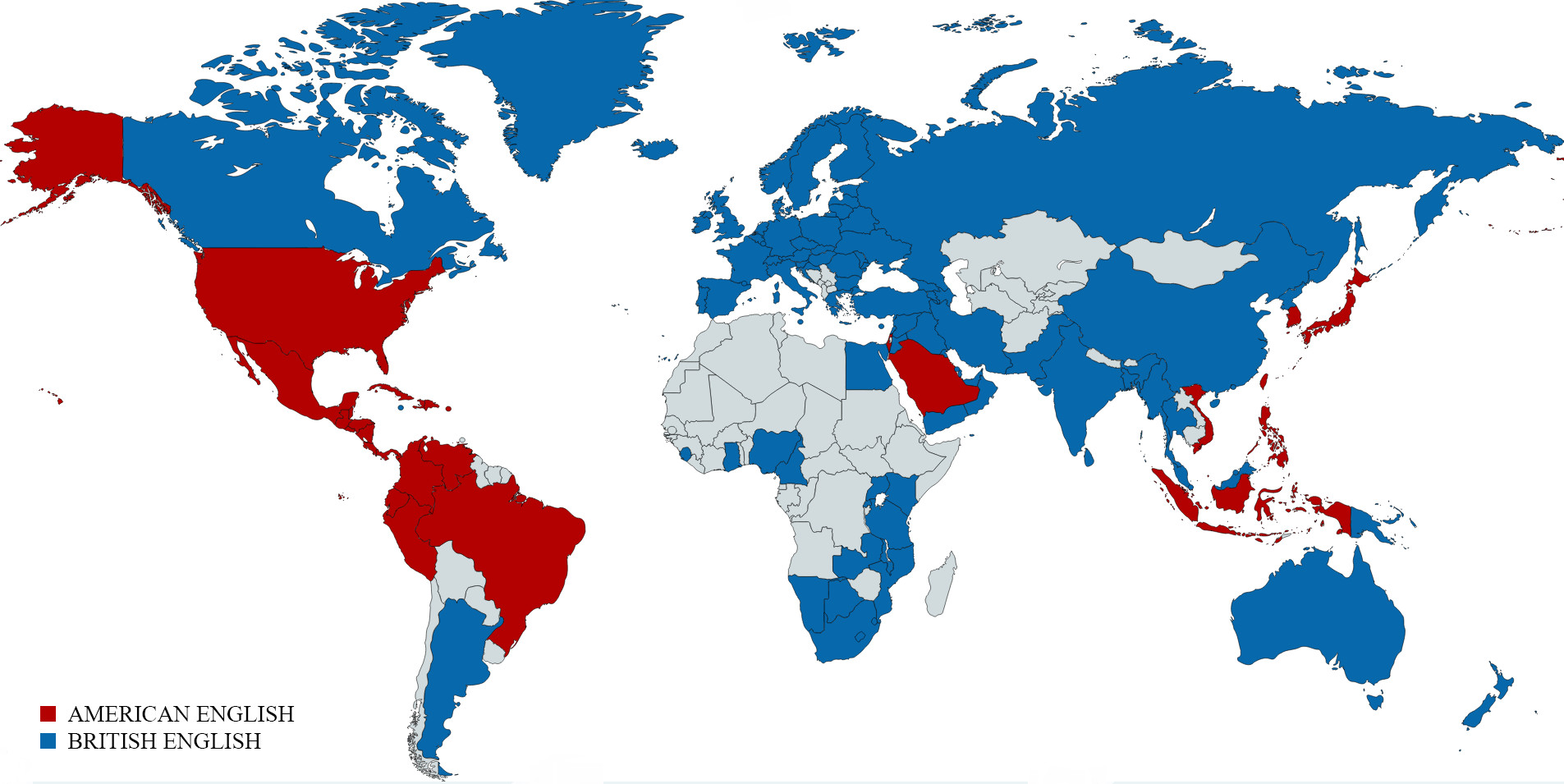 How exactly do these forms of English differ?
There are a number of major differences which we will examine. The following are in no way exhaustive and you should investigate for yourself for more examples.
Spelling Differences
Mainly due to the influence of Webster (of dictionary fame) American English has focused on how words are 'sounded' to guide their spelling. This has resulted in some well known differences in spelling, such as color (AmE) and colour (BrE).
British Grammar vs. American Grammar
Some forms of grammar such as prepositions and modal verbs can vary depending on whether British or American English is used. It would not be unusual to see the word 'gotten' in an American student's essay while 'got' may be used by their British counterpart. Similar differences are apparent with the use of prepositions such as, on, in and at, which vary in usage for British and Americans. When applying to higher education courses in an American English or British English user country, learning the specific grammar and spelling will be imperative.
Also read: Is grammar knowledge important when teaching English?
Same Word - Different Pronunciation
From Wikipedia, the free encyclopedia
"Let's Call the Whole Thing Off" is a song written by George Gershwin and Ira Gershwin for the 1937 film Shall We Dance, where it was introduced by Fred Astaire and Ginger Rogers as part of a celebrated dance duet on roller skates.
The song is most famous for its "You like to-may-to /təˈmeɪtə/ / And I like to-mah-to /təˈmɑːtə/" and other verses comparing British and American English pronunciations.
Differences in word for the same object
There are many examples of this type, such as:
Source thoughtco.com
American English
British English
attorney
barrister, solicitor
trashcan
dustbin, rubbish-bin
Other considerations
As you can see from the map above, there are two main varieties of English. Many parts of the world use British English, due to the vast empire Great Britain once had. American English is slowly taking the place of British English in some parts of Asia and South America due to the empire building taking place on their part. When you are employed by a school or company to teach English, it may well be specified which English type you have to teach and because of this they may prefer candidates who are native speakers in one or the other form. It is important that you speak English naturally and do not attempt to speak a version of English that you are unfamiliar with.