Why Prague is the Ideal Place to Teach English
Prague is one of the most popular places for EFL teachers in Europe. The Czech Republic makes it relatively easy for non-EU citizens to secure a work permit and the cost of living isn't as astronomical as in many Western European countries. Here are four amazing reasons, why Prague is the ideal place to teach English.
Table of Contents
Variety and Volume of Available Teaching Work
Rich History and Cultural Offerings
Are you ready to teach English in Prague?
Variety and Volume of Available Teaching Work
In Prague, and in the Czech Republic generally, teaching opportunities abound for English-proficient, qualified TEFL teachers. The sheer variety of work available is in itself impressive. You could be teaching in private language schools, pre-schools, public primary and secondary schools, universities as well as summer camps and after-school programs. In-company, exam preparation and soft-skills courses are also very popular; giving you the chance to meet and work with interesting professionals from a range of industries - finance, retail, IT, politics and the arts.
Prague can also be a great place to start out as a teacher as there are numerous career development and networking opportunities in the form of teachers' and publishers' conferences, workshops, training and seminars on a wide choice of topics going on throughout the academic year. The majority of which, are offered for free to in-service teachers.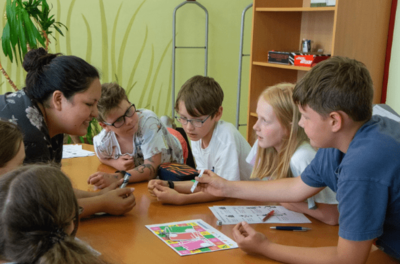 Rich History and Cultural Offerings
This is a great city to work in with its green spaces, well-preserved, historical architecture and excellent transportation connections on clean, safe and reliable routes. Come work in a city awash with history; where you can imagine Nikola Tesla comparing theories with his fellow students in a traditional local pub. Walk to your classes past an apartment house that Kafka once lived in. Or alternatively, sip your coffee in the same room where Einstein once drank his. Prague's central location means, that should the spirit move you, you could also be toasting new friends at Munich's Oktoberfest, savoring Sacher torte in a Viennese cafe or sampling paprikash in Budapest's central market - all within a matter of hours after leaving Prague's city limits. Reasonably priced bus and train tickets can be bought for all points north, south, east, and west, with most forms of transport leaving hourly.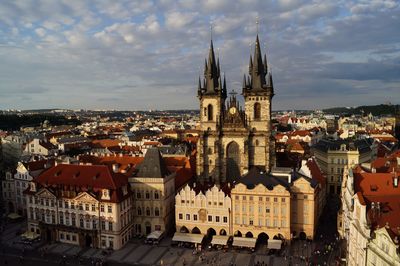 So Much to See and Do
The cost of living here is comparatively low, especially when you look at other European capitals of a similar size, but with no fewer the cultural and entertainment offerings. You will be spoiled for choice with festivals and events for music, food, beer, wine, art, design, film, theater, politics, and sports taking place on a near constant basis. The vibrant Prague arts scene boasts three opera houses, about 50 active theaters, as well as an eclectic range of museums and galleries, and music and sports venues both large and small. There is a veritable plethora of restaurants, pubs, bars, sidewalk cafés and cinemas. Prague has a rich and varied ex-pat community with a variety of cultural offerings available in English, German, Russian or Spanish, etc.
Prague is also no slouch when it comes to more physical pursuits, with hiking and biking trails, alpine and cross-country ski runs and lakes for windsurfing, canoeing and kite-surfing all just a bus or train ride from the city center. The City of a Hundred Spires also plays host to several marathons and the Prague Tennis Open, as well as being home to a selection of professional hockey, rugby and football teams.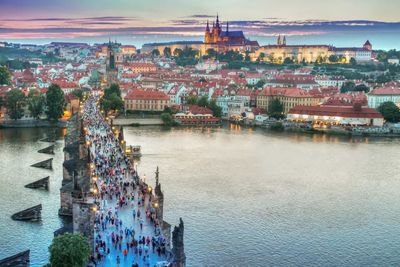 Comestibles
Lastly and perhaps most importantly, is the food and drink. Czech cuisine tends generally toward heartier fare; dumplings and sausages, goulashes and kolaches. However, as Prague is both the largest city in the Czech Republic and the country's capital, diverse and ethnic cuisines also prevail. You can find anything from authentic buffalo burgers, vegetarian sloppy joes and raw cakes to Middle Eastern delicacies and Indian and Mexican delights; not to mention some of the best local coffee shops anywhere. All this and we have yet to touch upon the raucous pub and bar scene. A night on the tiles in Prague is most certainly an experience to be had by all!
What more could you ask for when a frothy mug of truly excellent beer will set you back less than two dollars - including tip? Why aren't you here yet?
Listen to this blog post
Are you ready to teach English in Prague?
Located at the very heart of the European continent, the Czech Republic is an increasingly popular choice for teaching English abroad. With plenty of jobs available year-round, a low cost of living, abundant cultural highlights, and a vibrant nightlife, what are you waiting for?
For the very best start to your teaching career in the Czech Republic, why not take our in-class TEFL certification course in Prague? You can also get further information about living and working here via our Czech Republic country guide.
Apply now & get certified to teach english abroad!
Speak with an ITTT advisor today to put together your personal plan for teaching English abroad.
Send us an email or call us toll-free at 1-800-490-0531 to speak with an ITTT advisor today.
Related Articles: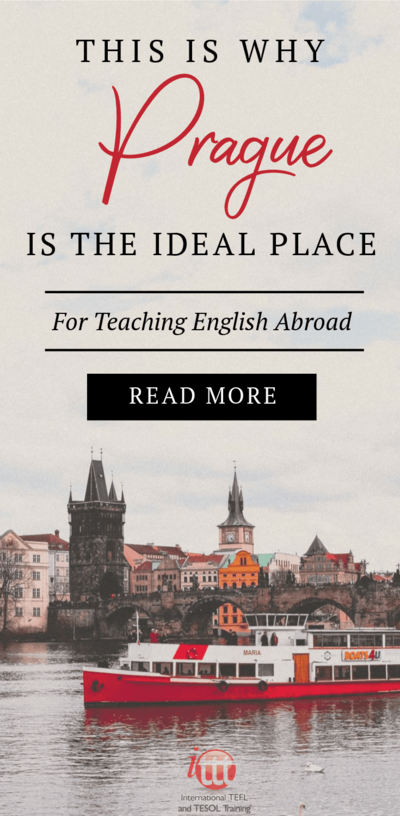 ---
---