There is already a world of opportunities when you get your TEFL or TESOL certification if you already have a bachelor's degree–but what about those of us aspiring teachers who have not yet finished our undergraduate programs? What advantages do I have getting TEFL certified if I don't have a college degree? From earning scholarships to even being accepted for new jobs, ITTT's teaching certifications offer a lot of ways to jumpstart your teaching career.
My university has a wonderful English department, but there is one thing we do not have–an ESL/EFL teaching program. Some universities host courses in which you can become certified in TEFL, however, this was not an option for me. Therefore, I had to do the research on my own time to find a program that would best suit my needs. ITTT's 120-hour TEFL certification course with videos and tutor access was the choice I felt was my best fit. I am also currently taking a 50-hour course designed for online teaching which is great for learning more about available media and technology–especially in this online education world we live in today. However, although I took my certification course outside of school, this led me to many great paths already.
Job Opportunities
When I applied for a job as a writing tutor at my university, my TEFL certification stood out amongst my peers who also were interviewed for the position. In fact, my employer was quite glad because we do have a number of international students who may struggle with understanding concepts in our English courses at school. One of my coworkers, who has been with our tutoring center for a while, told me stories about our non-native English-speaking students coming to our office with various difficulties that someone without a TEFL certification may have trouble working out for them. If you're at a school where ESL or EFL teaching courses are not taught, it could be likely that you are the only candidate for a job with training in that area.
Although I would be tutoring at my home university here in America, my certification made an impact, which furthered my qualifications for the job. Your certification through ITTT may be that extra push in your resume that helps you in an interview–even as a college student.
There are also online and abroad opportunities to teach English learners without a degree. You might even start your own business! Here are links to ITTT's FAQ page with more information:
Studying Abroad
Additionally, my TEFL certification was a key point in my application as a study abroad student. To study abroad in Japan, I had to write several essays, for both my applications and scholarships–which I will get into in a moment. I go to a relatively small school, and I applied for a program that did not require me to compete for a spot. However, for anyone at a large university looking to study abroad, there is a good chance that there will be limited availability for these trips. A certificate in TEFL may be what sets you apart from generic personal statements that others may submit as part of the application process. It shows that you could be studying abroad to develop skills for your future career and are serious about the experience.
Additionally, some study abroad agencies may offer internship opportunities for college students. A TEFL certification could really come in handy for these positions, and you would also get experience living abroad.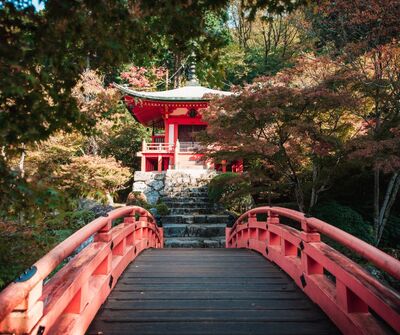 Scholarships
On top of landing a spot in a study abroad program as well as a position in English tutoring, I have also won several scholarships, both inside and outside my institution. Most recently, this month I was awarded a $4,000 scholarship in which I competed with students from multiple states. Not only does your certification act as a great addition to your resume, but it is a noteworthy part of your scholarship applications as well. My TEFL certification was completed independently outside of school. Writing about it in my scholarship applications has helped me show donors that I am dedicated and have taken on extra challenges for my career path.
ITTT Partnership Program
You do not need a degree in English or education to join the vast world of English teachers around the globe. With ITTT's Partnership Program, you can help others get TEFL certified while also making some money–and what college student doesn't want a little extra cash? You do not even have to be a graduate of ITTT to start. Read more here: https://www.teflcourse.net/best-tefl-course/affiliate-program/
If you go to a university like my own that does not currently offer courses that train students in TEFL, TESL, or TESOL, you could be the one to bridge the gap and allow your peers to flourish with a certification of their own. This affiliate program is a great way for me to help other students achieve their goals by providing them discounts and information about getting TEFL certified.
Conclusion
There are many reasons to get TEFL certified while in college. Not only could it help you land scholarships for school, but it could also allow you to take the next big step in your academics and career while providing valuable knowledge and exposure to the teaching world.
Are you ready to teach English as a foreign language?
Apply now & get certified to teach english abroad!
Speak with an ITTT advisor today to put together your personal plan for teaching English abroad!
Send us an email or call us toll-free at 1-800-490-0531 to speak with an ITTT advisor today.
Related Articles:
Check out what our course grads say in our many video testimonials!
---
---