The Increasing Need for Continuous Professional Development in the Middle East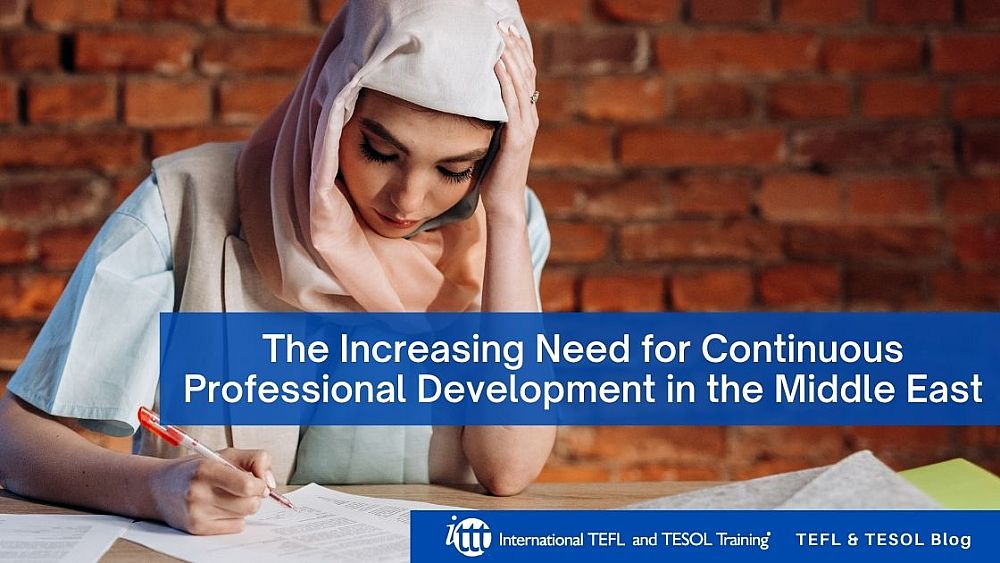 In western society, continuous professional development (CPD) is part and parcel of most jobs where one will have to undertake regular training and have monthly meetings to see how one's work can be improved. There is the encouragement to develop your skills and certify yourself for better job satisfaction and promotion.
However, in the Middle East, this is not so evident; the idea is, generally, once you are working in your field, there is everything you need to know, except for very few companies that insist on continuous professional development. There are also those individuals that always keep one step ahead and motivate themselves to be up to date with the rest of the educators around the world and develop their skills further.
This article focuses on ESL in particular, whereby ESL is a specialized area in itself. However, this is not recognized in the Middle East, and heavy recognition is given to the qualification gained rather than the development of practical skills in that field. Those individuals with masters in English Language and Literature or Ph.D. are conceived to be better candidates than those of a bachelor's degree and TEFL or CELTA, yet, quite often they are probably better suited for teaching non ESL classes as they do not perceive ESL as a career, and high prestige is given to those working in the academic departments. This is quite the opposite in the western world. ESL is specialized in its own way, and only those experienced individuals will delve into designing the program and the curriculum. The ESL Instructors will also continue to develop their skills and knowledge on a daily and regular basis.
The Middle Eastern world lacks this notion and somehow localizes the essence of ESL. Hence this affects the way companies and individuals perceive continuous professional development in this field. Another factor posing a hindrance to CPD is evaluations and suggestions for improvement are taken personally and as a weakness rather than constructively.
Importance of CPD
The importance of continuous professional development is highlighted important because it ensures teachers to be competent in their profession. It does not stop at the qualification gained or amount of years in a job. Teachers should have an individual CPD plan as this will enhance their skills to better and effective teaching and learning strategies. Moreover, the COVID situation has taught educators around the world to be much more flexible and creative in teaching.
CPD is the best way to improve the quality of teaching, thus enabling teachers to make a commitment to enhancing their pedagogical skills, understanding of learning and student development, and subject knowledge.
A scenario to consider that often poses a problem in the Middle East is, is it correct to say that someone with a Ph.D. is more qualified than a master or undergraduate degree holder, purely based on the qualification gained, but if the Ph.D. holder has chosen to not do any CPD and update themselves.
Yet, the bachelor degree holder or master degree holder has a personal plan and is well up to date globally to better their professional skills and are able to provide a better learning environment for the students because they have been developing their skills continuously. Though Ph.D. holders will write journals and articles in their field, is it the same as CPD?
The Increasing need for CPD in the Middle East
Regarding the teaching sector, there is a huge gap in the Middle East, from the primary, secondary and higher levels. The usual course of career path for most is high school, undergraduate, master's, and Ph.D. Then, there is the pedagogy course of fewer than six months and writing journals. The practical part of teaching comes later.
So, there is no real sense of a need to keep up with the rest of the world in regard to methodology and digital teaching. Some teachers are stuck in a time warp though everything else is moving around fast. There are many educators who have a passion for keeping up to date and implementing new methods in their classes. However, this is not always supported by the traditional methods of teaching. Those individuals seek ways to work on their CPD and join community groups as well as attend regular international conferences etc.
Some establishments or institutes do not encourage or provide any room for CPD. A degree or higher ranking position alone does not mean a person is competent as without the CPD, they are behind and unaware of the forever fast-evolving techniques in education.
The benefit of CPD and how it can bridge the gap of education between the Middle East and Western society.
CPD is deeper than learning theories and having gained a qualification. It is not just about the theoretical knowledge but also about the practical deliverance.
The comparison between two individuals, where one learns on the job and through years of experience and taking the TEFL course, or practical route, does make them less competent than those with a degree and CELTA/DELTA certificate? Whilst some may think so, quite often, it is incorrect practically because this perception that; a person with a degree in that field has better knowledge and is a better candidate is somewhat surprising because qualification with practical experience is the heart of any candidate selection procedure.Some will boast with confidence due to the degree and certificates, but in practice, they may not be able to deliver adequately as someone who acquires on-the-job experience.
Likewise, the notion that ONLY NATIVE speakers are suitable for teaching English is a problem in itself. It is aware globally of the teaching methods that can be implemented in the classroom or learning environment, and real implementation is needed to shorten the gap between the Middle Eastern and Western World.
Recommendations for educational establishments in the Middle East
Some educators have come to realize in the Middle East that a much different approach is required, and hence establishments are supporting the changes and development in education. Investing in CPD is an integral part of the education system and necessary.
The pandemic has taught us the increasing need for keeping up with the 21st-century methods of education which are constantly evolving. The benefit of a weekly meeting or check-in of professional development assists with the confidence and service to students. It also sets a difference between those who rely on their certificate and those with updated information of learning from others as well as the developing methods. Despite locality challenges, there is a gradual improvement in this area.
Time dedicated to one's learning is just as important as the time and effort put into student development. Personal development is often ignored due to the workload, yet it is an essential part of the job. Educational establishments should dedicate time to this and make it mandatory.
For ESL Instructors in the Middle East looking for CPD, there are many brilliant community groups and webinars such as The British Council, Macmillan Learning, and National Geographic Learning.
Are you ready to teach English abroad or online?
Apply now & get certified to teach english abroad!
Speak with an ITTT advisor today to put together your personal plan for teaching English abroad!
Send us an email or call us toll-free at 1-800-490-0531 to speak with an ITTT advisor today.
Related Articles:
Check out what our course grads say in our many video testimonials!
---
---