The Benefits and Importance of Evaluation and Testing
There are multiple tools at a teacher's disposition to determine the student's language level, evaluation by the students and tests.
Evaluation by the students is a great way to determine what a teacher needs to work on. A survey will identify what needs to be reinforced in the lessons and what the students feel needs improvement in their everyday lessons. This information will allow the teacher to decide what to modify and how to adjust their teaching methods. It also helps the student understand and get a more clear idea of what they need help with and improvement.
This post was written by our TEFL certification graduate Mireya C. Please note that this blog post might not necessarily represent the beliefs or opinions of ITTT.
Types of Tests
Tests are crucial in the teaching environment, this because it determines what the student knows and has learned and it also reveals how the teacher is doing with their lessons. The tests can be before the course starts up to the end of the course.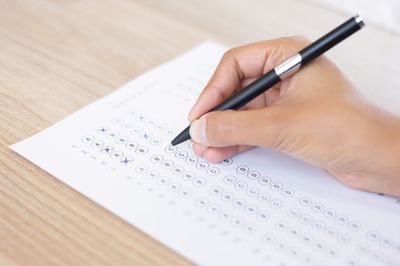 Also Read: What does TEFL mean?
Placement tests are utilized to determine where students should be placed according to their current language knowledge. These tests start simple and straightforward and gradually become more difficult as it develops. They contain multiple-choice questions related to grammar and vocabulary, there may also be a spoken interview and the written section must allow for the student to answer in a broad manner, where the student has to elaborate.
Progress tests are applied periodically along the course. These determine what has been retained and what needs to be reinforced. It shows the student what they need to study more on and it shows the teacher where the students are lacking and what they have forgotten. They must include the following skills: reading, writing, listening and speaking, and they must strictly only pertain to lessons from that period.
Diagnostic tests are much alike to placement tests, yet these are more thorough. These are done at the beginning of the course to portray what the student already knows before the course even starts. This tool will enable the teacher to understand where the individual student is and to prepare her resources and lesson to fit the class.
Practice tests are not obligatory, yet they are very favorable when it comes to external testing. They have to be similar in format and structure to the test they will be studying for. This will get them comfortable with the format and not feel overwhelmed with the actual test. There are various general external tests that students will, in most cases, need to prepare for.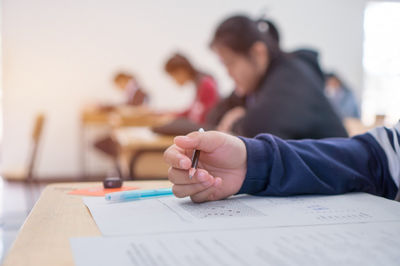 Also Read: 5 Tips on How to Impress Business Clients as a Business English Teacher
Language Tests
The TOEFL (Test of English as a Foreign Language) is an American English exam applied in most US universities. It involves grammar, reading, vocabulary, listening, writing and speaking. It is not a pass or fails the test, it instead determines the English level of the individual.
The IELTS (International English Language Testing System) is the most recommended test where English is the main language of communication. This test is recognized by universities and employers to immigration authorities.
The TOEIC (Test Of English for International Communication) is the most accredited test in Korea and Japan regarding work-related English. It depicts the overall knowledge and proficiency of English for everyday work-related activities.
The Cambridge Assessment is the University of Cambridge department responsible for non-teaching exams. They hold the world's leader in English certifications in general English and Business English.
The Trinity College London, ESOL Skills for Like (UK), are intended for English learners 16 and above, who learn English as a second language and are settled in the UK. There are many more tests available worldwide, the ones mentioned below are the most recognized in teaching English as a second language world.
Do you want to teach English abroad? Take a TEFL course!
In conclusion, it is ultimately important to apply tests and evaluations before, during and at the end of a course. This will help determine where you as a teacher need to improve. This will also assist the students to determine what they need to improve on and where they are excelling, thus giving the student the confidence and motivation to continue learning. Looking at their own student's evaluations will allow them to set goals for themselves. They will be encouraged to determine educational objectives as well as personal ones. The teacher will be able to evaluate her course work, her methodologies, techniques and even her rapport with the students. Tests and evaluations are an essential part of a student's learning experience, as well as the teacher's teaching experience.
Apply now & get certified to teach english abroad!
Speak with an ITTT advisor today to put together your personal plan for teaching English abroad.
Send us an email or call us toll-free at 1-800-490-0531 to speak with an ITTT advisor today.
Related Articles: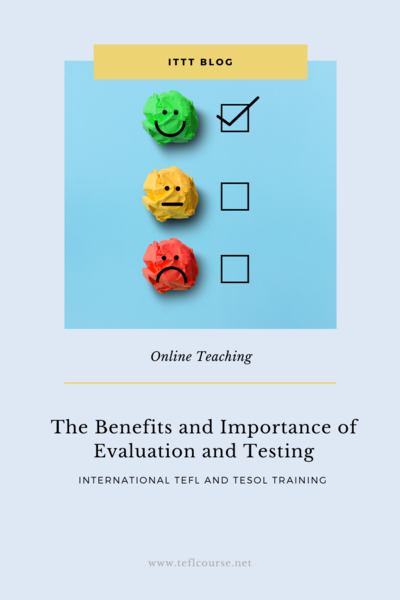 ---
---