Teaching English in South Korea - Should You Teach in the Countryside or City?
Teaching. It's frustrating, exhausting, and a whole lot of kid wrangling.
It's also rewarding, eye-opening and will give you more patience than you ever thought possible. I had no idea how much went into this job. One day when I'm in Forbes 30 Under 30, I'm going to personally send a tower of Ferrero Rocher to every teacher in the world. This job is a huge responsibility and it's more difficult than I ever imagined. I urge everyone to dip a toe into the teaching world at least once.
I've taught English in South Korea for two years now in both the open countryside and bustling city. It may not seem like there's too much of a difference, but there are a few things to keep in mind before deciding whether to teach in a rural or urban area.
City Teaching
1. Student body sizeTeaching in city schools is like teaching an entire village of aliens all at once. It's a lot more difficult to manage that many kids all at once, but it also gives a lot more opportunities to play games that don't work in smaller classes. Ever tried to play Four Corners with four kids? It's a certified snooze-fest with no alarm clock in sight. Get a big open room with 25 kids and it's the best game in the world.
Another thing is each grade could have four to five classes with 20-25 students in each class. This means 80-100 students per grade. I teach grades four, five, and six, which means I teach 300 kids. 300! Just imagine 600 eyes staring up at you expecting all the answers!
2. Private institutions galoreAcademies, hagwons, private tutoring. Whatever you want to call it, it's rampant in big cities. Almost every kid goes to one, whether it's for English, math, science, knitting, basket-weaving or logging. You name it, it's there. In big cities, all my students go to at least one academy every day.
3. Varying English-levelsStudents tend to be higher-level English speakers, which makes teaching, communication, planning, and the overall kid wrangling experience a million times more fun. That being said, teaching in a bigger class means some of the lower-level munchkins slip through the cracks like that long-lost favorite pencil behind the desk. It's always something I have to keep in mind while teaching so that I can accommodate activities. Like writing the English pronunciation in Korean. That way, everyone is learning and no one is left out like I was at my old high school dances.
4. Student lifeI'll be honest, students are a lot more stressed in the city. There's bigger pressure for top grades, more competition between students and generally, they're more exhausted.
Make lessons more exciting and active to keep them interested and stop them from dozing off like they're watching an episode of Ghost Whisperer. Have them stretch before class, play TPR games, solve a warm-up riddle, go for a run around the city, lasso a stray cat, electrocute them - whatever shocks them awake.
5. Schedule gymnasticsSchedules are held tight and everything is mapped out to a T. In a school with 3,000 people, timing is everything and if things are not orderly you could end up with 3,000 students lost in the hallways wandering around, playing "Pin the Students" with "The World's Largest Safety Pin". Nothing usually changes last minute and most plans are as solid as carbon under pressure. My school has moved classes around maybe once in the past six months. I never have to worry about walking into school only to find out I'm teaching grade 4, grade 5, and a rocket building class.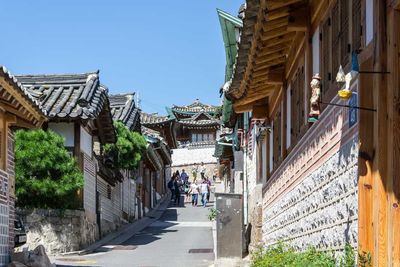 6. Outdoor kid-spottingI see some of my students, old and new, outside of school at least once a week. In grocery stores, in markets, on the street, at the bus stop, under a park bench. It gives me a chance to meet their parents and get to know them on a more personal level. Not gonna lie, it's also a great opening for class when all the other students are Curious George-ing over where we saw each other.
7. Community involvementSince it's such a big school, the only people I really talk to are my co-teachers, students, and the scary-looking puppets I use for teaching. Once a month, there is a mandatory school dinner and it's one of the best no-bucks-spent hearty meals I get for the month. It's also nice to see the other teachers in a more casual setting instead of the super professional, suit-clad school setting.
8. Busy BeeSince there are so many students and little involvement, you're not as busy. There's a lot of time for lesson planning, online courses, Sudoku, and cross-stitching. This is never a bad thing and my cross-stitching skills could definitely do with some practice.
9. Getting to know your kidsCan you imagine memorizing 300 names? And in a foreign language?! Sometimes the name is different by one sound like Eun Gyeol and Eun Kyul or Minju and Minji. If I had one pasta noodle for every time I've messed up a name, there'd be enough for a lifetime supply of spaghetti bolognese. One trick I've learned is to have the students write their name on a cue card, laminate it and have them raise their hands with it.
Easy peasy, all the names almost-kind-of-sorta-sometimes learned.
Rural Teaching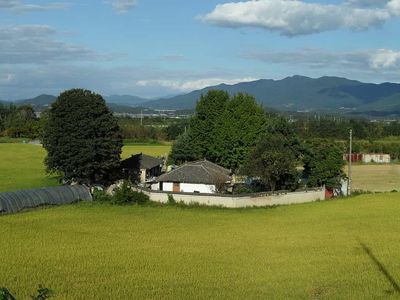 1. Student body size.Schools are much smaller in rural areas, which means class sizes are also tiny. There's typically one class for each grade and each class in itself has a small number of students. My grade 3 class had 15 students and my grade 5 class had four students. The entire school had 80 students. That's how many people sit at the dinner table every day at "My Big Fat Indian Dinner".
2. Private institutions galoreInstead of academies, students tend to go to free after-school classes for music, English, robotics, or raft building. That's not to say students don't go to academies but they can be too far, too expensive or there's no transportation. While teaching in a rural town, there was only one bus that came every 30-45 minutes and stopped running at 5 pm. Unless the students have a parent to drive them or a spaceship, it's almost impossible to attend an academy.
3. Varying English-levelsStudents don't always have accessibility to academies or the same level of motivation to learn English as the city kids. They could be more low-level, if not zero-level students. That doesn't mean all rural students are low-level. I've had a few students that I can hold a full conversation with. As a rural teacher, you need different activities that aren't too easy for high-level students or too difficult for low-level students. That being said, small class sizes means students don't fall through the cracks easily - it's as easy as spotting a cow in the middle of traffic.
4. Student lifeImagine the country. Large plots of land, cows, tractors, lemonade. The pace of life is slower and more relaxed. That's exactly how the kids act. They play outside more, they're a little tougher and they grow up faster. That being said because it's a small class, plan more activities outside! I've done science experiments, gardening, and even practiced a Bollywood dance for a school talent show. Keep things diverse - kids love being outside so take advantage of the small class size and teach or do activities outdoors.
5. Flexibility and last minute changesThings are always changing in rural schools. Classes, events, field trips, Pinata parties - something new is always popping up. If you like routines, this isn't so great. It can be stressful, frustrating, and confusing. I've walked into school for a 9:00 a.m. class only to find out everyone's away for an overnight trip and there aren't any classes for two days. It's annoying sometimes but use the time to plan an award-winning lesson for when the kids come back.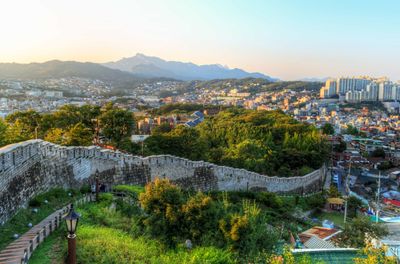 6. Outdoor kid-spottingThe town I lived in had a population of myself, my neighbors, and three stray cats. By that I mean it was really small. It was rare to see any of my students outside of school and it was always a welcome surprise if I did.
7. Community involvementThere's always something going on. Sports days, talent shows, lantern festivals, hiking trips, swimming classes, birthday parties, cooking classes, or boar hunting. I used to walk into the school and find the students doing crazy things like grilling pancakes with edible flowers or making songpyeon, a Korean rice cake sweet. As a foreign teacher, the staff and students love it when you join in and some of my best memories don't even include English class!
8. Busy BeeWith all the events happening eight days a week, there's always something to keep you occupied. Whether it's helping out with setting up for the talent show or making paper crane garlands with the kids.
9. Getting to know your kidsSmall school, small class sizes. It's easy to memorize names when there are only five students in grade one and ten students in grade six. One tip is to read their names off the attendance sheet at the beginning of class. The kids get a kick out of you reading their names and trying to pronounce it correctly, and they love correcting you and laughing at you.
10. Cultural excursionsThere are cultural excursions or activities going on at school all the time! A hiking trip, overnight trip to Planet X, gardening at school, camping trips. Keep that in mind because excursions tend to pop up at the last minute and the teaching schedule could change at any given moment.
## Listen to this blog post
## Are you ready to teach English in South Korea?
Each one of these experiences is unique and as always there's something to learn from everything. If you can, do both or choose what works for you or one that scares you. Teaching in Korea is one of the best experiences I've had and it's something everyone should try at least once.
Apply now for your TEFL/TESOL certification course and start teaching in a matter of months or join our combined course with 10 days teaching practice in Seoul, South Korea!
Speak with an ITTT advisor today to put together your personal plan for teaching English abroad.
Send us an email or call us toll-free at 1-800-490-0531 to speak with an ITTT advisor today.
Related Articles: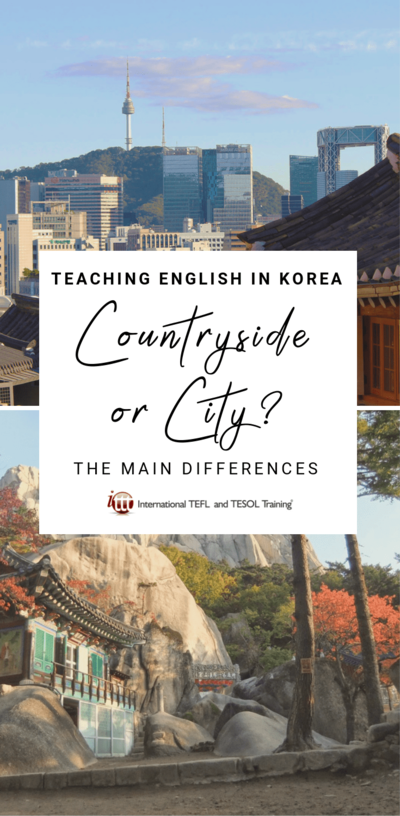 ---
---