Top 4 Tips For Teaching Classes Containing a Wide Variety of Ages
Teaching classes containing a wide variety of ages can be a great challenge. I have recently experienced such challenge. Below I am going to share my teaching experience and how I managed to overcome the difficulties.
This post was written by our TEFL certification graduate Yan Z.
In Spring this year, I was asked to teach an English Drama class in a children's training center. Before the class started, the students were recruited and assigned by the center, which was not in my control. There were 12 elementary-school students in the class. Students were age-mixed, ranging from 7 years to 12 years old. Two thirds of the students were from Grades 1-3 and one third were from Grade 4-6. In order for the younger students to understand my teaching while also keep the older students interested, I chose a story suitable for Grade 3 for my first class.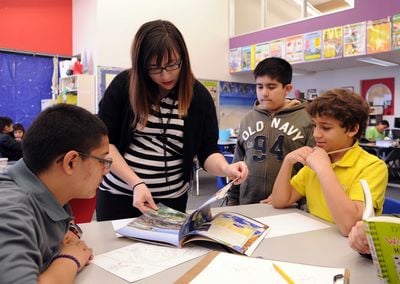 Difference in language levels
After the first class, I found a big gap between their English levels. The youngest students could barely name letters ABC, while the oldest students were able to read stories and make daily conversations. Although I tried to keep my material content at an eclectic language level, at times I still found the 1-2 Graders confused while the 5-6 Graders bored.
I talked to the center's manager regarding the level difference issue. The manager acknowledged my concerns and asked me not to be anxious, because the center and parents' expectation from my class was to raise students' interest in studying English, not to increase their academic grades. Having age-mixed classes had been the center's tradition. They had found that children could learn from each other in a mixed group. I agreed to the idea, since I believe that the stronger kids could act as models and also learn from helping the weaker kids.
Class goals
After the talk, I became clear about my goal: to get every student engaged in the class activities suitable at his/her own level. In the following classes, I tried to know each student well, about his/her language level, interest, strengths and weaknesses and personality. Then I assigned tasks to each student according to the above aspects. For example, lower-level students get easier tasks and higher-level students get more challenging tasks.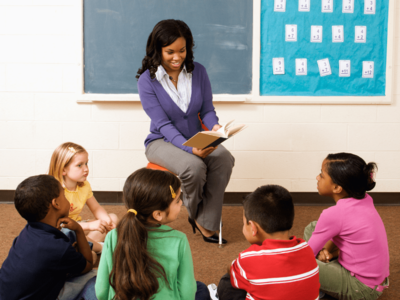 Lower level activities
This method acted as a good solution to our drama performance design. In order for every student to play a role in the show, I modified the story, to make the characters and scripts suitable for my students' level. For the lower-level students, I assigned them characters with short scripts and simple actions. For example, a 7-year-old shy boy played the moon. His task was to say "Hi, I'm Mr. Moon" and then stand in the back of the stage as part of the background. Two 8-year-old boys played trees. Their task was to say "Hello, we are trees" and also stand in the background. These two boys were very active and creative, so they came up with some movements for their tree characters and made the audience laugh out loud. Although these students' scripts were short, they very much enjoyed the show, because they were able to make their contributions on the stage.
Also read: 4 Super Easy Tips for Teaching Vocabulary to Young Learners
Higher level activities
For the higher-level students, I assigned them characters with longer scripts and complex actions. For example, a 12-year-old boy with good speaking skill played the narrator. A 10-year-old girl with dancing skill played a rabbit who could dance. These students also gained a great sense of achievement, because they were able to display their strengths on the stage.
Our final drama performance turned out to be a success. All my students, parents and the center staff were satisfied with the result. From this experience, I learned that age-mixed classes have both advantages and disadvantages. It doesn't matter if every student can follow the language points at a same pace, which is certainly impractical. The key is to allow every student to get engaged in the class, make a contribution, and gain a sense of achievement. The teacher needs to pay close attention to each student's personal characters and give him/her the opportunity to shine in the class.
Do you want to learn how to prepare excellent lessons for your students?
Apply now & get certified to teach english abroad!
Speak with an ITTT advisor today to put together your personal plan for teaching English abroad!
Send us an email or call us toll-free at 1-800-490-0531 to speak with an ITTT advisor today.
Listen to this blog post
Related Articles:
---
---