Teaching and Delivery of Business English
This summative task will review the subject matter and discuss strategies and techniques that have been employed within actual classes delivered in Singapore and Hong Kong to Chinese, Japanese, and Korean businesspeople.
This post was written by our TEFL certification graduate Dean R. Please note that this blog post might not necessarily represent the beliefs or opinions of ITTT.
What is Business English?
As the language of international business is English, the overwhelming driver for Business English learning is a day to day conversation and development of a strong business vocabulary. Grammar whilst important is key BUT not as crucial and is often addressed through speaking tasks.
The teaching of Business English does require "some" awareness of the subject matter and as such the teacher should have some basic grasp of sections of industry and or that of economic cycles.
Also Read: What is the difference between TESOL and TEFL?
Teacher's Role in it
The role of a teacher, therefore, is in managing to adapt teaching skills and strategies for teaching Business English and relying upon the student's strengths as the expert within the business field.
One can look at this teaching opportunity as being potentially very motivating for students because they can have the opportunity to put into practice their knowledge acquired not only from their working / professional lives but also to apply knowledge built from their Business English lessons experienced to date.
Many actual or potential teachers express fears of teaching Business English because it can be perceived as a singular issue which most often is not having a grasp on economics.
Also Read: 3 Steps for Dealing with a Student with Challenging Behavior
This, however, is not the case, with deeper examination business English teaching could be broken down into four parts:
Introducing your employer
Describing Jobs and or the ideal/ideal or dream job
Building a Career - Learning about CV and Cover letter writing and interview techniques
Travel and its arrangements - Everything from Airport and Hotel reservations to cultural aspects and dining out with customers / new or current employers and consumption of alcohol (which can have cultural issues).
Email language – important area to build and reinforce grammar, punctuation, and vocabulary
As highlighted the teaching and delivery of business English subject matter can be readily expanded into parts that support the development of oral and written communication and forming intercultural skills including stereotypes of thinking and behavior within business English.
Also Read: The 15 Most Asked Questions in a TEFL Interview
Strategies employed / lessons learned
In the context of vocabulary-building strategies that I've found relevant have been;
Word building (prefixes and suffixes)
Generating word lists and
Role-playing activities of new words/phrases/scenes with the class.
Business idioms
I have found that bringing business-related idioms into the classroom is also an effective way of increasing participation and interest within the study period.
However, I have learned to NOT overload students and to involve them in as much communication through role-play or conversation topics
Use of Video materials
I have found to be successful and well-received are showing video clips of experts discussing things like Travel, Culture, and Change at work (normally from Business books such as Market Leader 3rd edition) and or short clips from the TED talks series.
Subsequently using these clips as materials from which to question and elicit student participation and to them lead on to more focused STUDY periods from the articles.
Strategy
Learning how to pique learners' interest and build the engagement phase, the development of relevant context for the lessons is a key point to gain enhanced satisfaction and development for students.
Do you want to teach English abroad? Take a TEFL course today!
The opportunities to build and grow students' use and application of Business English is enormous and is not an area that should be feared by teachers who worry about their business knowledge/experience. What is most important is for the teacher to first determine the student's need and to identify specific purposes for studying and then define special tasks for practicing topic vocabulary and grammar which brings the achievement of goals and meeting the objectives of the course.
Apply now & get certified to teach english abroad!
Speak with an ITTT advisor today to put together your personal plan for teaching English abroad!
Send us an email or call us toll-free at 1-800-490-0531 to speak with an ITTT advisor today.
Related Articles: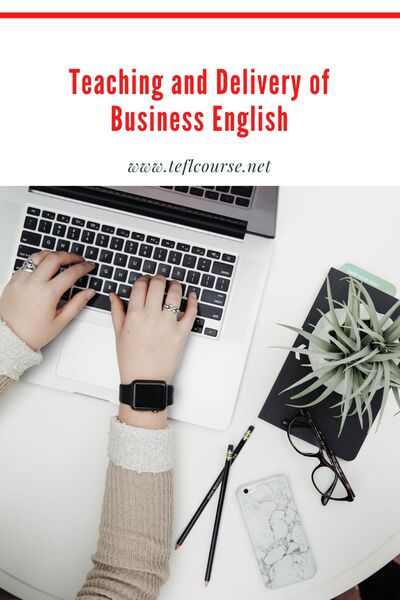 ---
---